Home

NEWS AND UPDATES
My latest art acquisitions and fan experiences.

Future plans:
Super-Con, San Jose, May 16 & 17, 2009
San Diego Comic Con International July 22-26, 2009
Alternative Press Expo, San Francisco, Oct. 17-18, 2009

San Francisco Bay area museums and resources:
Cartoon Art Museum
Charles M. Schulz Museum
ASIFA-San Francisco

WonderCon, San Francisco, Feb. 27-Mar. 1, 2009


&nbsp&nbsp&nbsp&nbsp&nbsp&nbsp I had a great time at WonderCon in San Francisco. On Thursday, I helped my brother set up his Stuart Ng Books booth. Next door was our friend John Fleskes' Flesk Publications with artists Gary Gianni (The Prince Valiant Page and Twenty-Thousand Leagues Under the Sea and Mark Schultz (Various Drawings volumes 1-3). Two booths on the other side were friends John and Shelley Loter and their Loter, Inc. booth with their Good Girl, Bad Girl book, Supa-Rillas! comic book, t-shirts, and prints.
&nbsp&nbsp&nbsp&nbsp&nbsp&nbsp My friend Alex Chun was courier from LA to SF of a Bill Morrison Droopy #3 cover which I bought from Bill's ebay auction. Set up a sweet Enrico Casarosa drawing of Mia and some youngsters. Bill Presing finished another stunning painting of his Librarian character.
&nbsp&nbsp&nbsp&nbsp&nbsp&nbsp Met Roy Thomas for the first time and got a couple autographs in my X-Men Marvel Masterworks. He once answered one of my CBG ads and bought a Dilbert book with a Scott Adams Dogbert drawing. He also signed one of my X-men books then and mailed it back to me. So I got to thank him in person.
&nbsp&nbsp&nbsp&nbsp&nbsp&nbsp Picked up the two new J. Scott Campbell prints and the Tall Sketchbook, the Mike Mignola Hellboy WonderCon 2009 print, the Bill Presing Frou-Frou and Valentine's Candy prints. Jim Silke signed my Betty Page Rules. Mark Schultz and Gary Gianni signed my Prince Valiant: Far from Camelot. Gary drew a helmeted soldier headshot, too. Ronnie del Carmen showed up with news of upcoming book releases.

Patrick McDonnell sketches from Naperville Area Humane Society, February 11-13, 2009


&nbsp&nbsp&nbsp&nbsp&nbsp&nbsp Spotted a number of Patrick McDonnell drawings being offered on ebay from this animal charity. I am very happy with these three here.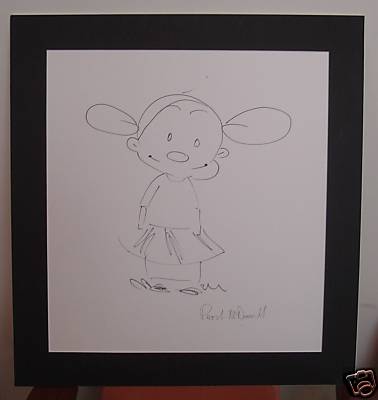 Doozy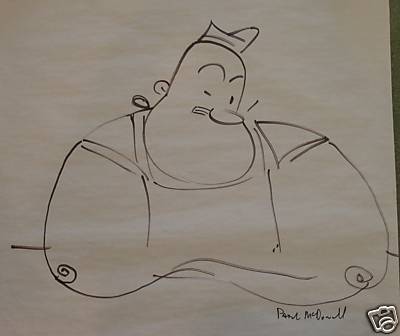 Butchie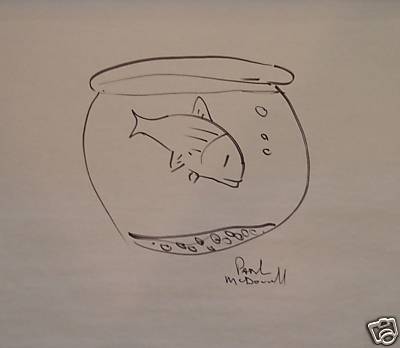 Sid in his bowl

Monsters vs. Aliens 3D movie clips, San Francisco January 15, 2009

&nbsp&nbsp&nbsp&nbsp&nbsp&nbsp Dreamworks' Jeffrey Katzenberg presented some 3D footage from the upcoming animated movie Monsters vs. Aliens at the Metreon in San Francisco on January 15th. In the movie, alien spaceships surround Earth and drop a probe in a Modesto field. In the first clip, we saw the President's peaceful greeting violently rebuffed; soldiers, tanks, helicopter gunships, and fighter jets attack the probe. The next scene shows General W. R. Monger briefing the President on the monsters he has collected which he proposes to fight the alien: a scientist transformed to a cockroach, a gelatinous creature, an aquatic humanoid "missing link", a 50-foot tall woman, and a skyscraper-size insect. In the final clip shown, these monsters battle the probe in San Francisco and on the Golden Gate Bridge. The movie looks like fun and I will be going when it comes out on March 27th. I will disclose Dreamworks gave vouchers for free food, candy, popcorn, and soda. Even the large size.
&nbsp&nbsp&nbsp&nbsp&nbsp&nbsp The 3D was very effective. We had to wear plastic glasses with clear polarized lenses. Katzenberg compared Dreamworks' 3D technology with the coming of sound and color, but admitted it would not make a bad movie into a good one. Only a couple hundred theatres nationwide are set up for this 3D process and ticket prices are expected to be $5 higher. Katzenberg said he meets with director James Cameron and they each show off their own 3D clips. The Dreamworks animators are creating all their work for 3D and Katzenberg believes older movies converted to 3D will not come close to original 3D works.
&nbsp&nbsp&nbsp&nbsp&nbsp&nbsp I was able to attend thanks to my membership in ASIFA-San Francisco (www.asifa-sf.org). It came up suddenly with an email notice on Monday and the event taking place on Thursday at 4pm. In February, I'll have the chance to see the Oscar-nominated short films and the filmmakers as I have done the previous two years. I spoke to John Canemaker in person and watched him win the Oscar on TV a few days later. I miss the regular monthly meetings, but there are a couple special events each year which make it worthwhile to belong as well as the very informative newsletter from chapter president Karl Cohen.

Totoro Forest Project reception, CAM, SF, Dec. 16, 2008

The official post from the CAM:
&nbsp&nbsp&nbsp&nbsp&nbsp&nbsp The Cartoon Art Museum proudly presents original works of art from The Totoro Forest Project Charity Auction, a once-in-a-lifetime exhibition featuring paintings, illustrations and sculptures from nearly 200 critically acclaimed animators, fine artists, cartoonists and illustrators. All of the artwork featured in the exhibition was inspired by Hayao Miyazaki's iconic animated feature film My Neighbor Tororo. The artwork was auctioned at a fund raising event at Pixar Animation Studios on September 6, 2008, and raised over $200,000 for the Totoro no Furusato National Fund, a non-profit organization dedicated to the protection of Japan's Sayama Forest.

&nbsp&nbsp&nbsp&nbsp&nbsp&nbsp The opening reception for the Totoro Forest Project will be held on Tuesday, December 16, 2008, from 7:00pm to 9:00pm. This reception is free and open to the public. Special guests include the Totoro Forest Project executive committee: Pixar Animation Studios artists Dice Tsutsumi, Enrico Casarosa and Ronnie Del Carmen, plus Yukino Pang of San Francisco's Asian Art Museum. Several artists whose work is included in the exhibition, including many artists from Pixar Animation Studios, will also be in attendance.

About The Totoro no Furusato National Fund:

&nbsp&nbsp&nbsp&nbsp&nbsp&nbsp Sayama Forest is one of the most remarkable urban forests in Japan, located just outside of Tokyo. This forest is said to be the inspiration for legendary animated film My Neighbor Totoro. With Japan's rapid urban development in the 1970s and 1980s, the forest has been diminished to a small fraction of its former self. In 1990, Miyazaki helped set up a national trust, Totoro no Furusato National Fund, to preserve the park and promote awareness of environmental issues.

&nbsp&nbsp&nbsp&nbsp&nbsp&nbsp The Foundation has successfully raised more than 3 million dollars and has over 1500 members. The fund's primary purpose is to purchase forest land from the city, and its members have been involved with various nature preservation volunteer activities. While successful on many levels, the foundation's efforts continue to face many challenges and obstacles, including rising land values and real estate development.

For more information on this cause and how you can help, please visit Totoro Forest Project

&nbsp&nbsp&nbsp&nbsp&nbsp&nbsp I had a great time at the event and spoke to Ronnie, Enrico, and Dice. While talking to Steve Leialoha, who I often see at bay area comic events, a young Asian stepped forward to speak to Steve about a gallery show. I looked at his name badge and it was James Jean. According to the signage on James' Totoro Forest Project artwork, the piece is promised to the Asian Art Museum. The evening was capped by winning an Enrico Casarosa print in the raffle.

Sac-Con, Sacramento, Dec. 14, 2008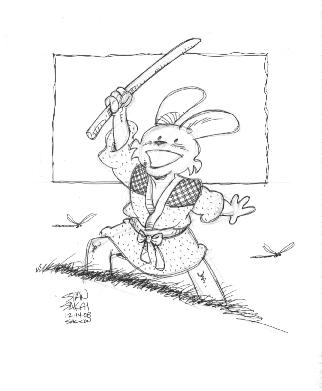 Charity auction piece

Art of Warner Bros. Cartoons, Crocker Art Museum, Sacramento, Dec. 14, 2008


&nbsp&nbsp&nbsp&nbsp&nbsp&nbsp I made a visit to the Crocker Art Museum to see their exhibit. Housed in a remodeled former mansion, the art is set up in rooms on the main floor and the lower level. Saw more actual work by upper level staff than most exhibits I've seen. Here's a list of pieces I saw:
&nbsp&nbsp&nbsp&nbsp&nbsp&nbsp Chuck Jones Daffy Duck in ski gear pencil drawing from Duck Amuck, Maurice Noble Elmer atop mountains concept paintings from What's Opera, Doc?, Philip DeGuard wrestling ring background painting from Bunny Hugged, Melvin Millar Porky Pig in construction scoop pencil drawing, Daffy Duck dancing in 6 animation drawings from Duck Soup to Nuts, Bugs Bunny as Carmen Miranda pencil drawing, Bugs as a mermaid holding tail up to face pencil drawing, Virgil Ross(?)Sylvester facing a jury pencil drawing (Satan's Waitin'), Yosemite Sam pirate ship background painting, Posters with mustache graffiti background painting from Daffy Doodles, Bugs and Gildersneeze pencil drawing (Hare Conditioned, and Gruesome Gorilla pencil drawing from Gorilla My Dreams.
&nbsp&nbsp&nbsp&nbsp&nbsp&nbsp Cels of Witch Hazel, Bugs as Stitchyn Tyme (Bunny Hugged), Clark Gable, Edgar G. Robinson, Pepe LePew and cat, Daffy as western hero (Dripalong Daffy?, and Bugs wearing crown from Rabbit Hood.
&nbsp&nbsp&nbsp&nbsp&nbsp&nbsp Model sheets of Hitler and Tojo as fowl, Pussyfoot and Marc Anthony, Egghead and Elmer Fudd, Penguin (8 Ball Bunny, and two versions of Sniffles.
&nbsp&nbsp&nbsp&nbsp&nbsp&nbsp The show will run through Jan. 18th.

Eric Goldberg talk and signing, CAM, SF, Dec. 6, 2008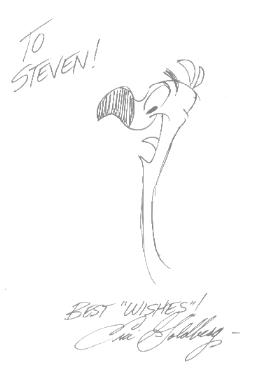 Jeff Smith at Flying Colors Comics, Concord, CA, Dec. 6, 2008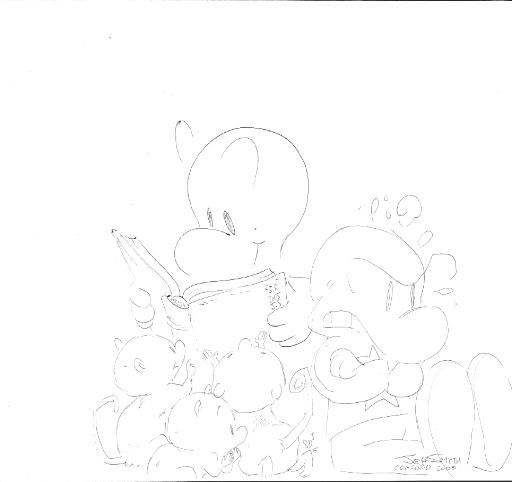 Phoney Bone added to my jam sketch
Alternative Press Expo, San Francisco, Nov. 1 & 2, 2008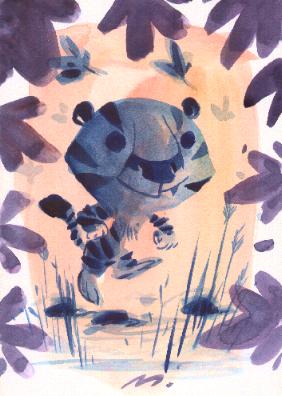 Scott Morse: Tiger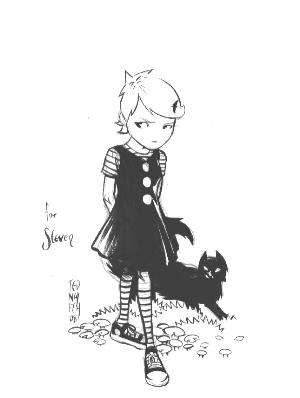 Ted Naifeh: Courtney Crumrin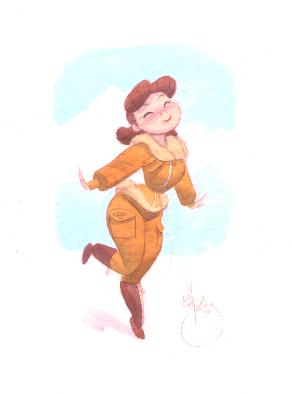 Bill Presing: Penny (Rex Steele Nazi Smasher sidekick)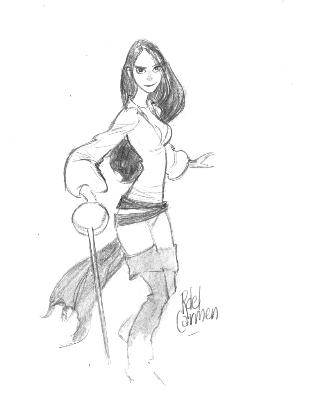 Ronnie del Carmen: Pierre Alary's Belladone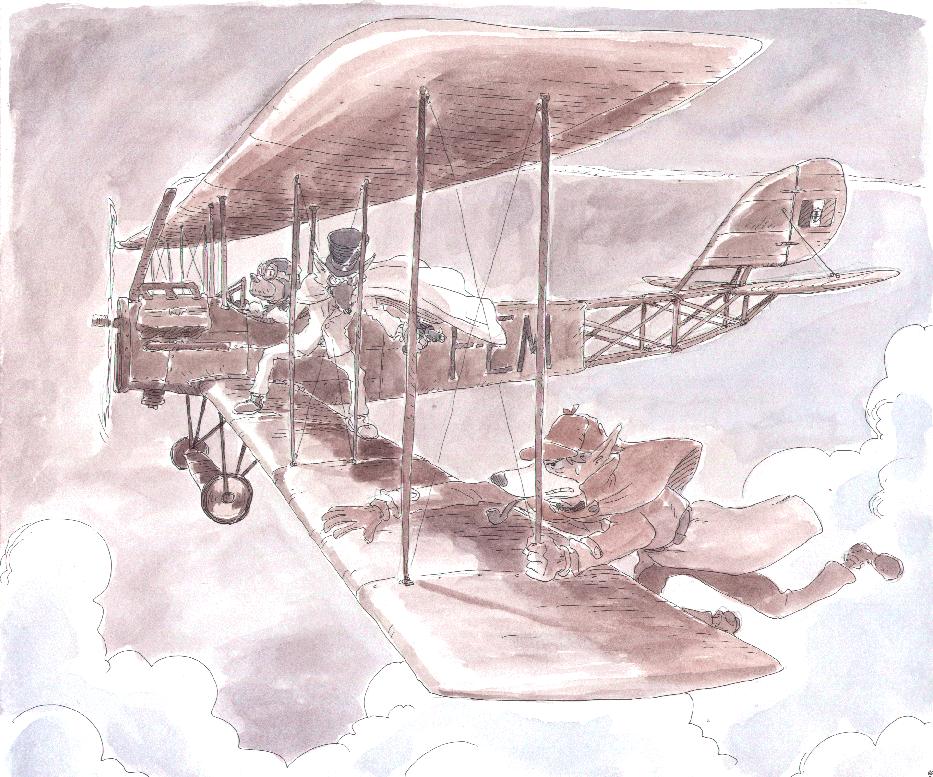 Enrico Casarosa: Sherlock Holmes vs. Professor Moriarity
Hayward-Con, Oct. 12, 2008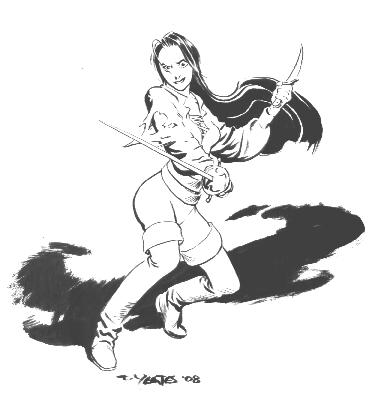 Tom Yeates: Pierre Alary's Belladone
Fifth Annual Cartoon Art Museum Benefit at Pixar Animation Studios, Oct. 11, 2008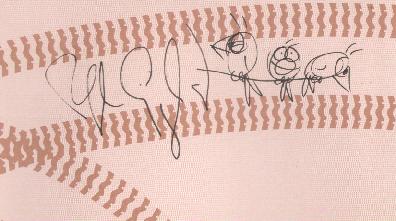 Ralph Eggleston, Oscar winner, For The Birds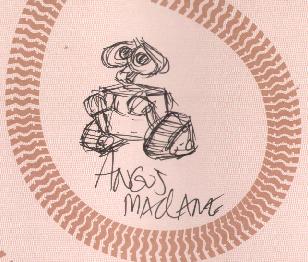 Angus MacLane, director, BURN-E

Totoro Forest Project, Pixar Animation Studios, Sept 6, 2008


&nbsp&nbsp&nbsp&nbsp&nbsp&nbsp I drove to Pixar with my brother Stuart and our friend Karen. Saw friends and fellow collectors Charles, Lance, and Kelvin there. Chatted with Ronnie del Carmen and Enrico Casarosa who I've known since they started doing cons. Said hello to Dice Tsutsumi, one of the other organizers. Some of the Blue Sky guys came over from NYC. Stuart and I talked to Peter de Seve and Nash Dunnigan. Talked to Jeff Pidgeon and his wife Anita. Saw directors John Lasseter and Pete Docter, but I've met them before so I didn't bother them this time. Disney's Andreas Deja was there. Karen saw Michael Chabon and Ayelet Waldman. Met Nick from the Tim Sale forum. He had a fun night and describes it beginning here.

San Diego Comic Con International, July 23-27, 2008


&nbsp&nbsp&nbsp&nbsp&nbsp&nbsp Arrived in Los Angeles on Saturday, July 19th. Helped Stuart and crew load up 2 10-foot rental trucks on Sunday. On Monday, drove 1 truck to San Diego and met up with Stuart and Katrina with the second truck at the boat yard behind the convention center to put everything on pallets. Showed up Tuesday at the convention center and everything was waiting for us at booth 5012 in Hall G. Spent 2 days getting set up and went on the prowl on Preview Night.
&nbsp&nbsp&nbsp&nbsp&nbsp&nbsp The con was lots of fun while I helped out my brother's Stuart Ng Books part time. Many friends helped out with Dave and John staying with Stuart and me until we drove out of the boat yard behind the convention center at 10 pm Sunday night. It was great to see Australian Royd after so many years. Thanks to my friend John, I was able to get an Ogo drawing for my niece Riley as well as getting one for myself.
&nbsp&nbsp&nbsp&nbsp&nbsp&nbsp Attended a few panels and heard some good stories. Disney legend Floyd Norman explained how one of his high school teachers, who saw him drawing during his classes, introduced Floyd to Katy Keene cartoonist Bill Woggon leading to an assistant job. Powerpuff Girls and Foster's Home for Imaginary Friends creator Craig McCracken said he and his wife Lauren Faust owned two shelter dogs. It was the characteristics of abandoned pets which inspired the personalities of the imaginary friends. Pete Docter showed some exciting footage of Pixar's 2009 release Up.
&nbsp&nbsp&nbsp&nbsp&nbsp&nbsp Ronnie del Carmen surprised us by coming by the booth to say hello. Dice Tsutsumi gave us some exciting news about the Totoro Forest Project on Sept 6th. Summerlea of the Cartoon Art Museum gave us the October 4th date for Fifth Annual Cartoon Art Museum Benefit at Pixar Animation Studios.

Super-Con, San Jose, May 17-18, 2008


&nbsp&nbsp&nbsp&nbsp&nbsp&nbsp Enjoyed the con immensely with my brother Stuart and friends.


Lorna by her creator Alfonso Azpiri
My best purchase at Super-Con.

Fed Ex delivery, May 16, 2008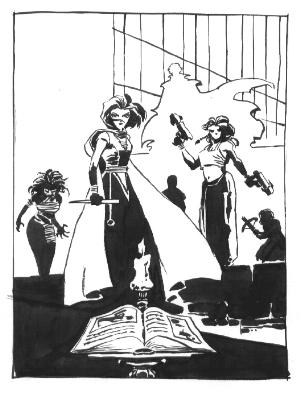 Tim Sale cover sketch purchased from Graphic Collectibles.
WonderCon, San Francisco, February 22-24, 2008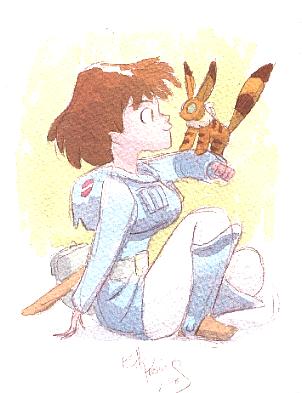 Bill Presing: Nausica and Teto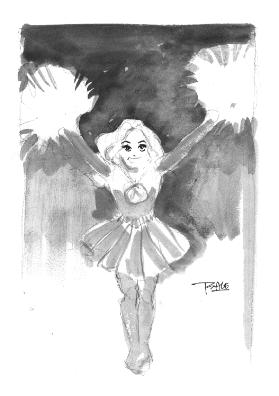 Tim Sale: Claire Bennet ("Heroes", NBC-TV)

Persepolis screening, San Francisco, Jan. 8, 2008


&nbsp&nbsp&nbsp&nbsp&nbsp&nbsp Through my membership in ASIFA-SF, I attended a pre-release screening of the French animated film based on the Marjane Satrapi graphic novels. It is a very good movie, but rather hard for me to describe. It combines a personal story of her personal growth with the hardships of life under repression and war.

Mary Blair exhibit reception at Cartoon Art Museum, Dec. 5, 2007


&nbsp&nbsp&nbsp&nbsp&nbsp&nbsp Attended the event with my friends Charles and Karen on a Tuesday night. Got to talk to Ronnie del Carmen, Enrico Casarosa, Dice Tsutsumi, Steve Leialoha, Jon "Bean" Hastings, and ASIFA-SF president Karl Cohen. Met Pixar director Pete Docter and he was kind enough to do a sketch in my art of Monsters, Inc. book. Another great event at the CAM.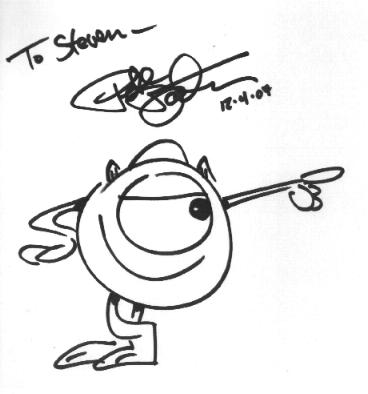 The Pixar Story, SF Int'l Animation Festival, Nov. 8, 2007


&nbsp&nbsp&nbsp&nbsp&nbsp&nbsp Attended the screening with my friend Charles. It was a very nicely put-together movie with some clips of the Where the Wild Things Are experiment by John Lasseter and Glen Keane done before Lasseter joined Pixar. Director Leslie Iwerks and Pixar's Pete Docter did a Q&A following the screening. There was a reception, too. Leslie's documentary on her grandfather Ub Iwerks will be on the Oswald the Lucky Rabbit DVD coming out in December.

Cartoon Art Museum at Pixar Animation Studio, Sept. 15, 2007


&nbsp&nbsp&nbsp&nbsp&nbsp&nbsp We were asked not to blog so I'll just mention the publicly revealed information. The speakers were Story Supervisor Mark Andrews, Supervising Animator Dylan Brown, Director of Photography Sharon Calahan, and Director/Story Supervisor Jim Capobianco. Each gave a great entertaining talk. It was a very fun event and this was my second one.

Los Angeles trip and San Diego Comic Con International, July 21-August 7, 2007


&nbsp&nbsp&nbsp&nbsp&nbsp&nbsp I flew from Oakland to the Long Beach airport where my brother Stuart and niece Riley picked me up. On Thursday, I drove Riley to Hollywood where we met my sister Nancy at the El Capitan Theatre to see Pixar's Ratatouille. Riley loved the stage show put on before the movie. I made her wait for the credits at the end. Spotted the names of several people I knew. The next couple days were spent trying to help Stuart where I could. We rented a couple of 10-foot trucks and loaded up over 140 boxes of books, 30 bookshelf units, and some tables on Sunday.
&nbsp&nbsp&nbsp&nbsp&nbsp&nbsp Stuart and I each drove a 10-foot truck from Torrance to San Diego on Monday, July 23. We had dinner at our favorite San Diego restaurant, the Old Town Mexican Cafe. Tuesday morning at 8 am, we're at the convention center and the whirlwind begins. Unloading and setting up in five booths for Stuart Ng Books. Lots of help from many friends this year. I spent more time at the booth than I expected to do, but I made some great art acquisitions on display in my CAF gallery.
&nbsp&nbsp&nbsp&nbsp&nbsp&nbsp Stan Sakai offered to take orders on the UY forum. He packed up the latest Usagi Yojimbo S&N hardcover collections for me and The Art of Usagi Yojimbo for Stuart. We also got the UY #100 poster which he sketched for us. As usual, Stan sketched in our book purchases as well.
&nbsp&nbsp&nbsp&nbsp&nbsp&nbsp I picked up great books from Adam Hughes, Arthur Adams, Bill Presing, Brandon Peterson, Bruce Timm, Chris Sanders, Craig McCracken, Dean Yeagle, Frank Cho, J. Scott Campbell, Jamie Baker, Jeff Moy, Jeff Smith, Jim Lee, John Loter, Joyce Chin, Lauren Faust, Louie del Carmen, Mark Schultz, Mike Mignola, Phil Moy, Phil Noto, Pierre Alary, Randy Reynaldo, and Stephen Silver. Also t-shirts from Jeff Pidgeon and Loter, Inc. Talked with Ash Wood and Glen Murakami about the absent Adam Warren who was working on the second and third volumes of Empowered from Dark Horse.
&nbsp&nbsp&nbsp&nbsp&nbsp&nbsp At the end of the con on Sunday, we got packed up earlier than usual with many helping hands. Getting the single 16-foot truck into the dock took some time and I have to thank Dave and John for helping all the way up to the end. John joined Stuart and me for our usual Midnight meal at the Valley Kitchen at Hotel Circle. On Monday, a final breakfast of corn fritters at Adam's Steak and Eggs and then back to Torrance.
&nbsp&nbsp&nbsp&nbsp&nbsp&nbsp On Tuesday, we unloaded everything off the truck into Stuart's showroom and returned the truck. A few days of arranging tables, shelves, and books follow. Battling bouts of exhaustion. A celebratory dinner with friends Mando and Darcy on Friday. Playing many games of Blackjack and Crazy Eights with Riley. My return home on August 7 and another year of Comic Con is done

Super-Con, San Jose, June 2-3, 2007


&nbsp&nbsp&nbsp&nbsp&nbsp&nbsp The con moved to San Jose this year and I liked the new setting. My art purchases are in my CAF gallery. I saw many of my friends at the con and had a great time.

Adam Warren art package, May 18, 2007


&nbsp&nbsp&nbsp&nbsp&nbsp&nbsp Shon Howell at Antartic Press put a large lot of Adam's art on ebay. My brother helped me put in a last second bid and I was thrilled to win it. The best examples are in my CAF gallery. The largest part are prelims for Gen 13. There's some Dirty Pair and some Empowered, his latest project. There is a large stack of photocopies including some unpublished James Hudnall written Dirty Pair stories, some Star Wars reference, a Ben Dunn written note, some Akon badges and a frisbee. What a bonanza! Adam is posting art and comments at adamwarrendeviantart.

WonderCon, San Francisco, March 2-4, 2007


&nbsp&nbsp&nbsp&nbsp&nbsp&nbspI messed up my vacation request and had to work Friday so I just came in at the end to see the National Cartoonists Society panel with Patrick McDonnell and Michael Jantze. Went to the Pixar panel with Brad Bird with a preview of Ratatouille. Looks to be another great Bird film. Attended the Spotlight on Patrick with best-selling author Glen Gold doing the interview. When Glen asked the crowd to identify Ozzie's date, I was the only one who spoke up to name Dr. Woo. On Sunday, I bought a Jim Silke Mylene Demongeot drawing.

My Big Eye report on WonderCon and the Pixar panel


&nbsp&nbsp&nbsp&nbsp&nbsp&nbsp&nbspThe Iron Giant and The Incredibles director Brad Bird and actor Patton Oswalt appeared at WonderCon to promote Pixar's Ratatouille. Bird joked the June release will be retitled Ratatouille I so it sounds like a real Summer movie. The main character Remy, a gourmet rat, forms an alliance with Linguini, the garbage boy at an exclusive Paris restaurant, to realize his dream of becoming a chef. When Bird explained that Oswalt was a foodie, the actor stood, turned to show his profile, and ran his hands over his tummy. Pixar artists Lou Romano voices Linguini and Peter Sohn voices Remy's brother. In several clips, we got to see key points of the odd plot: Remy and a French chef ghost observe the kitchen, Linguini knocks some extra ingrediants into the day's soup, Remy fixes it, the kitchen staff spots Remy and chases him, the new chef orders Linguini to kill the rat far away, and Linguini discovers Remy can understand him. During the Q and A session, Bird explained the movie was started by Geri's Game director Jan Pinkava, but he took it over and rewrote almost all of it with The Incredibles story supervisor Mark Andrews. When asked if he'd do another 2-D movie, Bird revealed his next project was live-action, but he hopes his future includes 2-D and 3-D animation as well. Before leaving, Bird said he was going to Sohn's wedding that afternoon.
&nbsp&nbsp&nbsp&nbsp&nbsp&nbsp&nbspWonderCon is definitely in a growth pattern with more exhibitors and a greater TV and movie presence. Moscone Center is a good location, but this con is a low priority for the center operators compared to shows with lots of out-of-town visitors who stay in San Francisco hotels. Next year's dates are still to be determined. Director Zack Snyder and star Gerard Butler came to promote current box office hit 300, adapted from a Frank Miller graphic novel. My friend Ken reports the first five rows of the room were filled by girls and young women from Butler's fan club. My friend Eric saw Ali Larter (Heroes, NBC) at the Resident Evil: Exinction panel. On Sunday, there was heavy TV promotion with Billy Campbell for The 4400, Skeet Ulrich and Ashley Scott for CBS's Jericho, Nathan Fillion and Kristin Lehman for Fox's Drive.

Torill Kove, Oscar nominee for "The Danish Poet" at DeAnza College, Feb. 19, 2007


&nbsp&nbsp&nbsp&nbsp&nbsp&nbsp&nbsp Torill Kove, a Norwegian woman living in Canada, and her National Film Board of Canada producer Marcy Page, made a presentation at a local college. Animation instructor Martin McNamera moderated the program which began with some of Torill's student films, followed by her previous Oscar-nominated short "My Grandmother Ironed the King's Shirts" and this year's winner "The Danish Poet." I was very happy to see her win on TV on Sunday, Feb. 25th.

Oscar-nominated animation shorts screening, Feb. 15, 2007


&nbsp&nbsp&nbsp&nbsp&nbsp&nbsp&nbspI drove to the Letterman Digital Arts Center in the San Francisco Presidio and parked in a vast underground garage. In the waiting room, I saw a statue of Willis O'Brien and King Kong. There were numerous Star Wars statuettes in the display cases and bookshelves. Some small props like a light sabre. The screening was arranged by Ron Diamond. I was able to attend thanks to my membership in the San Francisco chapter of ASIFA and its president Karl Cohen, author of Forbidden Animation, a study of cartoon censorship. Roger Allers and Don Hahn (The Little Matchgirl from Disney), Tom A. (No Time for Nuts from Blue Sky), and Marcy Page (co-producer of The Danish Poet) attended and answered questions following the screening. The other two films were Lifted from Pixar and Maestro from Hungary. I'd recommend seeing them if you get the chance.

Tom Sito talk and signing Drawing the Line: The Untold Story of the Animation Unions from Bosko to Bart Simpson, Cartoon Art Museum, Nov. 17, 2006


&nbsp&nbsp&nbsp&nbsp&nbsp&nbsp&nbspTom gave a very interesting talk, mostly anecdotes from the golden age of Hollywood cartoons. He brought up Jacob Kurtzburg (Jack Kirby) and Charles Addams, two Fleischer strikers in 1937 who left animation and became leading figures in comic books and magazine cartoons respectively. Tom once invited Maurice Noble to lunch at the Disney Studio. Mr. Noble declined due to the chance of running into a certain top animator who was on the other side of the 1941 strike. I recommend the book. Of course, I was compelled to buy the book anyway to thank Tom for drawing Meeko for me at San Diego con in 1995.

Patrick McDonnell presentation and signing, Cartoon Art Museum, Nov. 10, 2006


&nbsp&nbsp&nbsp&nbsp&nbsp&nbsp&nbspPatrick and CAM founder Malcolm Whyte appearred to comment on the "Draw Me a Story" exhibit. Two pages from Patrick's Art appear were on display. His fourth childrens' book will be Hug Time featuring Doozy and Shtinky Pudding. Patrick expressed his admiration for Charles Schulz, Dr. Seuss, E.H. Shepherd, Oz artist Denslow, Ludwig Bemelman(sp?) the Madeline artist, Walt Kelly, Herriman's Krazy Kat, and E.C. Segar's Popeye.
&nbsp&nbsp&nbsp&nbsp&nbsp&nbsp&nbspPatrick described his studio in his home. He used to work 7 days per week to produce a week of Mutts. He's now down to 3-4 days to get one week of strips done, but other work has come up to take up the time. He finds the writing hard, but is able to do a great deal on plane trips. The drawing is fun.

Disney artwork package, Nov. 2, 2006


&nbsp&nbsp&nbsp&nbsp&nbsp&nbsp&nbspI've made another purchase from Jennifer Oliver, foxfeathers12 on ebay. Arrived home to find her package waiting for me. Another nice Mark Henn Jasmine drawing featuring two figures. I finally won a couple of Jennifer's own work: an Ariel with legs in a pretty dress and a Belle with friends Mrs. Potts, Cogsworth, Lumiere, and the wardrobe. These are in my CAF Misc. 2006 gallery

Great Pumpkin TV special event, Schulz Museum, Oct. 21, 2006


&nbsp&nbsp&nbsp&nbsp&nbsp&nbsp&nbspI made the 90-mile drive to Santa Rosa where I got to see a panel with Keith Knight, Darrin Bell, Paige Braddock, and Micheal Jantze with a signing afterwards. Michael made a print of one of his Schulz tributes so I picked one up. Producer Lee Mendelson gave a talk on making the special. He invited Sally Dryer, who voiced Lucy in the show, to come onstage for questions. Afterwards, they signed Lee's new book, It's a Great Pumpkin, Charlie Brown: the Making of a Television Classic. We got to see the premiere of "He's a Bully, Charlie Brown," Schulz's last animation project.
&nbsp&nbsp&nbsp&nbsp&nbsp&nbsp&nbspOn the way home, I stopped at Book Passage to listen to Ian Toll speak on his new book Six Frigates about the early years of the US Navy.

Haywardcon, Oct. 14, 2006


&nbsp&nbsp&nbsp&nbsp&nbsp&nbsp&nbspI went to the con and got into line for Paul Smith who I hadn't seen since 1998. Really loved his Leave It to Chance with wrtier James Robinson. Paul brought some predone pieces and I picked out a nice Black Canary. Asked Paul to do Chance in my sketchbook and it came out great. The two are in my CAF Misc. 2006 gallery

J.C. Leyendecker exhibit, Oct. 13, 2006


&nbsp&nbsp&nbsp&nbsp&nbsp&nbsp&nbspMy brother Stuart came up to see the exhibit so we drove to Stockton. The Haggin Museum's former director collected 59 Leyendecker paintings which have all been restored and shown off in the current exhibit. There were about a dozen Saturday Evening Post covers: Uncle Sam at the helm of the ship of state, Romeo and Juliet, the Queen of Spring, a baseball catcher, Admiral Togo at Port Arthur in 1904, and some New Year babies. There were over a dozen portraits of kid's eating Kellog's cereal. Some clothing advertisements for Kuppenheimer's and Arrow. It was great to see them in person. The show will be traveling with a southern California stop in Fullerton in Fall of 2007. So Stuart's LA friends don't have to make the trek to Stockton.

Ted Mathot and some Afterworks 2 contributors signing, Super 7 Store, San Francisco, Sept. 8, 2006


&nbsp&nbsp&nbsp&nbsp&nbsp&nbsp&nbspI went to the signing at Super 7 and it was more of a party than a formal signing. They served complimentary drinks and snacks. You had to find the cartoonists yourself and catch them in an available moment. Somewhat awkward, but very fun. Ted has posted photos at his blog. My Bill Presing Rex Steele is in my CAF Misc. 2006 gallery

John Canemaker, Pacific Film Archive, August 26, 2006


&nbsp&nbsp&nbsp&nbsp&nbsp&nbsp&nbspI went to see this double feature program with my mother and aunt. The first program focused on Canemaker's own animation works, including this year's Oscar winner for animated short, The Moon and the Son: An Imagined Conversation. It's a very moving piece about his ambivalent relationship with his father. He spoke afterwards and demonstrated some of his conceptual approach to issues he deals with in animation such as child abuse. John also confesses to being the Armor hot dog man in his early days as an actor.
&nbsp&nbsp&nbsp&nbsp&nbsp&nbsp&nbspThe second program featured the works of Winsor McCay, the subject of an extensive biography by Canemaker. While seeming silly at first, Canemaker recreated the vaudeville atmosphere of Gertie the Dinosaur by speaking to her and encouraging the audience to speak up. It was really quite effective. So much different from watching the film on DVD. Canemaker also showed slides of McCay's printed works. After the evening, you felt convinced McCay was far ahead of his time in his accomplishments.

Friz Freleng Blog-a-thon, August 21, 2006


&nbsp&nbsp&nbsp&nbsp&nbsp&nbsp&nbspI heard about this on cartoonbrew.com, my daily source for animation news. This is the 100th anniversary of the cartoon director's birth. I've enjoyed his cartoons and did get to meet him once. It was at a San Francisco animation art gallery where, typically, you had to buy a piece of animation art, often reproductions, in order to meet the guest of honor and get his signature. While I looked around trying to find vintage artwork, I passed many people chatting with their wine and snacks, and discovered Mr. Freleng seated at a desk by himself. No gallery staff nor fans gathered around him. So I went to say hello and thank him for his many fine works. I didn't want to pester him with questions or bother him for an autograph so I smiled and wished him a good night.

Leonard Starr's Mary Perkins On Stage Volume One


&nbsp&nbsp&nbsp&nbsp&nbsp&nbsp&nbspMy copy of the book arrived in great shape today, August 10, 2006. The reproduction of these strips from 1957 and 1958 is outstanding. I received a signed and numbered print with the book. My friend Mando wrote a great essay: Mary, Mary: Leonard Starr and On Stage. The publisher is still working on their Leonard Starr web site. Please buy a book from Classic Comics Press and help this project succeed.

San Francisco Animation Convention, August 4-6, 2006


&nbsp&nbsp&nbsp&nbsp&nbsp&nbsp&nbspI held the Were-rabbit in my hands. Further report coming. Scans of my Dave Bullock Kim Possible and Justin Ridge "Wilford's Stroll" heroine are in my Misc. 2006 gallery

San Diego's Comic Con International, July 19-23, 2006


&nbsp&nbsp&nbsp&nbsp&nbsp&nbsp&nbspReport coming. I have my first Carl Barks and Will Eisner. Scans going up at Comicartfans.com SD 2006 gallery.

My article for Gail & Ray Orwig's Big Eye newsletter


&nbsp&nbsp&nbsp&nbsp&nbsp&nbsp&nbspComic-Con International: San Diego seems to grow every year with well over 100,000 attendees this year filling the Convention Center on the waterfront. From Preview Night on Wed. July 19th to Sunday, July 23rd, the only slow periods were the first hours as the public entered the exhibit hall. On Saturday, making one's way across the 50 aisles from Hall A to Hall G was like bumper-to-bumper traffic during rush hour.
&nbsp&nbsp&nbsp&nbsp&nbsp&nbsp&nbspThe convention was less movie star-struck this year. Brandon Routh (Superman Returns) made an unannounced appearance at DC's booth in the dealer room. Tobey Maguire and Kirsten Dunst were a surprise at the Spider-Man 3 panel. Writer Neil Gaiman and illustrator Charles Vess appeared to promote the Paramount production of their Stardust novel.
&nbsp&nbsp&nbsp&nbsp&nbsp&nbsp&nbspSpecial guests included Big Eyer Forrest J. Ackerman, Ray Bradbury, Basil Gogos, fantasy illustrator Yoshitaka Amano, and science-fiction artist Jean-Claude Mezieres. Ray Harryhausen returned to appear on several panels. Jean Giraud (aka Moebius) made a last-minute visit.
&nbsp&nbsp&nbsp&nbsp&nbsp&nbsp&nbspProminent creators sometimes use unfamiliar exhibitor names. A friend pointed out Club Coconut was Chris Sanders, director of Lilo & Stitch. Publisher Dark Horse Comics required a winning lottery ticket to see Hellboy creator Mike Mignola, but he spent most of the con freely available with his friend Jim Silke under the Hot Chocolate label. Some animation artists from big studios do comics to reflect their individual side. Two examples from this year are Afterworks 2 from the Pixar artists in Emeryville and Out of Picture from Blue Sky Studios artists in New York. Several of these artists were signing at the show.
&nbsp&nbsp&nbsp&nbsp&nbsp&nbsp&nbspMany businesses with any fantastic element come to Comic-Con: movie studios, cable TV channels, Japanese anime and manga companies, video game companies, figure and toy makers, etc. If one decides to go to the con, then plan accordingly, especially hotel reservations which get booked months in advance. Next year: July 26-29, 2007.

Supercon, Oakland, May 20-21, 2006


&nbsp&nbsp&nbsp&nbsp&nbsp&nbsp&nbspMy brother Stuart joined me and we arrived at the Convention Center early. Met up with our friend John and his friend Dave. Our pal Eric showed up shortly. So we visited while waiting. Of course, we're all in line to sign up for an Adam Hughes sketch. My quest was not over until Sunday after Midnight. The full story is at my comicartfans gallery for Supercon.

Oscar-nominated short films and directors in San Francisco


&nbsp&nbsp&nbsp&nbsp&nbsp&nbsp&nbspIndustrial Light and Magic invited members of ASIFA-SF to attend a screening of the five Oscar-nominated animated short films at their Premiere Theater at the Letterman Digital Arts Center. On Monday Feb. 27th, I drove over to San Francisco's Presidio and entered a vast underground garage. Going up the elevator, I entered a lobby which resembled a deluxe hotel except there were copies of Mark Cotta Vaz's Art of Finding Nemo and The Invisible Art: the Legends of Movie Matte Painting on the table. Ron Diamond (Acme Filmworks) organized the event and presented four of the directors. Badgered, a hand-drawn humorous work by film student Sharon Colman, features a poor animal in its den trying to get some sleep while bothered by crows and, ultimately, a missile installation. The Moon and the Son, An Imagined Conversation, by John Canemaker, is a very moving autobiographical film of his relationship with his father. The Mysterious Geographic Explorations of Jasper Morello is the story of a navigator who embarks on a skyship voyage with an unconventional doctor who seeks an answer to the plague which confronts the world. Director Anthony Lucas, who sat two seats over from me, created a CGI world of paper cut out figures in a tinker toy environment. I've rarely seen an animated film which carries the drama so well. UCLA grad student Shane Acker's 9 was another visually astonishing film. He uses CG to create a stop-motion look of a sack-cloth figure battling a giant insect in a post apocalyptic world. Acker is now working with Tim Burton on a feature version. Pixar's One Man Band, directed by the absent Mark Andrews and Andrew Jimenez, shows two one man bands competing for the single coin of a little girl. It's a great looking humurous short. I found all five films worthy yet unable to choose a single one as best. I said hello to John Canemaker before the program and thanked him for his lecture on Mary Blair at the Pacific Film Archive in Berkeley in 2004. He'll be back in August to speak on Winsor McCay.
Addendum: John Canemaker won for The Moon and the Sun. I think Sharon Colman was sitting on the aisle next to John. Anthony Lucas was behind Sharon with Shane Acker next to him. I think it was Andy Jimenez behind Anthony with Mark Andrews next to him.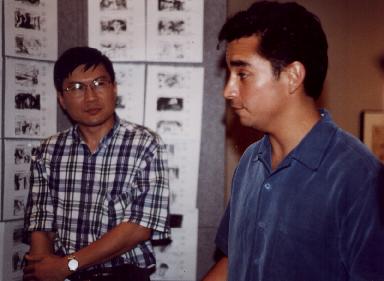 Listening to Andy Jimenez at the Cartoon Art Museum, June 24, 2004
Photo by Charlotte Mackay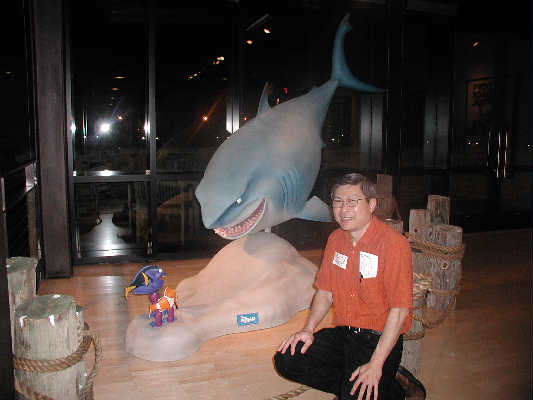 Cartoon Art Museum event at Pixar Animation Studios, Feb. 26, 2006
description coming

WonderCon, San Francisco, Feb. 10-12, 2006


&nbsp&nbsp&nbsp&nbsp&nbsp&nbsp&nbspSan Francisco's annual WonderCon moved to Moscone West for its February 10-12th event. Large crowds attended all three days and the fire marshall closed the exhibit room for an hour or so on Saturday. Bay area legends Bob Wilkins and John Stanley greeted fans at their tables and appeared on a horror host panel. Adventures of Superman's Lois Lane, Noel Neill, sat at a table opposite them. Comic book creators Frank Miller (Sin City) and Mike Mignola (Hellboy) were popular guests due to the movies. Original art by guests Gahan Wilson, Eric Powell (The Goon), and Chris Bachalo (The Sandman) was featured in the neighboring Cartoon Art Museum's "Gross, Gruesome and Gothic" exhibit. The programing room, larger than last years, was packed full for Kevin Smith as I showed up for the Pixar panel. We got to see two sequences from the upcoming Cars and the Oscar-nominated short One Man Band. I attended another panel and got the chance to chat with Pixar's Jeff Pidgeon. DC Comics held a prerelease screening of V for Vendetta. I heard that Superman Returns star Brandon Routh made a surprise appearance at the con. WonderCon is turning into a smaller, yet comfortable version of the huge San Diego Comic-Con.

&nbsp&nbsp&nbsp&nbsp&nbsp&nbsp&nbspPhil Foglio is offering some original art on ebay. I picked up this illustration from the Robert Asprin fantasy/comedy series:
Myth-Taken Identity page 283.

Patrick McDonnell in San Jose, Nov. 2, and San Francisco, Nov. 5.


&nbsp&nbsp&nbsp&nbsp&nbsp&nbsp&nbspPatrick, Mutts comic strip cartoonist, is on a book tour for his first childrens' book which features Earl and Mooch, the stars of the strip. I took a day off work to drive to Hicklebee's Books in San Jose. Between two signing sessions, Patrick read The Gift of Nothing and the April 2006 release Art. He talked of creating the strip, drew the characters, and answered questions. While Patrick and his wife Karen are vegetarians, the real Earl, a 17-year-old Jack Russell terrier, was getting cooked hamburger from Karen's mother. At San Francisco's Books, Inc. on Saturday, my friend Charles and I enjoyed another presentation. Patrick drew Crabby and showed how he changed the character into his mother with a few additions. He drew the feral cat Noodles scrounging in a garbage can. Following the presentation, Patrick offered the drawings for a donation to the ASPCA. Charles claimed the Earl and I got the Mooch. It was a real thrill for me. The drawing will be on display at the Fremont Main Library for a couple weeks.

Supercon, Hayward, Oct, 1, 2005
&nbsp&nbsp&nbsp&nbsp&nbsp&nbsp&nbspThis is Steve Wyatt's smaller Fall show, but several good guests. I asked Ryan Sook for a Zatanna drawing and he finished it up before the end of the show.

Neil Gaiman signing, Cody's Books, Berkeley, Sept. 30, 2005


&nbsp&nbsp&nbsp&nbsp&nbsp&nbsp&nbspIt's always a pleasure to listen to Neil speaking. There were over 200 people attending so I gave up waiting to meet him again and asked the store staff to take care of them. I heard it went on until after 1am.

Mark Schultz signing, Lee's Comics, Mountain View, August 6, 2005


&nbsp&nbsp&nbsp&nbsp&nbsp&nbsp&nbspLee Hester hosted a signing by Mark Schultz, creator of Xenozoic Tales, with the store debut of Mark Schultz Various Drawings volume 1 from Flesk Publications. Like previous signings at his store, Lee offered an exclusive free print of the artist's work.

San Diego Comic Con, July 13-17, 2005


&nbsp&nbsp&nbsp&nbsp&nbsp&nbsp&nbsI'm back from the con and recovering still. Don't have any reports ready yet, but I have scanned most of my new purchases and put them up at Comic Art Fans because this site is nearly full.

&nbsp&nbsp&nbsp&nbsp&nbsp&nbsp&nbspComic-Con International: San Diego ran from July 13th to July 17th at the city's Convention Center. Big studio movies have taken a great deal of attention lately. I heard many people were turned away from the 6000-seat Hall H. The con newsletter showed photos of Natalie Portman, Charisma Carpenter, and Charlize Theron. More raffles for autographs this year. I spotted actor Bruce Campbell signing at Dark Horse Comics. Heard Jack Black and Naomi Watts of King Kong showed up. No standout floor displays like last year's X-Wing or the LOTR costumes. Lots of video games and video monitors to attract attention. Merchandise is everpresent. The hit of the con was the Master Replica light sabers. The convention does not neglect those of long-standing fame: Ray Bradbury, Ray Harryhausen, and Forrest J. Ackerman were all special guests. I spent my time seeking out comic artists like Don Rosa (Uncle $crooge), Stan Sakai (Usagi Yojimbo), and Adam Warren (Livewires). San Diego is also the place to seek out animation artists doing their own comics after hours like Pixar's Ronnie del Carmen (Paper Biscuit) and Mark Andrews (Colossus). I also met Peter de Seve (Ice Age) and Tony Bancroft (Mulan) at the con. Many thousands of comic creators are at the show, often signing, and sometimes drawing for fans. Every Picture Tells a Story held several signings for the Animated Life book and Early Ray Harryhausen Films DVD.
&nbsp&nbsp&nbsp&nbsp&nbsp&nbsp&nbspThe Ray Harryhausen and King Kong panel included Mark Cotta Vaz, author of Living Dangerously: The Adventures of Merian C. Cooper, Joe DeVito, author/illustrator of King Kong of Skull Island, and Brad Stickland, coauthor with DeVito of Merian C. Cooper's King Kong. The panel moderator said Watson-Guptill is releasing The Art of Ray Harryhausen in March 2006. Mr. Harryhausen claimed to have seen King Kong 200 times and praised Max Steiner's score for its operatic appriach with a leit motif for each character unique to that particular film. He spoke of meeting Willis O'Brien and found him to be a delightful fellow. They got the chance to collaborate on Mighty Joe Young. O'Brien could do 20 drawings a day. On the novelty of King Kong, Harryhausen explained it was the first time it was not a man in a suit and gorillas had just been discovered 10 years before the movie. Of other movies, he advocated different techniques for different stories. He described the Corpse Bride as promising. Kermit revived hand puppets and Thunderbirds revived string puppets.
&nbsp&nbsp&nbsp&nbsp&nbsp&nbsp&nbspOn Saturday, Mr. Harryhausen was joined by friends Ray Bradbury and Forrest J. Ackerman in Room 20 with over 1000 attendees. They had come together as teens by the "fickle finger of fate" as Mr. Harryhausen put it. Mr. Bradbury remarked "this gathering reminds us of us." Mr. Ackerman described riding in a car, listening to a radio description of "Hi-Fi" and then coined the term "Sci-Fi." Mr. Harryhausen said he was looking forward to Peter Jackson's King Kong. If he had seen the 1977 King Kong as a teen, he'd have become a plumber. Mr. Bradbury put down the recent remake of The Mummy with its chorus line of mummies. Mr. Harryhausen said it was all about the effects, not the story. Mr. Ackerman said he was making his 209th cameo in Scorned and went to New Zealand for his 210th in Jackson's King Kong. Mr. Harryhausen is working on a companion book, The Art of Ray Harryhausen. Work which he never expected to be seen in public. He said stop motion is not dead as demonstrated by Chicken Run and Wallace & Gromit. Aardman will keep it alive. Mr. Bradbury has been at Universal for the last 8 years and seen 15 scripts each for Farenheit 451 and Martian Chronicles. He's working for Mel Gibson and asked fans to write him to get off his ass. Mr. Ackerman said he's heading for 100 and expects to see the 2 Rays there. He's taking pills every day and expects a refund if he doesn't make it. The moderator credited Mr. Ackerman for wearing the first costume at a con. Ray Bradbury described Robert Heinlein as sweet. He use to stare at him typing. Mr. Heinlein gave Mr. Bradbury his start by sending a manuscript to a magazine. Despite that help, Mr. Bradbury credits Leigh Bracket as his mentor. . Mr. Harryhausen told the audience of making a life mask of Mr. Ackerman while the dog started to lick his feet. They ended up with a Mona Lisa smile. Of his mentor Willis O'Brien, he was invited to watch preparation. Mr. O'Brien examined the sausage legs on Harryhausen's own model and suggested he go back to school to study anatomy. Mr. Ackerman's interest in collecting began in 1926 when he was thirsty for anything science fiction. He used to cut out and save the daily Buck Rogers comic stirp because he was afraid SF might cease. Carl Laemle used to give him anything he wanted. Mr. Harryhausen remembered being best man for Ray and Maggie's wedding. They worked together on the Beast from 20,000 Fathoms. Ray H brought in Ray B to look at the script which was a rip off from a Bradbury story. It was RH's first solo effort and he had little money to make it. It was in sepiatone and had to compete with color movies. Arnold _____ who spearheaded the drive for a RH lifetime Oscar joined the panel. RH worked independently from the big studios so there wasn't any other effort put forth. Columbia released the RH films on laser disc and that spurred Arnold to contact RB as an intermediary. RB contacted Karl Malden for the rules. On the beginnings of Famous Monsters, 4E saw a Werewolf of London magazine in Paris. He sought out a publisher to do an English version, but the translated text was disappointing and the rights to the stills, having multiple owners, was difficult to clear. Interest faded until Life ran a 8-page article on I was a Teenage Werewolf. The publisher offered 4E the chance to do one issue. Heavy demand led to over 200 issues and 50,000 visitors to his home. The first audience question asked about the 4E house tours. He still holds an open house on Saturdays from 11-12. Call (322) MOONFAN. Rh brought up the name of Michael Moore to RB who called him a lousy bastard. Not for his politics, but for appropriating the RB title without acknowledgement. RB said he loved walking around the exhibit floor seeing artists building a life around a strong love and personalizing their art.

Harley & Ivy #1 page 22 purchase


&nbsp&nbsp&nbsp&nbsp&nbsp&nbsp&nbspMy friend Alex Chun is selling pages from the DC miniseries Harley & Ivy #1. I have sent off my check for page 22.

Marshall Rogers at Treasure Island Comics, Fremont, CA May 28, 2005


&nbsp&nbsp&nbsp&nbsp&nbsp&nbsp&nbsp Marshall Rogers lives in my hometown. Previously, he lived on the east coast, but came west to work for video game companies. Now he's back doing comics: Batman: Dark Detective, a six-issue miniseries. I brought a few things to be signed and got a Batman sketch. Alex will have Marshall, and writer Steve Englehart, back once the series winds up.

Golden State Comic Con, Oakland, CA May 22, 2005


&nbsp&nbsp&nbsp&nbsp&nbsp&nbsp&nbspAt the Oakland Convention Center, Steve Wyatt assembled a good number of guest artists. Missed Saturday helping out at an IPMS plastic model contest, so I missed getting on sketch lists. I picked up a Tom Yeates Ragnarok page at the UNICEF/tsunami relief auction. Did have fun visiting with friends and chatting with artists.

Computer History Museum, May 16
Human Stories of Computer Animation


&nbsp&nbsp&nbsp&nbsp&nbsp&nbsp&nbspThe Computer History Museum in Mountain View, CA, presented a program with Ed Catmull, Alvy Ray Smith, Andrew Stanton, and Brad Bird from Pixar Animation Studios. Moderater Michael Rubin, author of the upcoming Droidmaker: George Lucas and the Digital Revolution, drew out comments from the guests. Catmull, now President of Pixar, was a student at the Univ. of Utah in the early 1970�s who was the first to make a curve on a computer. He emphasized the desire to create art. Smith joined Catmull in NY where they worked in a millionaire�s garage and lived in the servants� quarters upstairs. They came west to work for George Lucas, mainly creating better ways to process film. Smith described meeting John Lasseter at the Disney Archives. Being a Preston Blair fan, Smith asked to see the dancing elephant sequence from Fantasia. Their first hire was Lasseter who in turn hired Stanton.
&nbsp&nbsp&nbsp&nbsp&nbsp&nbsp&nbspAccording to Catmull, Stanton wrote all the Pixar films up to The Incredibles. Stanton remembered working on Toy Story when they feared it might be their only chance at a feature film. Their passion was to create a great film like Wizard of Oz or Star Wars. At that time, some critics claimed people would not sit through a CG feature. Bird compared it to attitudes towards Disney�s Snow White. Smith expressed his boredom with the live-action Alexander. Bird recalled his own family watching Toy Story recently and the kids enjoyed it despite the 10-year-old CG. They were sucked in by the story and characters. Bird kidded Stanton about the Finding Nemo staff getting a �business trip� to go diving in Hawaii. Stanton explained they sought to recreate their impressions of being undersea without being photorealistic.
&nbsp&nbsp&nbsp&nbsp&nbsp&nbsp&nbspBird expressed his exasperation with recent press interviewers who always ask about Pixar's latest CG innovations. They're missing the point that Pixar concentrates their effort on story. Bird was in the same Cal Arts class as Lasseter and they both include their classroom number in their movies. Asked for a five-year projection on the future, Bird expects many studios to turn out a number of CG features which will be bad and fail, then the studios will get out. The same happened after the Lion King when studios all spent millions on animated features which mostly failed. His own Iron Giant was completed while Warners was closing down the department. Its box office failure was due to the lack of marketing. Bird hopes for a future when CG, hand-drawn animation, claymation, and stop-motion will all co-exist.
&nbsp&nbsp&nbsp&nbsp&nbsp&nbsp&nbspWhen asked for advice for students and aspiring animators, Stanton and Bird both emphasized drawing as much as possible. Stanton said he was not the best draftsman, but he could draw to communicate with people. Bird asked them not to concentrate on viewing animation on DVD�s, but to study real life. He recalled watching animation where he could recognize a walk and other movements were cobbled together from the old Disney masters. Bird explained using a friend�s hand-shaking gesture to liven up a character in Family Dog. Following the talk, Bird was swarmed with fans seeking autographs. He inscribed each one and seemed to think up something for each one. When I offered my Art of Finding Nemo to Andrew Stanton, he spotted my Ronnie del Carmen drawing and added a Dory drawing as well as his autograph.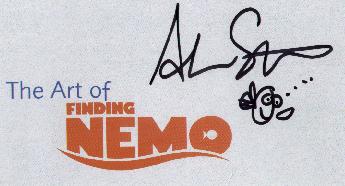 Andrew Stanton: Dory drawing

Alternative Press Expo, San Francisco, April 9-10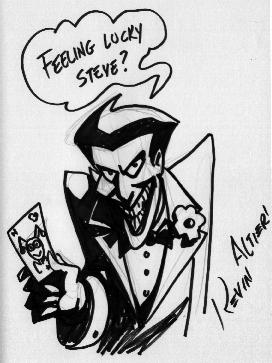 Kevin Altieri: Joker sketchbook drawing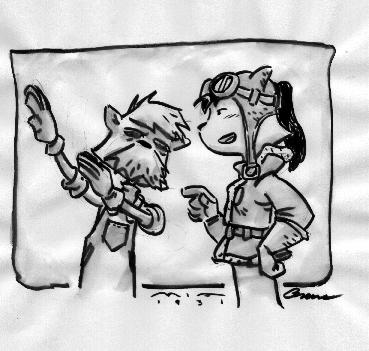 Enrico Casarosa: Pa & Mia marker and inkwash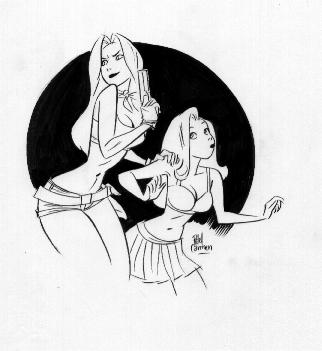 Ronnie del Carmen: Kayla & Suzi, Aliens Mondo Heat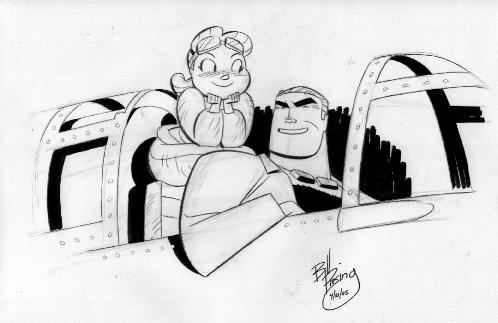 Bill Presing: Rex Steele & Penny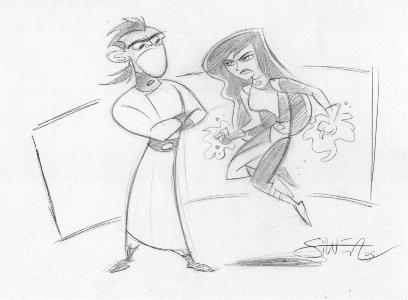 Stephen Silver: Dr. Drakken & Shego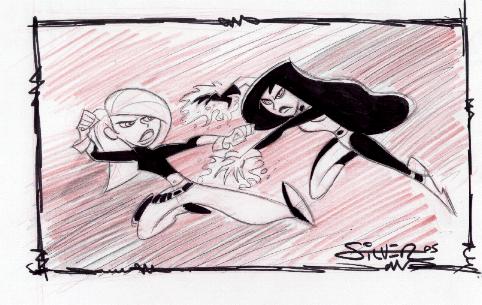 Stephen Silver: Kim Possible vs. Shego

March 5-6, 2005
Jeff Smith appearances, Super 7 reception for Ronnie and Enrico


&nbsp&nbsp&nbsp&nbsp&nbsp&nbsp&nbspJeff is on a book tour for the new color Out from Boneville from Scholastic's new Graphix line. On Saturday, John and I saw him at Cody's Books where he gave drawing lessons for Fone, Phoney, and Smiley for a group of youngsters. Afterwards was the the booksigning. We overheard Jeff mention a gallery he was going to see that night. Turns out he was going to see Ronnie del Carmen and Enrico Casarosa at the Super 7 reception we were going to attend. Jeff went to Pixar on Friday morning and was very impressed. I heard Enrico invited him.
&nbsp&nbsp&nbsp&nbsp&nbsp&nbsp&nbspWe got to Super 7 before the official reception began at 6pm. A couple of Ronnie's framed artworks were already sold. I grabbed the last copies of Art of Mia. We were soon joined by friends Charles, Eric, and Karen. Tried to identify all the Pixar folks in attendence. Jeff showed up and picked up Fragments, Paper Biscuit, and Adventures of Mia for himself. His escort bought two shopping bags of Godzilla toys for her son's fifth birthday. A really great night. The art will be up until April 4th. I have to get back to take another look.
&nbsp&nbsp&nbsp&nbsp&nbsp&nbsp&nbspJohn and I went to see Jeff at Comic Relief and showed our own Ronnie and Enrico art. It was great to get a chance to talk rather than the usual quick con chat. Afterwards, John started on the long way to LA.

February 18-20, 2005
WonderCon, San Francisco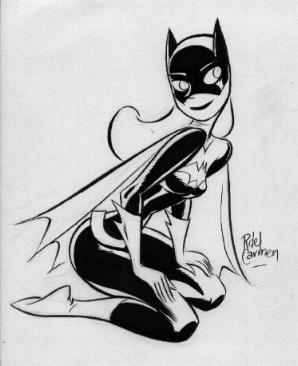 Ronnie del Carmen Batgirl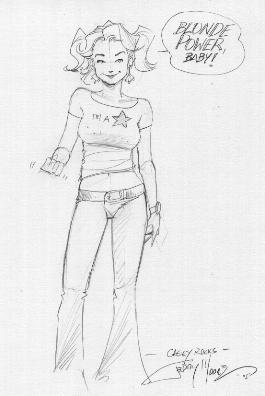 Terry Moore: Casey (Strangers in Paradise)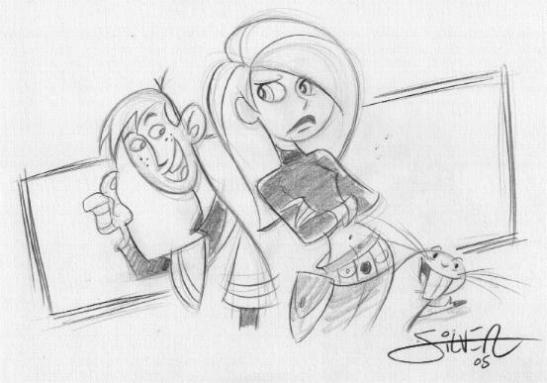 Stephen Silver: Ron Stoppable, Kim Possible, and Rufus

&nbsp&nbsp&nbsp&nbsp&nbsp&nbsp&nbspThis was a fun convention for me. My brother Stuart and his wife Amy drove up from LA to sell books. My friends Mando, Eric, John, Karen, and Rae came and helped out Stuart Ng Books at booth #316. Visited with many friends at the con. Met local TV hosts Bob Wilkins and John Stanley from Creature Features. Bone cartoonist Jeff Smith returned to the Bay Area and I got my last two books signed. Picked up copies of Enrico Casarosa's Adventures of Mia, a great comic for younger kids, girls especially. I took a casual approach to acquiring drawings this time. Made sure to see Ronnie del Carmen early and put in a request. A couple of friends got onto Adam Hughes sketch list and came away with great drawings. Terry Moore did a session for the ACTOR charity and I got the Casey drawing for a small donation. Stephen Silver came to WonderCon for the first time and drew Ron and Rufus as well when I just asked for Kim. He has a new book of his sketches out, in addition to last year's Art of Silver. Phil Foglio came down to host the con's first masquerade. I bought several of his sketch pages for just $2 each. Saw Joss Whedon walking the exhibit hall floor with John Cassaday. The convention was busy on Friday, extremely busy on Saturday, and tapered off on Sunday. I learned from a new acquantence that librarians and educators got in free on Sunday when the con held a couple of panels to promote reading and comics. Something to tell my coworkers at Alameda County Library for next year.

Nov. 5, 2004

&nbsp&nbsp&nbsp&nbsp&nbsp&nbsp&nbspLynn Johnston spoke at the Cartoon Art Museum. During her talk, she revealed how her extended family relationships allowed her to learn about homosexuality for the Lawrence storyline. In the recent storyline where April has a class with a special education student came from a young relative's experience trying to fit into a mainstream class. Lynn spoke of her declining eyesight and her artistic assistants. She plans to retire in a few years. To finish up the night, Lynn signed her newest book Suddenly Silver which includes text from her family.

October 2, 2004
Supercon, Hayward, CA

&nbsp&nbsp&nbsp&nbsp&nbsp&nbsp&nbspSteve Wyatt put on a fun, local comic con at Centennial Hall. I requested a sketch from Tom Yeates and purchased one of his Conan prelims. Spent time chatting with friends and artists.

August 28, 2004
Cartoon Art Museum: Michael Jantze, cartoonist in residence

&nbsp&nbsp&nbsp&nbsp&nbsp&nbsp&nbspMichael spent two hours in the musuem, working on a strip and chatting with fans. He's unsatisfied with his syndicate so he's ending the strip The Norm on Sept. 14th. We'll still be able to enjoy The Norm magazine which will increase to bimonthly publishing. He said he learned to hoard art supplies from Charles Schulz. Often the companies will change formulas, such as inks, or cancel production such as the Col erase blue pencils Michael uses.

July 21-25, 2004
San Diego Comic Con

&nbsp&nbsp&nbsp&nbsp&nbsp&nbsp&nbspComic-Con International: San Diego filled up the San Diego Convention Center with 900 exhibitors and 100,000 attendees from July 21st-25th. Hollywood studios have greatly increased their presence in the last few years. Keanu Reeves (Constantine), Sarah Michelle Gellar (The Grudge), and Jude Law (Sky Captain and the World of Tomorrow) appeared in the 6000-seat Hall H. I attended two events in the 4500-seat Room 20 to see Brad Bird present clips from Pixar�s The Incredibles and Joss Whedon brought a preview and the entire cast of his movie Serenity (once the TV show Firefly). I caught glimpses of Eliza Dushku (Tru Calling) and Neil Gaiman (Mirrormask) before and after the Pixar panel.
&nbsp&nbsp&nbsp&nbsp&nbsp&nbsp&nbspIn the park opposite the convention center, Paramount�s inflatable robots from Sky Captain rose above the trees. On the exhibit hall floor, Lucasfilm brought a X-Wing Fighter, roped off like an airshow with costumed characters patrolling around it. New Line showed off 10 costumes reputedly worn in The Lord of the Rings movies, but my disbelief was aroused when the Hobbit costumes were shown on child size mannequins.
&nbsp&nbsp&nbsp&nbsp&nbsp&nbsp&nbspFrom the animation field, I saw Matt Groening (The Simpsons) and Craig McCracken (Powerpuff Girls) Attended panels with June Foray (Rocky & Bullwinkle) and Glen Murakami (Teen Titans). Chatted with Mulan co-director Tony Bancroft about his voice direction for Hayao Miyazaki�s Porco Rosso, an aviation adventure due out on video in 2005. Picked up the DVD's for Bill Presing and Alex Woo's Rex Steele Nazi Smasher, Steve Rude's Nexus Promo, and Chris Bailey's Major Damage. Don Hertzfeldt and Mike Judge�s The Animation Show booth featured Bill Plympton.
&nbsp&nbsp&nbsp&nbsp&nbsp&nbsp&nbspWhile comic books seem to have taken a back seat at their own con, many of comic�s biggest stars may be found in San Diego. I saw Stan Lee, co-creator of Spider-Man and the X-Men. The con featured Stan Sakai�s Usagi Yojimbo 20th anniversary and Mike Mignola�s Hellboy�s 10th in the souvenir program. Jeff Smith celebrated the completion of his Bone fantasy saga and Scholastic announced their color collection of the story. Uncle Scrooge cartoonist Don Rosa signed at the Gemstone booth, current American licensee of Disney comics. I met Tom Gill who drew the Lone Ranger for Gold Key comics in the 1960�s. He was uncredited then, but those were some of my first comic books and I got to thank him in person.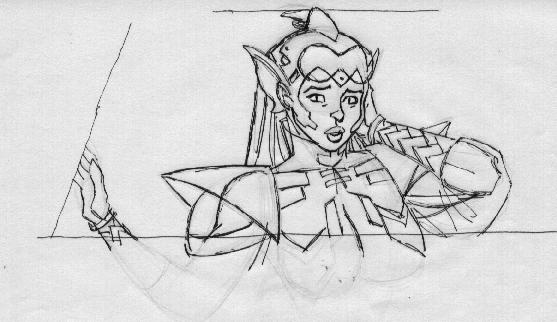 Arthur Adams: Jonni Future prelim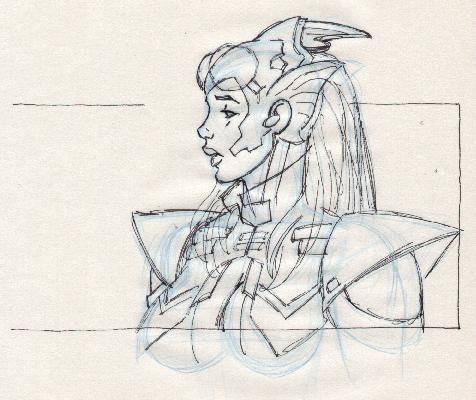 Arthur Adams: Jonni Future prelim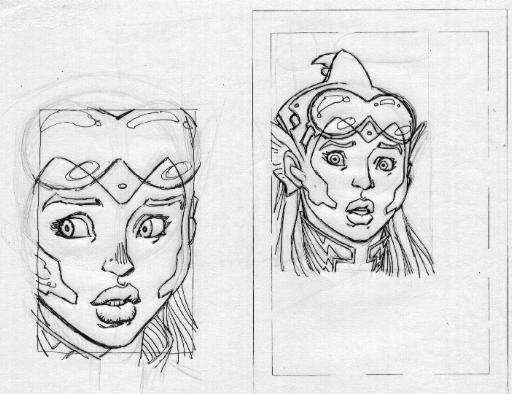 Arthur Adams: Jonni Future prelim
New at SD04: Yet Another Arthur Adams Sampler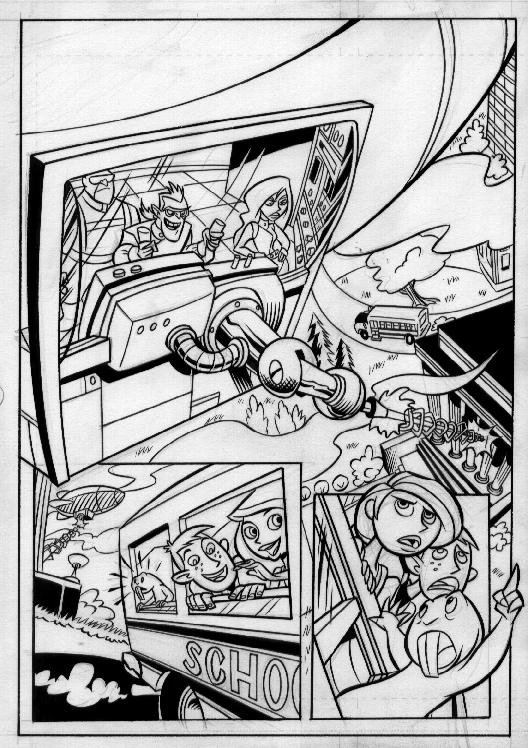 Tom Bancroft: Disney Adventures digest comic page
New at SD04: Opposite Forces #4 with Frank Cho cover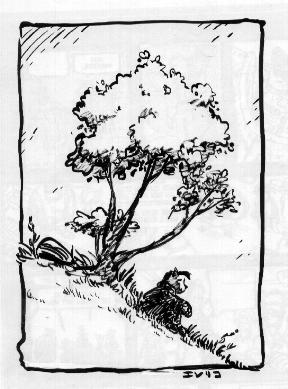 Enrico Casarosa: Adventures of Mia #2 backcover
New at SD04: Fragments Intermezzo

Ronnie del Carmen: blonde commission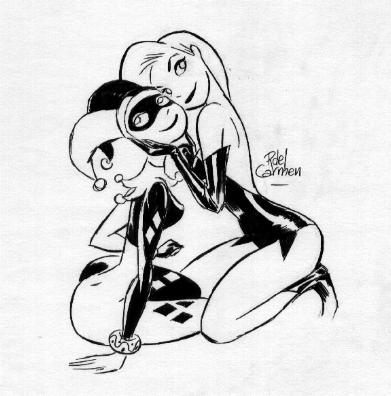 Ronnie del Carmen: Harley & Ivy
New at SD04: Paper Biscuit #2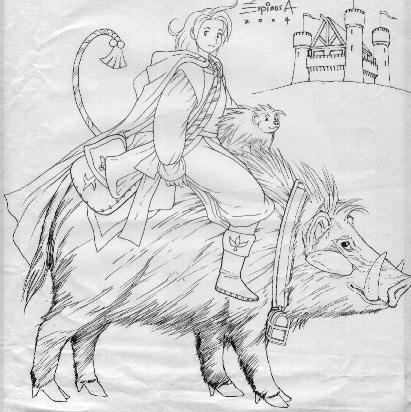 Rod Espinosa: Courageous Princess Masterpiece Edition cover (less dragon)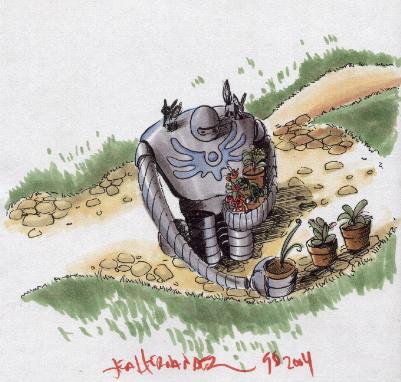 Lea Hernandez: Castle in the Sky robot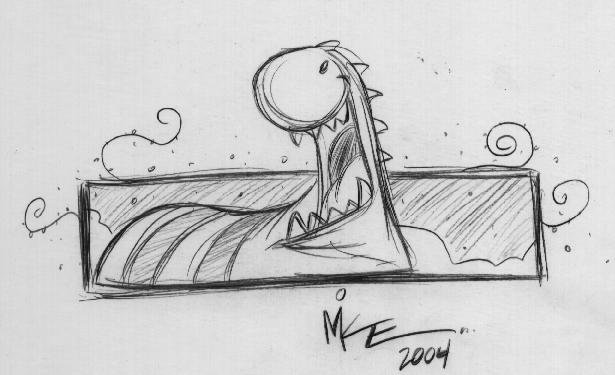 Mike Kunkel: Sokmunster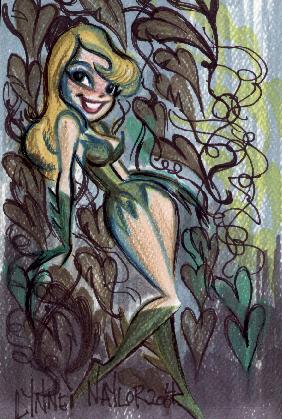 Lynne Naylor: Poison Ivy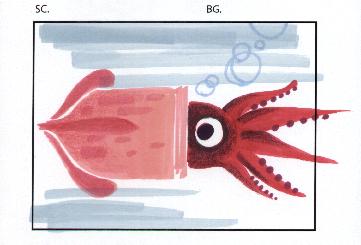 Chris Reccardi: Squid

July 3, 2004


&nbsp&nbsp&nbsp&nbsp&nbsp&nbsp&nbspWent to see Ryan Sook & Mick Gray at Alex Johnson's Treasure Island Comics in Fremont, CA for Free Comic Book Day. Bought some of Ryan's Hawkman prelims and Mick Gray's inks over Frank Cirocco's Reader Rabbit illustrations.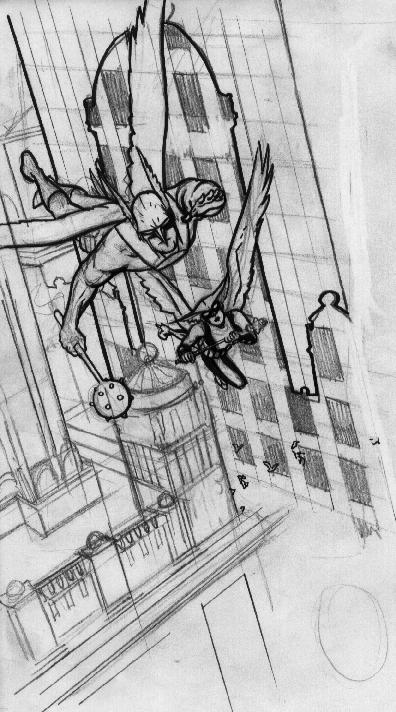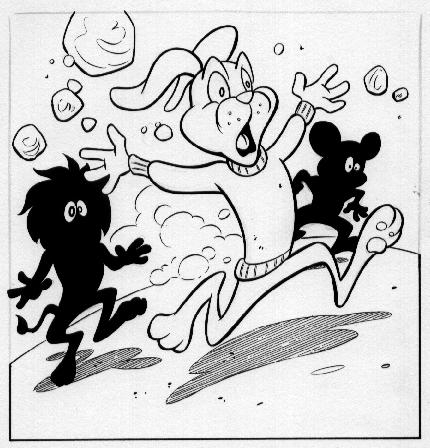 June 25, 2004


&nbsp&nbsp&nbsp&nbsp&nbsp&nbsp&nbspWent to the Pacific Film Archive for a John Canemaker slide show and talk on Mary Blair. It was great to see the examples of Mary's art. I recommend John's book The Art and Flair of Mary Blair as well as his other books such as Before the Animation Begins and Paper Dreams.

June 24, 2004


&nbsp&nbsp&nbsp&nbsp&nbsp&nbsp&nbspAt the Cartoon Art Museum, My friend Charles and I attended an entertaining and informative talk by story artist Mark Andrews and animatics artist Andrew Jimenez on the Spider-Man movie. Mark and Andrew also worked on Brad Bird's The Iron Giant and the forthcoming Pixar film The Incredibles.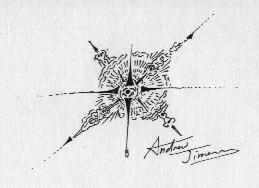 Andrew Jimenez drawing

June 24, 2004


&nbsp&nbsp&nbsp&nbsp&nbsp&nbsp&nbspAdam Warren's Gen 13 #60 page 4 arrived in the mail from inker Jason Martin. I've bought many pencil prelims from Adam and I'm glad to have an inked page to match.

June 3, 2004


&nbsp&nbsp&nbsp&nbsp&nbsp&nbsp&nbspA package arrived today from Steve Rude. Just finished seeing all 26 Jonny Quest episodes and Steve's segments from the new DVD set. So I asked for Jade, Race's former flame.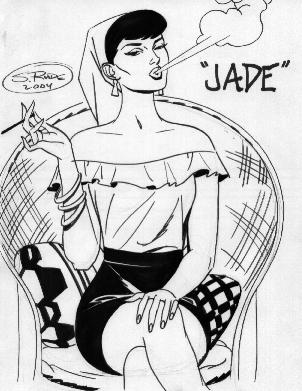 Jade (Jonny Quest) commission

May 28-31, 2004
Fanimecon
Picked up a few cels at this San Jose anime con.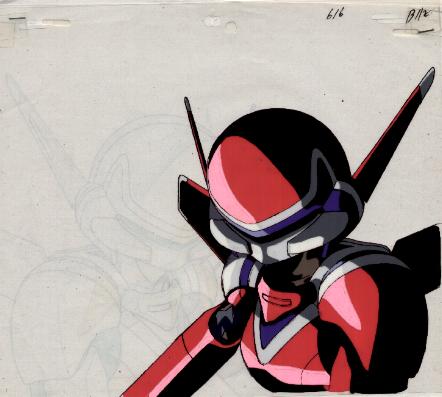 Nene in the ADP control room cel
May 7, 2004
A package arrived in today's mail with a Stan Drake original daily.
Heart of Juliet Jones June 7, 1975
May 6, 2004
Stephen Silver drew a sketch of Kim Possible in my copy of his book The Art of Silver. It arrived in today's mail less than a week after my web order.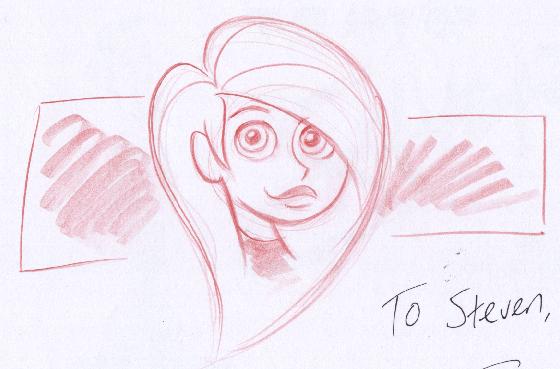 April 30-May 1
WonderCon, San Francisco


&nbsp&nbsp&nbsp&nbsp&nbsp&nbsp&nbspI helped my brother Stuart exhibit at the show. He sold the Peter de Seve Sketchbook and Claire Wendling's Iguana Bay 2.0. Ronnie del Carmen came by to visit and wrote us up in his blog with a photograph. Enrico Casarosa came by too, but I didn't get a chance to ask about his Japan trip and visit to Studio Ghibli described in his journal. Mando, Karen, and Rae all helped out at the booth.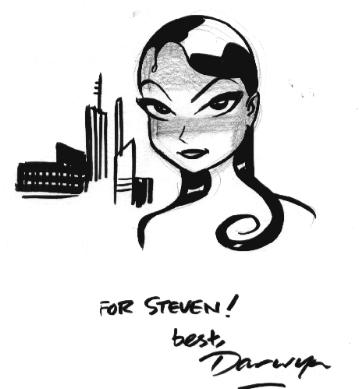 Darwyn Cooke Inque sketch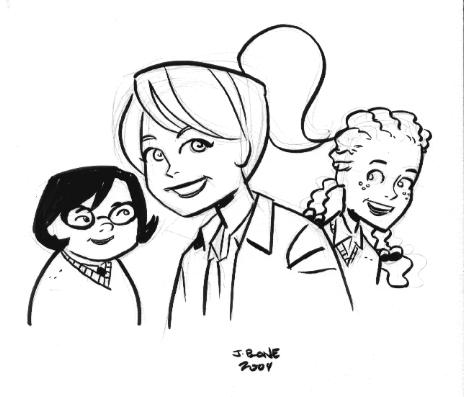 J Bone Alison Dare with Wendy and Dot sketch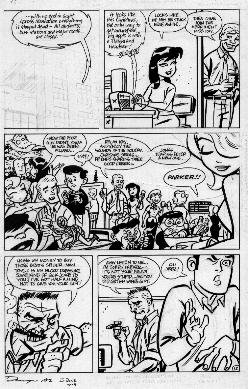 Spider-Man's Tangled Web #21 page 12 by Bone & Cooke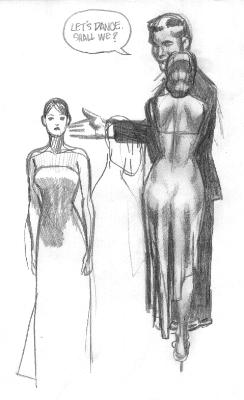 Ryan Sook "warm up drawing"
March 27, 2004
Went to see Steve Rude at Comic Relief in Berkeley. He's on tour promoting his new comic The Moth from Dark Horse.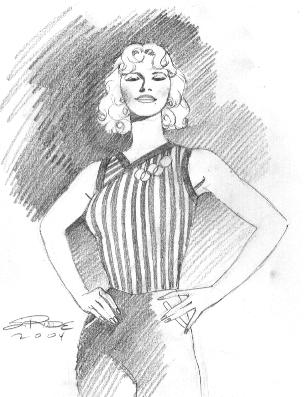 Sundra Peale pencil drawing
March 20, 2004
My friend Eric and I went to see Sergio Aragones speak at the opening of the Mad About Peanuts exhibit at the Charles M. Schulz Museum. The highlight is a Mort Drucker Mad magazine cover original in ink and watercolor.
March 8, 2004
My friend John picked up a Phil Noto Modesty Blaise commission for me. Phil has drawn Beautifull Killer and Danger Girl comics.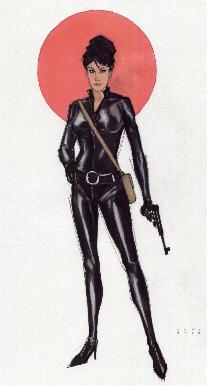 February 24, 2004
Jim Holdaway Modesty Blaise daily #707 arrived from England. I've long admired Peter O'Donnell's heroine. The Holdaways were recently offered by www.bookpalace.com and now I have one of my own.
Modesty Blaise daily
February 21, 2004
Alternative Press Expo, San Francisco
Enrico Casarosa and Ronnie del Carmen added to my Miyazaki theme. Lynne Naylor drew original covers on her Scrapbook. Chris Reccardi showed off his animation work in Board @*#>* Less. Lea Hernandez brought some comic pages for sale. Steve Leialoha brought his Line Dancing sketchbook and drew on an interior page for me. Michael Jantze signed the new Spark Generators II at the Cartoon Art Museum booth and moderated a panel on "Day Strippers."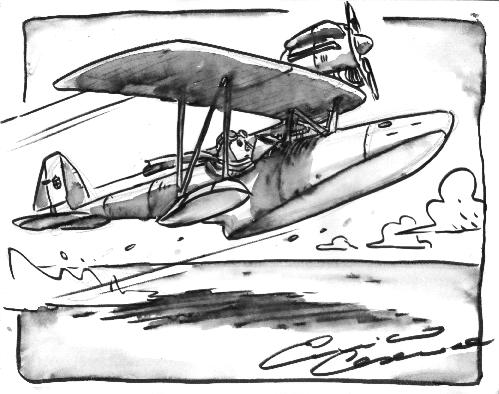 Marco in his Savoia S-21 (Porco Rosso) by Enrico Casarosa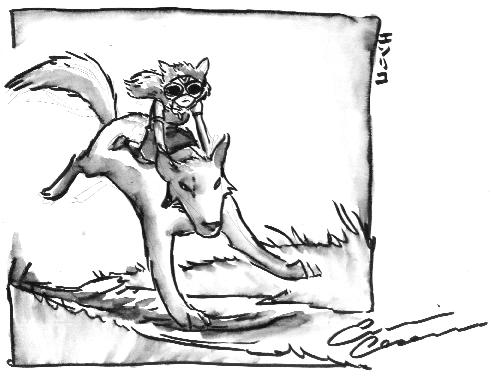 San on wolfback (Princess Mononoke) by Enrico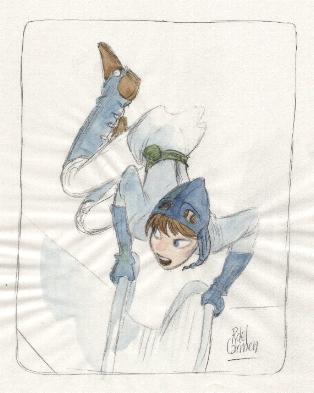 Nausicaa riding Mehve (Nausicaa of the Valley of Wind) by Ronnie del Carmen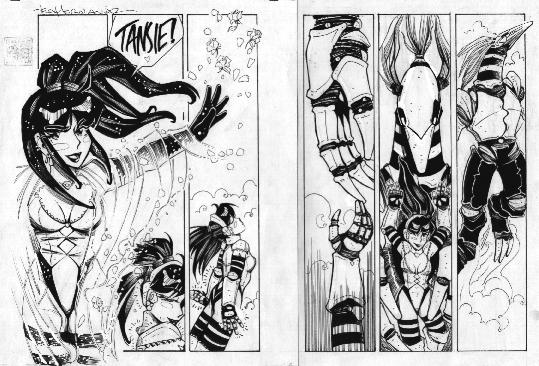 Rumble Girl: Silky Warrior Tansie pages 6-7 by Lea Hernandez
February 20, 2004
Craig Rousseau artwork arrived in mail. This is the computer color version of the line art.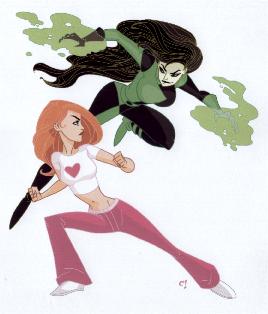 Kim Possible vs. Shego

February 15, 2004
Patrick McDonnell spoke at the Charles M. Schulz Museum in Santa Rosa, CA.

January 10, 2004
Michael Jantze spoke on "The 10 Things I Learned from Sparky" at the Schulz Museum in Santa Rosa. Michael's site also includes some remarks from a Chuck Jones talk at Industrial Light and Magic.

November 1, 2003


&nbsp&nbsp&nbsp&nbsp&nbsp&nbsp&nbspCartoonist Patrick McDonnell spoke at the Cartoon Art Museum in San Francisco. The occasion was the book release party for Mutts: the Comic Art of Patrick McDonnell. The book shipment arrived by air on Saturday. It won't be out in stores for two more weeks. Patrick said, "My own mother doesn't have one." The book looks terrific and many insights into Patrick's strip.
&nbsp&nbsp&nbsp&nbsp&nbsp&nbsp&nbspPatrick drew on a tablet laying on an easel while talking and answering questions. He wanted to be a cartoonist since he was a child, common to other members of the National Cartoonists Society. He loved comics, especially Peanuts. His originals are small because he began drawing the same size as the newspaper comics. He was a magazine illustrator for 12 years, often drawing a small dog into the scene. One editor looked at the dog and said it was a Jack Russell Terrier. So Patrick looked it up and chose one of that breed for his own dog. This dog is the original Earl. In the book, Patrick shows a list of character names. He was having trouble making his decision. Charles Schulz suggested Patrick use the name of his own dog since he had done the same thing himself with Snoopy. Since it worked for Schulz, Patrick followed suit.
&nbsp&nbsp&nbsp&nbsp&nbsp&nbsp&nbspGrowing up, Patrick's mother kept cats, not dogs. His dad could not care less. This attitude is the basis for Frank and Millie. When a cat came to nuzzle her face, she called it a "mooch."
&nbsp&nbsp&nbsp&nbsp&nbsp&nbsp&nbspWhen Patrick was developing his strip, he utilized characters who he often used in his magazine cartoons. The original idea was a dog who would go out each day and meet animals like rhinos, platypus, elephants, etc. A syndicate editor suggested making it more realistic: dog meets cat.
&nbsp&nbsp&nbsp&nbsp&nbsp&nbsp&nbspPatrick spoke of his deadlines and how you had to do the best you can and then let it go. When suffering writer's block, he plays nonvocal music, jazz and classical. He expects there will be an animated special someday with a studio with the right sensibility. Addressing Mooch's "yesh," Patrick said he was fond of unique dialog such as demonstrated in Popeye and by Milt Gross. On the Sunday title panels, he works out the joke first, then finds a complementary image. He loves the Crabby character, but actually gets complaints about the curses. One fan asked Patrick to draw Speedo which stumped the artist until reminded he was the snail who "owned" Mooch. Bushie, one of the little girls in the strip, is a tribute to Ernie Bushmiller's Nancy. Although a vegetarian, Patrick loves drawing Butchie, operator of Fatty Snax.
&nbsp&nbsp&nbsp&nbsp&nbsp&nbsp&nbspFor his artwork, Patrick uses a Rotring fountain pen. Now out of production, he only has 5 left. He uses a brush for broad black areas. For the Sunday colors, he copies the artwork onto heavy paper and applies watercolors. Then he has to number all the colors for the printers. When the CAM had the Mutts exhibit, I saw both colored Sundays with numbers and colored Sundays only. Didn't get around to asking about that.
&nbsp&nbsp&nbsp&nbsp&nbsp&nbsp&nbspWhile doing all this talking, Patrick drew Earl, Mooch, Shtinky Puddin', Sour Puss (with his own personal cloud of despair), Chickpea and his brother (subjects of this week's shelter stories), Noodles the feral kitty, Mussels Marinara, Crabby, the squirrel, Woofie, and others.

September 30, 2003
Adam Warren commissions arrived in today's mail.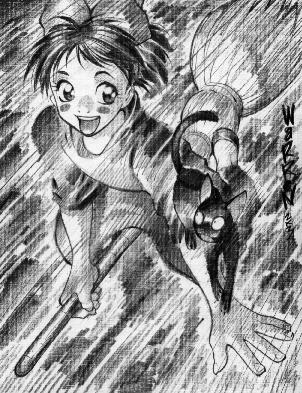 Kiki and Jiji from Kiki's Delivery Service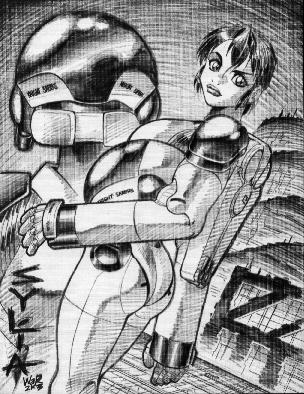 Sylia Stingray in Knight Sabers hardsuit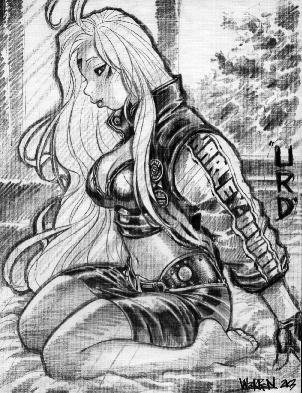 Urd from Kosuke Fujishima's Oh! My goddess
September 26, 2003
Sojourn page arrived in mail