STEVE'S COMIC ART COLLECTION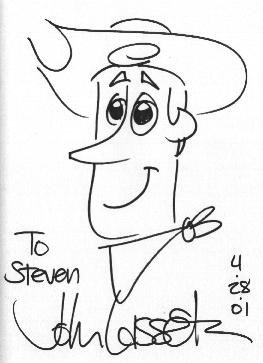 Woody sketch by John Lasseter
Castro Theatre, San Francisco

I'm a lifelong fan of cartoons, comic strips, and comic books. I met Mr. Schulz, one of my heroes, at a Cartoon Art Museum event, but the Snoopy drawing on the entrance page is a secondhand bookstore discovery.
John Lasseter was signing at the Spike and Mike Animation Festival and drew the Woody sketch for me.

NEWS
My latest art acquisitions and cartoon fan experiences

HAYAO MIYAZAKI & STUDIO GHIBLI
Kiki's Delivery Service drawings and Porco Rosso cels

ADAM WARREN
Dirty Pair, Gen 13, Bubblegum Crisis

BRUCE TIMM & Batman Animated artists
Ronnie del Carmen, Shane Glines

COMIC BOOK ARTISTS
Arthur Adams, Adam Hughes, Mark Schultz, Jim Silke, Tom Yeates

HUMOR COMIC BOOK ARTISTS
Don Rosa, Bill Morrison, Stan Sakai, Jeff Smith

COMIC STRIP CARTOONISTS
Frank Cho, Michael Jantze, Lynn Johnston

MY ANIME AND ANIMATION COLLECTION SITE

Email

Images on this website are copyright by the artist and trademarks for characters are owned by their respective companies.