THE ART COLLECTION
The Bellagio Show
Page Three of Three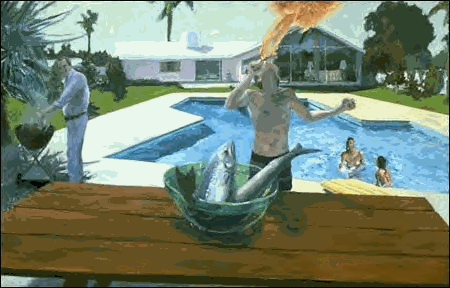 =======================================
The San Francisco Chronicle
April 26, 2001, Thursday, Final edition
Daily Datebook; P. B1
An inspired collector; Steve Martin's art at Bellagio shows insight
David Bonetti, Chronicle Art Critic
Las Vegas: The fact that the private collection of Steve Martin, Hollywood comic and New Yorker humor writer, has had its public premiere in Las Vegas has amused as many as it has confused. Art -- and some very good art, by the way -- in Las Vegas! What could be more absurd or incongruous?
But in fact, fine art is becoming more and more part of the total Vegas package.
Just as in Versailles, where an enormous orangerie was built beside the palace's cesspool so that its sweet smells might mask the fetid odors emanating from the primitive sewage system, in Vegas, they try to mask the place's moral stench with art. Remember, this self-proclaimed Disneyland for Adults is a town built on vice: gambling, prostitution and drugs.
As the famous strip upgrades from all-you-can-eat $7.99 buffets to outposts of Le Cirque, Postrio and Spago, the ever more opulent theme hotels and casinos are adding museums to their Tiffany, Gucci and Prada shops as the ultimate in luxury-good display.
This fall the Guggenheim opens its Vegas branch, designed by architectural hotshot Rem Koolhaas, in the Venetian, an appropriate spot since it maintains a branch, formerly Peggy the G's palazzo, on the original Venice's Grand Canal.
And Bellagio, the first of the new hotel-casinos to push luxury into the category of pure, if tasteful, excess, has maintained Steve Wynn's original Gallery of Fine Art after the founder was forced out in a corporate takeover.
Now, the new management, MGM, is hosting shows. Martin's collection currently fills the space, two medium-size galleries carpeted with a tacky patterned broadloom that seems a relic from Vegas' more raffish days.
Actually, art provides a certain value in a milieu where virtuality reigns. In comparison with an on-the-hour light show featuring an animatronic Bacchus, Venus and Apollo in a simulation of ancient Rome, not to mention Siegfried and Roy, Martin's two Edward Hopper paintings are endearingly handmade.
Martin made his fortune playing a jerk, but his is not a jerk's collection. Although he modestly dismisses his theory of collecting to merely wanting "some nice paintings to hang on my walls," as a collector, Martin comes across as an inspired amateur, in the best sense of the word.
The collection he has assembled over 30 years speaks for its own seriousness. There are the requisite Euro blue-chips -- paintings by Picasso and Francis Bacon and two charcoal drawings by Seurat -- although the focus is on postwar American art. Still, like most collectors, Martin is insecure about his art-world status, and he contributes a personal essay and commentary on individual works that reveals him through dim attempts at wit to be an insightful art critic.
Martin's collection is, of course, revealing about his taste. The evidence suggests that Martin is relatively conservative aesthetically. He collects only paintings and drawings -- no sculpture, installation work or media arts and only a single photograph, an "Untitled Film Still" by Cindy Sherman, a woman he has been linked with romantically.
The only abstraction, a 1916 painting by American cubist Stanton MacDonald-Wright, is actually a deconstructed head. The one work that could still pass as avant-garde is a 1964 Roy Lichtenstein painting based on an image from a romance comic.
Martin's collection is not only heavily figurative but it also favors the nude, specifically the female. And although he writes that he broke his policy of not showing his collection publicly (to help maintain his privacy) because exhibiting it in Las Vegas "sound(ed) like fun," Vegas might be the perfect place for it. A few steps from the hushed tones of the Bellagio gallery you can see the real thing: the topless showgirls of "Jubilee" or some other updated hootchy-kootchy show.
But Martin is quite a connoisseur of nudes. His "Naked Girl" (1966) by Lucian Freud seems particularly vulnerable. He writes about Freud's nudes smartly: "They work because they are not painted from the sexuality of the genitals; they are painted from the sexuality of the brain."
Martin's favorite artist seems to be Eric Fischl, a contemporary who explores as well as anyone the sex obsession of postwar American suburbanites. Fischl's paintings are filled with nudes, and two of the three Martin owns feature them. (The other is a portrait of the collector.) "Truman Capote in Hollywood" (1988) features a poolside bacchanal from the ever popular end-of-the-world-in-the-Hollywood-Hills genre.
Martin's most original choices are two paintings featuring female nudes by John Koch (1910-1978), a half-forgotten American realist who documented everyday life on New York's Upper East Side. (Dorothy Parker wrote one of her best essays about one of his paintings.) Martin gives an impassioned defense of his work, seeing it as a link between Hopper and Fischl and thus as the glue that holds his collection together.
=========================================
The New York Times
April 24, 2001, Tuesday, Late edition
Section E; Page 1; Column 2; The Arts/Cultural Desk
Art Review; In Vegas, Steve Martin Tries a Different Kind of Show
Grace Glueck
LAS VEGAS: As a stand-up comedian, Steve Martin often played Las Vegas. Now his art collection is doing a gig here.
Enshrined in the fancy gallery of the Bellagio Hotel, where it is publicly exposed for the first time, the collection is correctly characterized by its owner as "an extremely personal group of pictures." On view through Sept. 3 are 28 paintings and drawings from Mr. Martin's holdings, a wildly eclectic mostly 20th-century mix that runs from Picasso and Seurat to Robert Crumb, a once-underground but now celebrated artist of the comic book.
The collection is uneven, as are most "personal" collections, so called to distinguish them from those formed with museum or other expertise. And it lacks focus, as many personal collections do. In fact, its scattershot quality might lead one to believe that Mr. Martin is very much an impulse buyer; he says in the catalog that he wanted "some nice paintings to hang on my walls."
His determinedly amateur approach, as expressed in the show's catalog, seems a little disingenuous, but never mind. He has indeed bought some nice paintings, some not so nice and a few that are indifferent, to say the least. His eye is good, though far from infallible, and he deserves points for allowing himself the luxury of his own taste. Not inappropriately for Las Vegas, nude female figures abound, while there are no abstractions (although he once owned a Franz Kline and a Cy Twombly).
What stands out immediately is a splendid pair of small crayon drawings by Seurat, "Woman Reading" (1883) and "Man Sitting on a Terrace" (1884), from a series of experimental works in black and white done by the artist to study the interaction of light and dark.
Two canvases by Edward Hopper also command attention: the haunting "Hotel Window" (1956), depicting a lonely lobby where an elegantly underdressed older woman sits peering out a dark window in a timeless attitude of waiting, and "Captain Upton's House" (1927), a view of a white Victorian pile with a lighthouse looming behind it, positioned on the rocky Maine shore as solidly as a palace.
There are, of course, trophy Picassos: "Seated Woman" (1938), an intricate double-faced portrait that is a fine example of the basketwork painting style adopted by the artist that year, and a black and white drawing of a lounging nude with a classical Greek head from 1919. They are complemented by a nice de Kooning pastel, "Two Women" (1952), an example of the fierce, fleshy woman-as-animal renditions done by the artist in the 1950's.
A powerfully modeled, richly brushed "Naked Girl" (1966), a view of the subject from above as she lies face up on a bed, represents the British artist Lucian Freud in the collection, and David Hockney is seen at his sensitive best in a rendition of Andy Warhol in an unaccustomed reflective mood. And of course there is one of Mr. Hockney's famous California pools, a small lighthearted painting called "The Little Splash" (1966).
A more offbeat but commendable choice is John Graham's eccentric "Eyes Astray (Pystis Sophia)" (1955), a fanciful portrait of a woman with one blank eye, accompanied by the usual arcane symbols and Latin and Greek writing of this Russian-American oddball. The portrait, like the Crumb drawing, adds flavor to the mix.
But to have no less than three paintings by Eric Fischl, including a bland, snapshotty portrait of Mr. Martin on the beach and a clumsily composed and painted figure ensemble titled "Truman Capote in Hollywood" (1988) seems excessive. A high-colored but characterless landscape by April Gornik does not impress, and neither do two slick, erotic paintings by John Koch, a well-neglected American artist of mid-20th-century upscale urban life whose anemic Realist cliches were ludicrously out of touch with contemporary currents.
As with any collection, the installation becomes part of the show, and this one unfortunately muffles it. The hushed, dark Bellagio Gallery of Fine Art -- in the lobby just beyond eye-and-earshot of the slot machines and gaming tables -- has the gussied-up look of a fusty old master museum, with a distractingly busy hotel carpet on the floor. To get in, ticket buyers -- paying a sticker-shock $12 ($6 for Nevada residents) -- line up behind velvet-roped gold stanchions. (The money goes to Mr. Martin's charitable foundation.) As they leave, as in any museum, they may pass through an art store that feeds off the show.
If there are Las Vegans or visitors who feel -- as I do -- that serious art has no place in the setting of a clamorous hotel, even one as grandiose as the Bellagio, or any environment where it takes a back seat to the interests of high-rolling businessmen, they have lodged no protest here.
A collector since 1968, when he bought a painting by the Los Angeles artist Ed Ruscha (not shown here), Mr. Martin says in the catalog that he always wanted to keep his acquisitions on the private side.
"I didn't want these works to be perceived as vehicles for publicity or to be treated as commercial objects used to promote an 'image,' " he said. He decided to show them in Las Vegas for no other reason than because it sounded "like fun."
It's odd that a collector so uninterested in image has chosen to display his art in the superhype capital of America, where it has drawn the kind of glitzy attention accorded the opening of a new hotel. True, he follows in the footsteps of the casino mogul Steve Wynn, who opened the Bellagio in 1998 at a cost of $1.6 billion. Mr. Wynn's much-publicized $285 million acquisition of Impressionist and Post-Impressionist art -- always for sale -- was shown there briefly before he sold the hotel to MGM that year.
(Some quite good Picassos remain in an enclave called the Picasso Restaurant; the mammoth reception desk is flanked by two Rauschenbergs, and the ceiling of the lobby is adorned by Dale Chihuly's enormous garden of glass flowers.)
Aside from Mr. Martin's collection, the Bellagio Gallery has big plans. Before the Martin show it mounted a selection from the renowned Phillips Collection in Washington, and it is negotiating for one from the even more illustrious Barnes Collection in Merion, Pa.
And this threatens to be only the beginning of an art-casino conjunction that could make Las Vegas a gambling-cum-culture destination that would astonish the gangsters and politicians who founded it. A rival to the Bellagio, the new Venetian Resort Hotel Casino, is setting up two museums on its premises, the Guggenheim Las Vegas and the Hermitage-Guggenheim Museum, a partnership between the far-flung Guggenheim Museum and the State Hermitage Museum of St. Petersburg, Russia. Both spaces, designed by the Dutch architect Rem Koolhaas, are to open in September.
The Hermitage-Guggenheim, a smaller exhibition space in the front of the lobby, will make its first show a display of Impressionist and early modern masters from both institutions. The Guggenheim Las Vegas, a free-standing building in the Venetian compound, will start with "The Art of the Motorcycle," the show organized by Thomas Krens, the Guggenheim's director, for the New York museum in 1998.
Meanwhile, the thriving graduate art program run by Dave Hickey at the University of Nevada, Las Vegas is turning out painters galore. And his wife, Libby Lumpkin, who is assistant professor of art at the university -- and who helped Mr. Wynn assemble his collection -- plans to counter the big guns at the Bellagio and the Venetian in September. She is mounting a show of work by younger artists that should blow a fresh breeze through this overheated desert.
==========================================
The Associated Press
May 2, 2001, Wednesday, BC cycle
2:59 AM Eastern Time
State and Regional
Nevada Focus: Las Vegas casinos gamble on fine art exhibits
Lisa Snedeker, Associated Press Writer
LAS VEGAS: Can Picasso and Renoir compete with topless revues and video poker? Or will a museum exhibit draw the same crowds that scramble to see fighting pirates, dancing water fountains and exploding volcanoes?
Las Vegas resorts are betting on it.
The newest form of entertainment to headline on the Las Vegas Strip isn't magicians with white tigers or lounge act impersonators. It's fine art.
It's a gamble, but it's an educated gamble," said The Venetian President Rob Goldstein. "We like the odds."
That's because megaresort developer Steve Wynn already wagered a bundle that when tourists had their fill of free booze, cheap buffets and nickel slots, they might be in the mood for a little culture. The former owner of Mirage
Resorts Inc. won when he put his private art collection on display at the luxurious Bellagio hotel-casino in 1988.
"I'm delighted to be a catalyst," Wynn said. "This is fundamental change. This is not going to go away."
Not if the long lines of tourists in shorts and Hawaiian shirts filing into to catch a glimpse of works by Monet and Van Gogh are any indication.
That's what inspired Thomas Krens, chairman of the Solomon R. Guggenheim Foundation, to collaborate with The Venetian hotel-casino owner Sheldon Adelson to bring the Guggenheim-Hermitage museums to the Strip. Two separate galleries are set to open in September at the resort.
"By collaborating with the Guggenheim and Hermitage museums, The Venetian will bring some of the greatest masterpieces ever created to a city that is rapidly being transformed into a world-class travel destination," Adelson said. "Now we can add art to the capital of entertainment."
The success of Wynn's Bellagio gallery led MGM Grand executives to relocate and expand the gallery when the company took over Mirage Resorts last spring.
Wynn took some of his masterpieces with him, MGM Mirage sold others to pay down debt, but the concept of an art gallery in a casino resort remained.
"Increasingly sophisticated audiences with a variety of needs and interests have created a market for culturally rich experiences in Las Vegas," said Bobby Baldwin, president and chief executive officer of the company's Mirage division.
And the market is there according to the estimated 1,000 people who visited The Phillips Collection exhibit daily since it opened in September with 26 works at the Bellagio Museum of Fine Arts.
The collection included paintings by 20th century American artist Edward Hopper, a 400-year-old El Greco, and a self-portrait by Paul Cezanne.
Jay Gates, director of the Washington, D.C.-based Phillips Collection, said the idea behind the Las Vegas exhibit was to bring new, diverse groups of people to art.
Phillips ended its run last month to make way for actor, comedian and author Steve Martin's private art collection. Proceeds - after costs - from both exhibits go to charity.
Martin's five-month exhibit is the first public display of his collection of 28 works by Roy Lichtenstein, Pablo Picasso, David Hockney and Edward Hopper, among others.
"The venue is quite beautiful and it's a nice intimate space for what I have," Martin said. "It's a real contrast to the jazzy feel of Vegas."
----
On a Tuesday morning, about 50 people are staring transfixed at the paintings in the quiet two-room Bellagio gallery, with its plush amber carpet and warm dark woods, less than 100 yards from jangling slot machines and the shouts at the craps table.
Just outside the doors some people lounge by the pool. Others rush to a convention meeting. Inside the gallery, there is only the murmur of the hand-held audio speakers that Carol McCormick and her friend, Janet Sahakian, are holding that give a short history of each painting.
McCormick, of Odgen, Utah, says their main purpose in coming to Las Vegas was to visit the Phillips Collection exhibit.
"It's a lot cheaper than going to Washington, D.C.," she said.
It's not the first time the pair have come to Las Vegas for culture. They also visited the "Treasures of Russia" art exhibit at the Rio hotel-casino last year.
Elizabeth Richardson, of Bangor, Maine, says she visited the gallery because she can gamble, shop or swim anywhere.
"You can't see several masterpieces in a collection all in one place," she said. "It's magnificent."
What is Vegas-like about the Bellagio gallery is that it's good for those with short attention spans.
It holds from 25 to 30 pieces and can be seen in less than an hour.
Gallery Director Kathleen Clewell said people feel more comfortable looking at art in their casual resort wear and they are not overwhelmed by an expansive museum like the New York Metropolitan Museum of Art.
Artist and actor Martin Mull, whose work is among that being displayed in Martin's collection, compared fine art in Las Vegas to the Akron, Ohio, Symphony Orchestra.
"It's not where you would expect to find it," he said.
****
======================================
BACK TO THE TOP
Last updated 12 August 2001