Raising the Bar
By Naomi Rabinowitz
Originally Published in Soap Opera Digest
(March 18, 2003)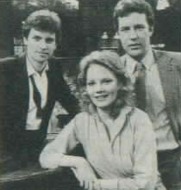 The Classic RYAN'S HOPE May Be Gone, But Its Still Here in Spirit(s)
The premise of Ryan's Hope seemed simple. It followed the story of an Irish-American family who ran a pub in New York City (sort of daytime's version of Cheers). But due to its terrific actors and complex storylines, RH, which aired from 1975-89, took home two Daytime Emmy awards for Outstanding Daytime Drama (in 1977 and '79). Though it's been off the air for 14 years, RH has been resurrected, thanks to SoapNet and ex-cast members' memories. We caught up with a few to see how they're doing and what being on RH meant.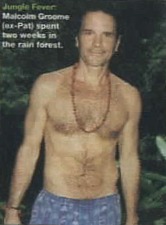 Malcolm Groome (ex-Dr. Pat Ryan; 1975-78, 1983-88)
Groome discovered that it's a jungle out there - literally. Recently, he ventured into the Peruvian rain forest to study shamanism with the Shipobo Indians. "It was definitely a retreat," he shares. "I had my own hut I would spend time in and meditate, and then we would meet and do a ceremony every other night with the shamans. We were immersed in this cauldron of life with the jungle and oxygen so pure. Just breathing the air put you into an altered state; I had very vivid dreams each night."
Though he admits preferring wildlife to show biz, he hasn't given up the latter completely. "I've gotten into voice acting," explains Groome, who now resides in rural California. "I do looping, which is adding any voice replacement that needs to be done. Sometimes, we'll add in background voices or replace an actor's voice - it's mainly a post-production gig. It's an interesting little niche of entertainment that nobody knows about."
Some would say soaps occupy an interesting little niche, too, and Groome would agree, judging from his RH memories. "We all knew each other so well, it was difficult to get serious," he smiles. "There was a scene with Fath [played by Faith Catlin], who went nuts, and we found her cowering in the floor of a closet. Pat had to put her in a straitjacket. Nancy [Addison Altman, as Jillian] said, 'Pat, was the straitjacket necessary?' and Pat said, 'Jill, we found her in the closet.' It was so serious that we couldn't get through it. It wasn't smiled upon by our producers, but they had to take it."
Sadly, Addison Altman passed away last year from cancer, but Groome still speaks with several RH friends. "I see Ilene Kristen [ex-Delia; now Roxy, One Life to Live]," he reports. "She has a heart of gold. I think my favorite storyline was the one where her character was faking blindness, and Pat discovered it. For a doctor, he was pretty stupid [laughs]. Helen Gallagher [ex-Maeve] is also a dear friend. And I've run into Chris Durham [ex-Dakota], Ana Alicia [ex-Alicia] and Kate Mulgrew [ex-Mary]. I saw Nancy right before she died," he sighs. "I've done some hospice work, so I did what I could to assist her in going from one state of being to the next."
The rest of the gang he gets to see on SoapNet's RH reruns. "I was sooo young," he chuckles. "I'm pleasantly surprised with my acting. I'm glad to be able to see myself now and say, 'Hey, that holds up.'
"It was like graduate school in acting. It's gratifying to know that other people consider Ryan's Hope a classic."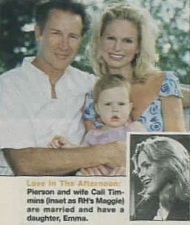 Geoff Pierson [ex-Frank Ryan #4, 1983-85] and Cali Timmins [ex-Maggie Shelby, 1983-88]
Pierson enjoyed more than a reunion when he got in touch with former cast-mate Timmins in Los Angeles several years ago; he found the love of his life. "I guess you can say we got reacquainted," says the actor, who wed Timmins in 1997. "She was on the show when I was, and then we met up again. Obviously meeting her is the best memory I have of Ryan's Hope!"
These days, Timmins (who also portrayed Another World's Paulina from 1990-91) has put aside acting to be a full-time mother to their 18-month-old daughter, Emma. "She's 100 percent adorable," Pierson gushes. "She loves to dance and sing...she's just like her mom."
Pierson, meanwhile, has continued to appear in a steady stream of movies (Behind Enemy Lines, Venomous) and TV shows (Grace Under Fire, Unhappily Ever After, That '80s Show). "I just did guest spots for The Drew Carey Show and Touched by an Angel," he reports. "Talk about having completely opposite roles!"
Despite his many appearances, RH fans still regard him as Frank. "To tell the truth, people have never stopped coming up to me," he shares. "And it's been 18 years! Soap fans have great memories." He admits, though, that he is often being overshadowed by his wife. "Usually, they'll recognize her," he laughs. "they often don't put two and two together. I guess Cali is more memorable."
Pierson isn't certain he'd return to soaps ("Cali definitely would"), but cherishes the time he spent on RH. "I have so many happy memories," he states. "One of my favorite storylines was the one involving the woman who was trying to sabotage Frank's Senate campaign. She came out of nowhere. It turns out it was an ancient payback from the old country, Ireland, and we had to trace it back to her father or grandfather. That was quite a complicated but interesting storyline."
That said, Pierson isn't surprised that RH is deemed a classic. "There are a lot of very talented people in daytime, and there were a lot of them on Ryan's Hope," he praises. "The writers and actors were wonderful. It really was a great show. Even today, it stands out."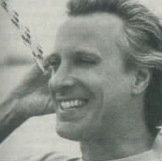 Robert Lupone [ex-Chester Wallace, 1980]
Though he was only on for a few months, Lupone believes that the experience jump-started his career in daytime, which includes stints on Search for Tomorrow (ex-Tom), All My Children (ex-Zack), and Guiding Light (ex-Leo). "That was my first soap role," he recalls. "I remember how green I was and how scared I was to be there. My experience on Ryan's Hope taught me a lot about the daytime world."
Since then, Lupone has had success on both the big and small screen. He starred in several movies, including Heartbreak Hotel and A Modern Affair, and had roles in such teleflicks as American Tragedy and Love and Betrayal: The Mia Farrow Story. He also has a theater company and regularly performs on-stage (in 2001, he starred in the play A Thousand Clowns with Tom Selleck, ex-Jed, Young and Restless).
Still, Lupone confides that he'd be interested in returning to daytime. "I'd love it," he says. "Some of the best times I've had were on soaps. It's steady work, and you can always count on having an interesting storyline. You never know what's going to happen, which is a lot of fun."
As for RH, Lupone credits one cast member with inspiring him in the field. "I remember how wonderful it was to watch Helen Gallagher," he praises. She's such a fabulous actress - she's still doing some theatre. She was terrific to watch and learn from."
With the show back on TV, Lupone wonders if he'll be recognized more for RH. "People have mainly known me from the other shows I did because I wasn't on RH that long," he notes. "But who knows? Maybe I'll get some new fans."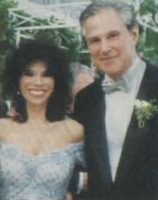 John Gabriel [ex-Dr. Seneca Beaulac; 1975-85, 1988-89] and Sandy Gabriel [ex-Christine; 1977]
In the Gabriel household, show business has become a family affair. In addition to starring on RH together, the husband-and-wife team recently recorded a compact disc with their daughters, Melissa and Andrea. "It's called From the Gabriels, with Love," shares John Gabriel, who also appeared as Detective Pete LeGrande on Days of Our Lives last summer. "The stuff on it is not religious, but inspirational. Stuff like 'I Believe' or 'Put on a Happy Face.' We felt that the time was right for something that made a positive statement about the human condition."
The Gabriels, who are now bicoastal, went to California to set up their daughters' careers. "Andrea has some major New York credits, so she's come out here to test the waters and see how it goes," he explains. "Melissa starred in a series for MTV called Oddville and was wonderful in it. So, we took a sublet, and we're going back and forth a lot. It's a good thing I'm a Gemini because I have a split personality at this point [laughs]."
For Gabriel, doing things as a family is a dream come true, which is why he went to bat for his wife when he was on RH. "I knew how talented Sandy was, so I asked Claire [Labine, head writer] to write something for her," he recalls. "That appearance led her to getting the role of Edna on All My Children.
"I never had any qualms about working with my wife," he continues. "She's one of the funniest and most talented actresses I've ever worked with. We haven't had a problem. Actually, we haven't had a problem in any area. We've been lucky."
Gabriel also considers himself lucky to have been on RH, though he admits that it's strange watching himself on reruns. "It's weird, almost like I'm watching my son," he jokes. "I can't believe it's been 28 years since I started!"
But now he truly understands why RH was so critically acclaimed. "It had a different texture to it," he notes. "It was very human. It was about real people, and you could relate to the characters. That's why it's become such a cult favorite. The first five years, in particular, were magical. I consider some of my work I've done on that show to be what I'm most proud of."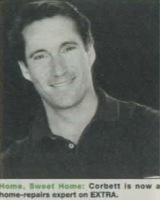 Michael Corbett [ex-Michael Pavel, 1979-81]
For Corbett, home truly is where the heart is. After leaving acting (he also portrayed SFT's Warren from 1982-85 and Y&R's David from 1986-91), he pursued his other passion: renovating houses. "I've been doing this since I was on Ryan's Hope," says Corbett. "I'd buy houses, renovate them and then sell them. Altogether, I'd say I've done about 45."
Corbett currently shares his expertise as Extra's home-and-lifestyle expert. He also hosts and produces the segment Extra's Mansions and Millionaires. "I'm having a blast," he enthuses. "I get to travel all over the world. We did a show in Hawaii...I also did one where I was sitting in Larry King's living room in Salt Lake City."
Now, homeowners aspiring to copy the mansions' styles can do so with the help of Corbett's line of home-repair products. "I've been selling them on the Home Shopping Network for about a year," he notes. "It's very exciting."
Though Corbett has chosen to forgo acting at the moment ("I like not having to worry about learning lines"), he's still approached by fans from all three of his soaps. He recently got a shock when logging on to a RH chat room. "I couldn't believe it!" he marvels. "It's so weird to hear people talking about you in the third person...from 20 years ago. They were saying things like, 'Oh, my God, he's in his underwear again today' or, 'He can jump into my bed anytime.' It was very bizarre [laughs]."
As for his personal memories, Corbett likens the RH cast to a fraternity. "Kelli Maroney [ex-Kimberly] and I were like the freshman coming into a group of juniors and seniors," he explains. "It was a very tight-knit group, and it took awhile to become part of the Ryan 'family.'"
Though he didn't always recognize them, exactly... "Louise Shaffer [ex-Rae] is going to love this story," he chuckles. "There used to be this woman who'd come in with a big hat and big glasses. Later in the day, I'd see this beautiful woman - Louise - who looked like Grace Kelly. One day, I said to her, 'How come you don't rehearse in the mornings?' and she answered, 'Oh, I'm there, honey.' It was the same woman! It took me a month to make the connection."
These days, it's himself whom Corbett has trouble recognizing in reruns. "Yes, I have seen them," he laughs, "and I have one question: Who the hell decided that I should have Farrah Fawcett hair?!"
Catching Up With....
Here are what some of your other RH faves have been up to:
Earl Hindman (ex-Lt. Bob Reid, 1975-84, 1989) rose to fame by playing "face-less" neighbor Wilson on Home Improvement. He recently guest-starred on Law & Order: Criminal Intent.
Christopher Durham (ex-Dakota Smith, 1985-88) also guest-starred on a recent episode of Law & Order: Criminal Intent.
Ana Alicia (ex-Alicia Nieves, 1977-78) is enjoying being a mom to her two children and is taking writing classes.
Casey Biggs (ex-Fenno Moore, 1988-89) starred in Dragonfly and appeared on Crossing Jordan and State of Grace last year.
Catherine Hicks (ex-Dr. Faith Coleridge, 1976-78) portrays Annie on 7th Heaven.
Marg Helgenberger (ex-Siobhan Ryan Novak, 1982-86) plays Catherine on CSI.
Tovah Feldshuh (ex-Martha McKee, 1976) will be in the upcoming flick The Tollbooth.
Kate Mulgrew (ex-Mary Ryan Fenelli, 1975-78, 1983, 1986, 1989) portrayed Capt. Kathryn Janeway in Star Trek: Voyager and was in last year's film Star Trek: Nemesis.
Leslie Easterbrook (ex-Devlin Kowalski, 1985-87) was in The Biggest Fan and The Moment last year.
Helen Gallagher (ex-Maeve Ryan, 1975-89) is now a singing teacher in New York.