Murder Most Foul
Originally Published in ABC Soaps in Depth
(March 16, 2004)


Sleeping with two women in the same family tree got Michael Pavel cut down in his prime.
In the late '70s and early '80s, it was an unwritten rule that every soap had to do a storyline involving a mother, her daughter and a murder. (Think Mildred Pierce. Or the real-life case of Lana Turner and her ill-fated boy toy, Johnny Stompanato.) But no soap did it better than Ryan's Hope. Michael Pavel knew he was playing with fire by sleeping with both his boss, media magnate Rae Woodard, and her incorrigible teenage daughter, Broadway ingenue Kimberly Harris. However, he could no more resist Kimberly's enticement than he could Rae's promises of career advancement.
Initially, uptown girl Kim hooked up with Michael, a hoodlum from Brooklyn, only to shock her mom and arouse the jealousy of father figure Dr. Seneca Beaulac. It worked on both counts. Alas, no sooner had Kim coerced the M.D. into marrying her than she grew bored playing the doctor's wife and secretly resumed her affair with Michael.
Meanwhile, Rae's professional relationship with Michael got a lot stickier. Reeling from the rejection of younger man Frank Ryan, she fell prey to the even-younger man's flattery, and allowed him to assist her, ahem, outside the office. In return, she lavished upon him one gift after another. Eventually, he grew so bold as to ask for - and receive - his own home, a houseboat that served as a love nest for his trysts with both of his girlfriends.
No dummy, Rae deduced that something was fishy - and the scent wasn't coming only from the docks. So she set a trap for Michael and Kim, caught them red-faced, and forced them to call it quits. On a second thought, maybe Rae wasn't the sharpest knife in the drawer: Even knowing what a philanderer Michael was, she allowed herself to be taken in by him again. Naturally, Kim did too; the poor girl loved him as much as she did her spouse.
Finally, though, Michael's ship was sunk, figuratively speaking. Happening upon Michael and Kim making waves, as it were, on his houseboat, Rae drew her gun and vowed to end their liaisons for good. Before she could pull the trigger, though, Michael knocked the pistol from her hand. Nevertheless, the cad still got pumped full of lead. Believing he was going to fatally assault Rae with a fire extinguisher, Kim shot him. Freaked out beyond all reason, both women abandoned ship.
Later, when Michael's body was found, Rae confessed to his murder in order to protect her unstable daughter. Luckily, she and Kim were let off the hook when, of all people, Rae's ex-fiance, Frank, deduced that the bad boy had been done in by his Mob cronies.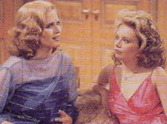 "So Michael slept with me and you? Ew!"

Louise Shaffer (Rae)
Louise Shaffer has gone from acting in mysteries to writing them. The actress-turned-author has penned a glorious debut novel, The Three Miss Margarets, which she says, "is a mystery, but not a murder mystery." The story deals with three older Steel Magnolias (all named Margaret) who, for 30 years, kept a secret that, when exposed, will have a dramatic impact on the life of a young reporter. The book came out last year in hardcover and is due for a paperback release in June (just in time for fans to take it to the beach!).

Currently, Shaffer is working on a sequel, Myrtis & Laurel. As far as her suds career goes, though, Shaffer's favorite mystery remains the climax of the Rae/Michael/Kim triangle. "It was wonderful to act in because it had so many elements," she shares. "There was all the unresolved [emotion] between Kim and Rae as well as the whodunit aspect. They'd also both lost the man that they'd love, so on top of everything else, they were mourning him!"

After winning an Emmy for her work on RH, Shaffer appeared on a number of other shows (including All My Children, where she played Erica's stepmonster, Goldie). Still, RH retained a special place in her heart. "When Claire [Labine, RH's co-creator and headwriter] told me I was going to [return] in the last episode, I was glad, but I was scared, too. Seeing everyone again was great. We started to catch up, then we'd remember why we were there, and the tears would start. But it was important for me to do. You have to say good-bye."

Zoe Kelli Simon (Kimberly)
After her second RH run ended - the People magazine cover girl was such a popular vixen that she was brought back after her initial stint was over - Zoe Kelli Simon was snatched up by savvy soap executives to play another mischief-maker, replacing Andrea Evans (Rebecca, Passions) as Tina on One Life to Live. Even in her short time on that soap, she made a big impression - so big, in fact, that last year, rumors circulated that she was being sought to reprise the role. "I heard that, too," she admits, "but I never heard it from anyone at OLTL. I've always been the last to know anything, anyway."

Besides, Simon - who went by the name Kelli Maroney during her days in daytime - now makes her home in Los Angeles, where she continues to appear in television and in movies. "I've gotten some of the weirdest parts," she marvels. "I played Angie Dickinson's great-great-granddaughter in a movie and Mark Harmon's mother [in flashbacks] on Chicago Hope."

Simon still gets recognized often for having played Kim, especially since SOAPnet recently rebroadcast the whole Kim/Michael/Rae storyline. But she's even better known for her roles in Fast Times at Ridgemont High and the cult classic Night of the Comet. This summer, she wrapped work on the black comedy Audition, with Roberta Weiss (Flame, Santa Barbara). And she's currently working on a flick that eerily echoes her hot RH plot. "It's very reminiscent," she says, "of the Lana Turner murder case."

Michael Corbett (Michael)
According to Michael Corbett, it pays to specialize. After rooting around in the same family tree as RH's Michael, he went on to do Search for Tomorrow (as Warren) and The Young and the Restless (as David) - and romanced relatives on both of those shows, too! "On Y&R, David was married to both Flo and [her daughter] Nina," he recalls. And on SFT, he shagged cousins!

Like former on-screen bedmate Louise Shaffer, Corbett has taken a break from acting, but he still appears in front of the camera as a correspondent on Extra, the syndicated celebrity magazine TV show. "The main difference between acting and reporting is that I have more autonomy," explains Corbett. "I get to come up with my projects."

In addition to his Extra work, the entrepreneur has launched a product development business and a line of home-improvement projects on HSN. "I don't know how I do it," shrugs Corbett. "I carry lists with me everywhere."

©2004 ABC Soaps in Depth