A Race for Life
Originally Published in Soap Opera's Greatest Stories
(January 1983)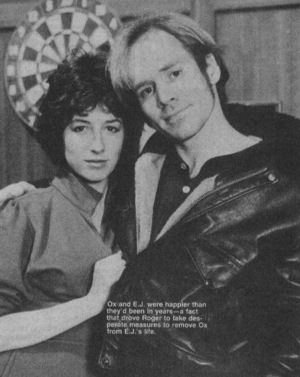 Roger Coleridge was out for Ox Knowles' blood - and it looked like he'd found a way to get it!
Roger Coleridge was determined to destroy the relationship that seemed to be reviving between E.J. and Ox Knowles. Ever since E.J. discovered that she was still married to Ox and had left Roger at the altar, things had grown increasingly strained between them. Whenever they tried to get together to talk, they found they had less and less to talk about - and Roger seemed angry at her all the time!
On the other hand, Ox seemed to be growing up. All his efforts were going into building the new car with Charlie so he could win the Grand National, pay the Mob and go on with his life. He was sweet and loving with E.J. and the time they spent together was wonderful - even better than the old days.
Ox was something of a celebrity now because, in order to help him raise some needed cash and to keep the Mob off his back as much as possible, Jack Fenelli had written a column about him. Jack, Ox, and E.J. were good friends and when Rae invited Jack to go to dinner in Venice at the last moment (that's a whole other story!) he asked E.J. to stay with Ryan for the weekend.
Ox came over to help her out and before they really knew what was happening, E.J. and Ox found themselves making love. The trouble began when Dee, disturbed over something Hollis Kirkland had done, came by to speak with Jack. The door was unlocked and when she opened it, she called out softly, "Jack?" No one answered, but suddenly she heard the sounds of love making, saw Ox and E.J., and quickly left.
She gloated to herself, "Well, won't Roger be interested in this!" and she ran to tell her ex-husband the news. Roger was incensed and blind with jealousy. Later, after treating an attractive and intelligent prostitute at the hospital, he came up with a devious plot to ruin E.J's faith in Ox.
The woman, Carol Baker, had a young son who was anxious to get in to a good school. Roger offered her a great deal of money if she would convince Ox to come to her room, saying she had read Jack's column, was a rich woman and wanted to invest in the car.
"After you get Ox in the room and comfortable," he instructed her, "go into the other room and tell E.J. Tell her that Hollis Kirkland is receiving a payoff in the hotel room you and Ox will be in. You handle Ox and make sure the door is open. Can you do that?" he asked. "Yes, of course," she agreed. "I want to be sure that E.J. never trusts Ox Knowles again," Roger said bitterly. "From what you've told me about him," she said, "he's getting just what he deserves."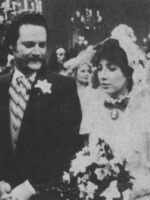 The plan seemed foolproof - but, in life, nothing is foolproof and there was a hitch! All went well and as planned - at first. After phoning him with her story, Ox came up to Carol's room while she pretended to be a rich patroness. They enjoyed each other's company, and Ox was relaxed. Suddenly, the phone rang. It was Carol's young son calling from a pay booth to say the babysitter had left him alone in a bad neighborhood. "Don't worry, baby, I'll be right there!" Carol said.
She explained what happened and Ox insisted on taking her in his car. Because of his kindness, she told him a half-truth about the situation - without saying how Roger was involved. "I set you up," she said. "I wanted to be there when the money started pouring in!"
Ox took her to see Jack, and Jack, after hearing her story, promised to get her son into Ryan's school, a co-op where people paid only what they could. So - that blew Roger's plan. He had to do something drastic and he did. The morning of the Grand National, Roger had Ox arrested for stealing his mother's pearls, the ones he gave E.J. for a wedding present!
Roger and his lawyer walked into the courtroom just as E.J. was embracing Ox, and he became more determined than ever to get his revenge. The judge was a hard man, and despite Ox's lawyers pleading for a quick bail hearing, he postponed it until after the race would be over.
Ox, naturally, became nearly hysterical, knowing his life depended on his winning the race. "Since when is there a death penalty in this state for robbery?" he shouted. "You are in contempt of court," the judge said angrily. Suddenly, Rae Woodard walked into the courtroom and said brightly to the judge, "Hello, George!" He smiled broadly and said happily, "Rae! It's been a long time." They were obviously old friends.
After a brief chat while Rae explained how important it was for the hearing to take place immediately, the judge said, "Very well, Rae, we will hear the charges!" After both sides stated their cases, the judge set bail at $5,000 and set Ox free until a later hearing.
"I hope it's not too late to get to New Jersey for the race," Ox said nervously. "Oh, I think we can take care of that," Rae said with a smile, and proceeded to talk the judge into a police escort. Roger was furious, shaking with rage - especially when he learned that E.J. was prepared to swear that Roger had given her the pearls as a gift and she, in turn, had given them to Ox. Roger had blown it now for good. E.J. would never be his - and what's more - Ox won the National! His life was his own again - and maybe, if he was lucky, E.J. would be, too.
RYAN'S HOPE CAST LIST
NANCY ADDISON ALTMAN . . . Jillian Beaulac
BERNARD BARROW . . . Johnny Ryan
ROSCOE BORN . . . Joe Novak
ROBERT BROWN . . . David Noonan
PATRICK JAMES CLARKE . . . Patrick Ryan
JENNY REBECCA DWEIR . . . Ryan Fenelli
JOHN GABRIEL . . . Seneca Beaulac
HELEN GALLAGHER . . . Maeve Ryan
MAUREEN GARRETT . . . Elizabeth Jane Ryan
RON HALE . . . Dr. Roger Coleridge
PETER HASKELL . . . Hollis Kirkland III
MARG HELGENBERGER . . . Siobhan Novak
EARL HINDMAN . . . Bob Reid
MARY KELLER . . . Amanda Kirkland
ILENE KRISTEN . . . Delia Coleridge
MICHAEL LEVIN . . . Jack Fenelli
KELLI MARONEY . . . Kimberly Harris
MALACHY McCOURT . . . Kevin MacGuinness
KAREN MORRIS-GOWDY . . . Dr. Faith Coleridge
WILL PATTON . . . Ox Knowles
LOUISE SHAFFER . . . Rae Woodard
JAMES SLOYAN . . . Mitch
JADRIEN STEELE . . . John Ryan
(Names in boldface are featured in the storyline)
©1983 Soap Opera's Greatest Stories
Courtesy of Wanda