The Many Lives of Louise Shaffer
By Sandra Okamoto
Originally Published in the Columbus Ledger-Enquirer
(July 10, 2005)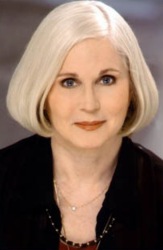 Actress in six daytime dramas, singer and writer for soaps has cranked out her second novel.
Louise Shaffer is working in her fourth career. Trained as an actor at the prestigious Yale University Drama School, she was a fixture on daytime dramas, winning an Emmy Award in 1983 for her role as Rae Woodard in Ryan's Hope. Rae, in typical soap opera fashion, married into the media empire and became the owner of a television station and a newspaper.
Shaffer, who won't divulge her age, starred in Ryan's Hope from 1977-84.
Besides Ryan's Hope, Shaffer has been in All My Children as Erica's (Susan Lucci) stepmother Goldie. Charlie Mason, an editor at Soaps in Depth magazine, says her role as Goldie was "too bad to last" and she was on All My Children for just about a year as that character.
She also appeared in Search for Tomorrow, The Edge of Night, Another World* and Where the Heart Is. Shaffer also appeared on television shows Matlock and Kojak.
Career No. 2 was as a singer. Shaffer performed on Broadway and did cabaret shows in New York City.
Career No. 3 was a writer for the soaps, even winning the Writer's Guild of America Award for best script and best show in 1989 for Ryan's Hope.
Today, she calls herself a novelist.
"I'm kind of like the poster child for reinventing yourself," she said. "I think this one is it. This is my career. I've been wandering through a lot of careers in my life. Each one was valuable and the right thing for me at the time. It adds up."
"I told a friend that I wished I discovered this years ago. She very wisely told me, 'You might not have been ready for it then.' I guess everything happens on its own time."
Young fan became expert on soaps
The self-proclaimed soap opera diva won Mason's heart when he was 12.
"I would watch the show and write little 12-year-old fan letters to her," Mason said. "I would write things like, 'It's awful that you got stabbed and spent the week crawling across the floor to get to a phone. I thought you were dead.'"
Mason, who is now an editor at Soaps In Depth magazine, laughs when he says he knows that he knew more about the soaps and the actors than anyone has the right to. "This (his job) is the only thing I'm equipped to do with that information."
Shaffer would graciously acknowledge his letters and he finally got to meet her in person about 10 years ago. He says they are now constant companions via e-mail.
"I knew her from Ryan's Hope where she was this mean lady," Mason said. "She's such a warm person and not scary at all. It's bizarre hearing nice things come out of someone on television who was so much tougher and brittle."
Mason thinks Shaffer is attracting a whole new set of young fans because repeats of Ryan's Hope can be seen daily on SOAPnet, a cable network devoted to soap operas, both daytime and primetime.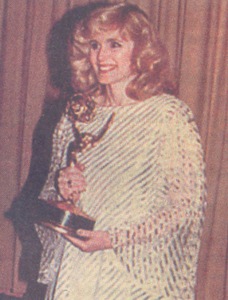 Louise Shaffer holds the Emmy Award she received in 1983.

Second book is the toughest
Now well-entrenched as a novelist, her first book, The Three Miss Margarets, was released in 203. It's still selling well, she reports.

"You figure books have a small window and then they're gone," Shaffer said. "The Three Miss Margarets is selling strong this summer. It's already in its second printing."

The sequel, The Ladies of Garrison Gardens, is "doing really well," she said.

It took Shaffer seven years to get The Three Miss Margarets published.

"I let it percolate for a long time. For the new one, it was two years. That's in my contract," she laughed. "There's a lot of pressure for the second book."

"The second book is the toughie. Talk to me in three months and I'll tell you how the third one is going."

She said the pressure to write a good second book is high. "It's a lot of pressure you put yourself in if you're slightly neurotic. And, oh, I'm really neurotic."

But she's pleased with The Ladies of Garrison Gardens.

"The second one is really tight," she said. "The mystery is really strong. It's that kind of soap opera thing I learned so many years ago. You hold back your secrets until the very last minute. You don't give it away too soon. So that's why the mystery... works really well."

These two books are set in the South. And for those living in the Columbus area, it will sound very familiar.

Shaffer and her husband, Roger Crews, moved their pets and Crews' two stepsons, from California to a century-old farmhouse in Pine Mountain, just outside Hamilton, in 1990.

They became very familiar with the area, becoming members of Christ the King Church and did several theatrical shows at the aptly named Soap Opera Theatre on the grounds of Callaway Gardens.

Garrison Gardens is a thinly veiled version of Callaway Gardens.

Animal Refuge
Both Shaffer and Crews are long-time animal lovers. Their home in Pine Mountain at one time had 10 dogs, three rare rabbits, an 800-pound pig and countless cats.

Crews' son, Colin, was working at a veterinarian's office and whenever an unwanted animal came in, he would take it home.

When they moved to Hopewell Junction, N.Y., in 1998, they took along the dogs and 14 cats. The rabbits and the pig lived out their lives in Pine Mountain. Now, they're left with two elderly dogs, Emily and Dorothy.

But they have a new 10-month-old puppy.

"Helen, our deaf Australian sheepdog developed cataracts," Shaffer said. Only 7-years-old, they agreed to let her have surgery. She died on the operating table.

"We were so devastated," Shaffer said. "We were just past pain, it was so devastating. About four months after she was gone, we went to the vet to get food for the other two. They're on senior diets.

"The vet said there's someone I'd like you to meet. A huge spaniel puppy came out. He was so loaded with ticks that he had Lyme disease. He had crushed ribs, he was malnourished and dehydrated. The people who found him literally on the side of the road couldn't keep him but paid for everything."

Crews walked in and it was over.

"The dog looks at Roger, races to him and sits at his feet."

They named the dog Joshua. Shaffer says he now runs the family.

"He's so upset that I've come home. He pouted and he's carrying on because he's Daddy's boy. Every time I pack my suitcase, he circles around it, wagging his tail."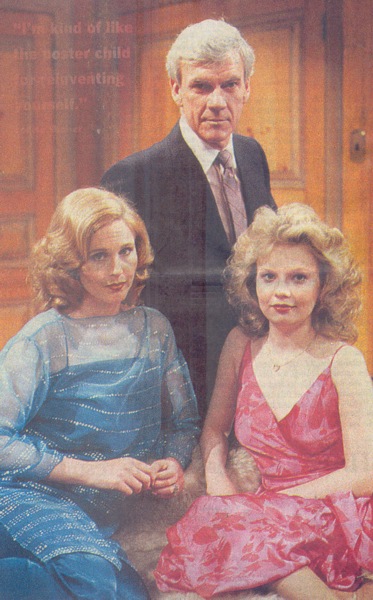 Louise Shaffer, left, as Rae Woodard, with Peter Haskell as Hollis Kirkland III and Zoe Kelli Simon as Kimberly Harris in the soap opera Ryan's Hope.

Back to Small Town
Living in Pine Mountain, though she admits it was culture shock at first, was good for Shaffer.

"I've always lived in large cities that were heavily show biz-intensive. I hadn't lived in a small town since I was a kid. It was wonderful. Creatively, it was wonderful. I miss it."

Her Pine Mountain home, she said, was "loaded with the history of the people who built it and lived there. The South hangs on to its traditions."

Working on 3rd Book
The third book, as yet untitled, is set in "an old theater that was partly a hotel," she said.

"It was on the river. There was a kind of dining room in it. It has a big, beautiful tavern kind of bar. I don't know where in my imagination I came up with this."

Of course, this theater is a thinly veiled version of the Springer Opera House, where Shaffer and Crews saw several plays while they lived in Pine Mountain.

"Oh, yeah, it (the theater) is connected with 'The Ladies of Garrison Gardens.' "

And while it's not a sequel, some of the characters are connected with the first two books.

"I kind of don't write linear sequels," Shaffer said.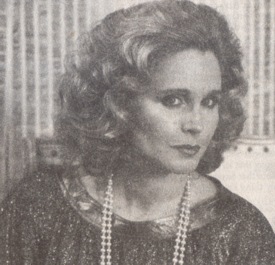 Louise Shaffer, the self-proclaimed soap opera diva, was in Ryan's Hope from 1977-84.

One thing at a Time
When Shaffer is writing, she holes up in her basement office.

"I'm no good at multitasking," she said. "I hate it. I like to do one thing at a time. That's why there are no windows in my office. I do not like to be distracted."

"Every now and then I crawl upstairs, hand Roger 10 pages that I've written." If he says, "Oh, you're sounding like a Yankee," Shaffer goes back downstairs to rewrite.

Month on Road
Shaffer spent the month of June on the road, promoting "The Ladies of Garrison Gardens."

Home on June 30, she slept all day, she said.

"I started on June 8 and I did get home usually late Friday or early Saturday," she said. "I would leave early Monday. I sort of had two days off. But it was really more like a day and half off. One weekend, I did have two days."

The best time she had was when she was signing books in Montgomery.

"A whole bunch of my friends from Pine Mountain came to Montgomery," Shaffer said. "Isn't that wonderful? We had a tearful reunion in the bookstore in Montgomery. They brought me beautiful blueberries from their garden. I ate them in my hotel room later."

She also did a taping on Soap Talk.

"Soap Talk is really a talk show. It's my first time on Soap Talk. I was all set to go home when we got a call from Soap Talk. They said, 'We would really like for her to come to Los Angeles.' So I caught a plane from Louisville, did my five minutes and turned around and came back.

"They showed clips from 20 years ago. This is so unfair. I told them, 'This is really mean of you.' If I'm really feeling great, I don't want to see clips of me from 20 years ago."

Ready for Screenplay
Shaffer thinks the books would be perfect vehicles for movies.

"I continue to have interest" from various studios, she said. "The books are kind of no-brainers for screenplays."

But she says that if it's not "high-concept with explosions and bang-bang shoot-'em-ups," the studios want "a huge name attached to it."

"The problem is, there are no clear leading characters."

Would she come out of acting retirement to take a role in a movie version of either of her books?

"I've done what I can do with it. It would be kind of redundant to act one of my characters. Besides, it would be much more interesting to see what somebody else did with that role."

©2005 Knight-Ridder