Karen Ann Morris
The Ill-fated "Faith" of Ryan's Hope
Originally Published in Soap Opera Digest
(December 1978)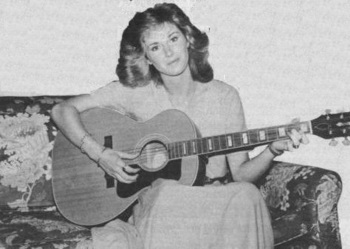 Four hundred thousand acres of ranch near Cheyene, Wyoming was home for many years to Karen Ann Morris, the recent addition to the cast of Ryan's Hope.

Karen happily tended to her father's Hereford cows as well as to her own horses. She is a master equestrienne whose love for horses has allowed her to transcend grit and cement of New York City to find horseback riding facilities in nearby Connecticut.

But let's not stray too far ahead of ourselves. Let's go back to Karen on her parents' farm and see what prompted her to leave such spacious tranquility.

After winning a local and state Junior Miss competition, Karen managed to pull off the final coup - the much sought after title of America's Junior Miss. The year was nineteen-hundred-seventy-four and it soon proved to be a year chock full with goodies. Karen found herself embarking on a whirlwind tour of interviews and talk shows while managing to find time for commercial work. When Karen's reign was ended, she went to New York University to complete her education.

Two years prior to Ryan's Hope, Karen had been doing commercials and modeling and found she had no great love for either occupation; especially modeling -

"I really didn't like modeling. I was so disillusioned. I came with the thought that it was glamorous work, always wearing fun clothes . . . But my talents weren't in modeling. I knew I wouldn't make a successful model and it was boring work."

Karen felt strongly that, as a model, one was viewed only as a physical commodity and that was not Karen's idea of a life long occupation!

When asked how she was adapting to the grueling schedule of a daytime series (this is her first acting position), Karen answered by saying it was not grueling at all -

"I love it. I have learned so much from it. I had taken drama classes, but you learn so much from working . . . When I go to work, I don't even feel like I'm going to work. It's going to see friends."

Speaking of friends, the name of Faith Coleridge Desmond came up. Karen's perception of Faith appears quite accurate.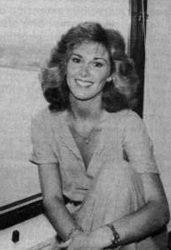 "Faith is a salt of the earth character. Everyone likes Faith. She likes her husband; has a lot of respect for him. But she lets very few people really know her. That's where Faith and I are alike. She knows a lot of people and she's still very closed except to her two best friends and her family."

Yes, Karen is extremely close to her family which includes two sisters; one older and one thirteen-years-old.

Back to Faith and Tom: Would Karen ever allow herself to become embroiled in a similar situation? (Faith married Tom in order for him to become an American citizen.)

"I've tried to think about that and I don't think so. I don't think I could put my own life and my own happiness on the line for someone else when it came down to it. I think that in the long run, what Faith is doing to Tom is hurting him more - and she's hurting herself."

Karen has many strong feelings about a union of two people and looks forward, someday, to having a husband and children.

She believes that having children is a marvelous extension of a marital relationship. She also finds the thought of abortion personally abhorrent.

"I don't think there is any reason for abortion. I really don't. And I believe you're taking a life. Faith feels that way too."

Karen feels that for people who are unable to have children biologically, the advent of the test tube child is a wonderful thing. For the moment, though, Karen feels the procedure is being abused.

"It's like a big game for these scientists. Life shouldn't be taken that way. It should be taken very seriously."

Karen, it seems, is an individual who has given serious thoughts to all she feels seriously about. And to the rest - whatever that may be - there is a wait-and-see attitude.

Sitting in Karen's home, listening to her speak and watching her blue eyes sparkle, it's quite easy for the mind's eye to conjure up a view of Karen riding on a horse at the edge of a beach with the sun and a smile glistening on her face. One is easily reminded of soft sea breezes, fresh, clean air and Karen Ann Morris, all at the same time.

©1978 Soap Opera Digest

Courtesy of Wanda