Flashback
Ryan's Hope
Originally Published in Soap Opera Update
(November 1, 1994)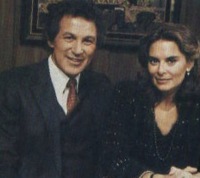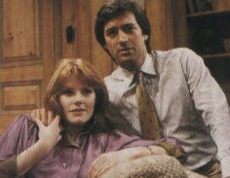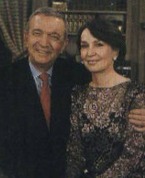 For nearly fourteen years, from July 1975 to January 1989, we shared the loves, labors, and losses of John and Maeve Ryan, hard-working Irish immigrants who owned a bar and were always willing to provide a shoulder for their five grown children to lean on.
The Ryan Clan:
Frank - a lawyer and the eldest of the Ryan kids. Frank was in love with Jillian Coleridge. Unfortunately, he was stuck in a loveless marriage to the childish Delia Reid, with whom he had a son, Johnno.
Kathleen - seldom seen, she was married with two children, Maura and Deidre.
Mary - a headstrong journalist and one of the first feminist soap characters. Her ideals caused her to clash with co-worker Jack Fenelli, a rough-around-the-edges reporter with whom she shared a love-hate relationship. Love eventually won out, however - Mary and Jack married and had a daughter, Ryan, before Mary's untimely death at the hands of the Mafia.
Patrick - a doctor at Riverside Hospital. Like his brother Frank, Pat was also in love with a Coleridge, Jillian's sister Faith. Later on, he too would fall victim to Delia's machinations and marry her, keeping him from the woman he truly loved.
Siobhan - the younger Ryan, she entered into a star-crossed romance with Joe Novak, a member of a notorious crime family. Their relationship became even more complicated when Siobhan decided to become a police officer.
Other major characters on the canvas included Dr. Roger Coleridge, Jillian and Faith's self-centered brother. Roger had an affair with Delia and became her third husband after she and Pat divorced. Dr. Seneca Beaulac kept Jillian occupied while Frank was married to Delia. And Delia's brother Bob, who was constantly coming to the rescue of his high-strung sister.
The Setting:
Much of the action centered around the bar, where gracious hosts Maeve and John (played for the entire run of the show by Helen Gallagher and Bernard Barrow) continued to serve customers through both the bitter and the sweet times of their lives.
In later years, the focus of the show shifted to the younger Ryans: Johnno, now John, had a son of his own named Owney; Ryan grew up quickly and married Rick Hyde, a police officer; and Maura, who preferred to go by the name Katie, entered the picture.
Ryan's Hope left the air on January 13, 1989 with the marriage of Jack Fenelli and Leigh Kirkland, the return of Faith and daughter Grace, and a tearful rendition of "Danny Boy."
Current soap actors who appeared on Ryan's Hope:
Wesley Addy - Cabot, Loving (Bill Woodard 1977-1978)
Nancy Addison Altman - Deborah, Loving (Jillian Coleridge 1975-1988)
Julia Barr - Brooke, All My Children (Reenie Szabo 1976)
Justin Deas - Buzz, Guiding Light (Dr. Bucky Carter 1975-1978)
Tovah Feldshuh - Bethany, As the World Turns (Martha McKee 1976)
Maureen Garrett - Holly, Guiding Light (Elizabeth Jane Ryan 1981-1982)
Scott Holmes - Tom, As the World Turns (Dave Greenberg 1984-1985)
Felicity LaFortune - Laurel, All My Children (Leigh Kirkland 1983-1985)
Robin Mattson - Janet, All My Children (Delia Reid 1984)
Grant Show - Jake, Melrose Place (Rick Hyde 1984-1987)
Kathleen Widdoes - Emma, As the World Turns (Una MacCurtain 1983)
Walt Willey - Jackson, All My Children (Joe Novak, 1986-1987)
More actors who have appeared on RH:
Ana Alicia - Falcon Crest (Alicia Nieves 1977-1978)
Corbin Bernsen - L.A. Law (Ken Graham 1984-1985)
Yasmine Bleeth - Baywatch (Ryan Fenelli 1985-1989)
Roscoe Born - Santa Barbara (Joe Novak 1981-1983)
Marg Helgenberger - China Beach (Siobhan Ryan 1982-1986)
Earl Hindman - Home Improvement (Bob Reid 1975-1984)
Gordon Thomson - Dynasty (Aristotle Benedict-White 1981-1982)
Christian Slater (D.J. LaSalle 1985)
©1994 Soap Opera Update
Courtesy of Wanda