Ryan's Hope Turns 10!
Originally Published in Daytimers Magazine
(January 1986)




In 1975, Ryan's Hope debuted, and it quickly proved itself worthy of its competition. First titled A Rage to Love, RH was unique in the fact that it was located in a real city, New York, and consisted of the trials and tribulations of a blue-collar type of family, the patriarch and matriarch of which ran a small Irish-American bar across the street from Riverside Hospital. And in the beginning, indeed, during most of its run, Ryan's Hope didn't rely on exotic locations and bizarre story lines to gather an audience. Oh, there were a few lapses in this policy such as when a sex-crazed gorilla kidnapped one of the young women and held her captive for a few shows. Another deviation from the policy of utilizing realistic storylines about realistic people came when another female character became convinced she was the reincarnation of an Egyptian princess who had been dead for several thousand years. But other than these and a few other minor slips, RH was a believeable soap peopled with believeable human beings, and this is probably the biggest reason why Ryan's Hope beat the odds and succeeded in the burtal daytime drama area.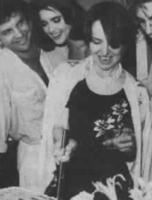 Now, of course, they roamed out of New York a bit, but not with big monkeys and mobile mummies. Instead, they brought Max Dubujack (Daniel Pilon) into the show, but this multi-billionaire who must own most of the world didn't backfire on them. Instead, the sexy Max added points to the ratings.

Anyway, Happy Birthday to Ryan's Hope -- with the hope that the series lasts another 10 x 10 years.

©1986 Daytimers

Courtesy of Wanda