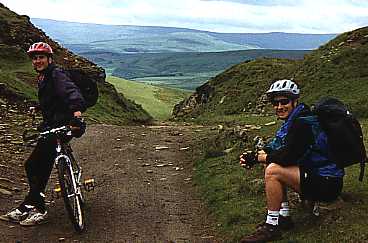 2 Rookhope Dump

Saturday 27 June, 3pm A fantastic downhill, shooting down the side of Hartside into the Pennines towards Garrigill. Si notches up 42mph, and the arse turbine (provided by the microwaved Giant Yorkshire Puds we munched at Hartside caff) hasn't even kicked in yet.

4pm Stop off to walk through a small cave and stand right behind Ashgill waterfall, where abseilers are doing their stuff by the torrents of copper-coloured water. Sight of all that water makes Rob need a piss, his 413th of the trip so far.

5pm Hurtle through hard rain along a stony path that goes across bleak moorland through Nenthead Mines and down a long descent into the village. See yet more fellow C2Cers at the bottom enjoying a relaxing tab.

6pm After another wonderful downhill, flashing past bemused sheep on the wilderness lane between Nenthead and Allenheads, we check into the Lodge where they have no record whatever of Rob's booking. They do let us in, with some firm advice: don't drink the beer at the Allenheads Inn.

8pm We drink the beer at the Allenheads Inn. Immediately wish we hadn't. Guinness, the Official Beer of the C2C Ride 1998, is not available. The choice seems to be between Scruttock's Old Dirigible (1 per cent) Jeyes' Fluid Special Brew (0.00003 per cent) and Courage Directors. We order Directors.

8.20pm The 'Directors' is the colour of a puddle and tastes like windscreen wash. Upon enquiry, the landlord informs us that it is not, in fact, Directors, but some other beer. They just label it Directors, call it Directors and sell it as Directors to avoid confusion. Two out of ten for beer, but ten out of ten for food, which is good.

8.21pm Sadly, another minus six million out of ten for the strange habit some drinkers have of sounding the klaxon (one of five thousand items of junk to be found around this bizarre flea- market- like pub) and shouting 'Dive, Dive' to the accompaniment of 100 decibel wartime favourites from the juke box. We go back to the bunkhouse.

Sunday 28 June, 9am A full-blown breakfast from the bunkhouse and a ferocious tailwind propel us up the hill out of Allenheads and down the other side at amazing speed: five miles of freewheel, touching well over 40mph.

10.30am The long climb up from Rookhope to the last summit; it's all downhill from here. The excitement is too much for Si, who has to dump. Chances of finding a public loo clearly slim at this very remote windswept hilltop, and Si has to improvise.

Go on to
next page...