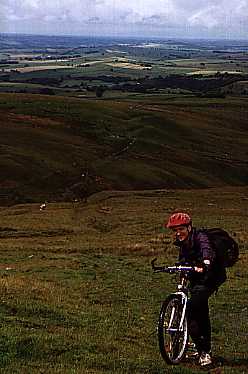 1 Up to Hartside

Thursday 25 June, 9pm It's not unusual for Mark, Si and me to organise ourselves into the same place at the same time. What is slightly unusual here, at least compared to recent magical mystery bike tours of Coed-y-Brenin, is that we know where we are: Martin's place in Sunderland, which rather conveniently is ten minutes from the end of the C2C.

9.01pm Si realises he's remembered all the important things - a bottle of wine, for example - and forgotten a few items of trivia, such as his biking shoes.

10.30pm Michelle's special top-notch Italian training diet, rich in Vitamins (chiefly C2, H5, O and H) puts us in the right frame of mind (as in, 'mind the wine, you've got to be up at 5 tomorrow...')

Friday 26 June, 5am The aroma of Martin's bacon butties could have tempted me out of a bed shared with Claudia Schiffer (which is in fact the case: cheese and pasta always gives me pleasant dreams) and the hideously early hike to the train station doesn't seem too bad.

8am Train arrives in Carlisle, with Si looking for replacement shoes. Only a complete and utter lunatic would expect to find a bike shop open and selling shoes in a place like Carlisle at this time.

8.20am Si finds a bike shop open and selling shoes. I rest my case.

8.59.59am We hurtle back to Carlisle station the wrong way up one-way streets and see the 9am train about to leave way up on Platform 351a. This gives us the excuse to fulfil a lifetime ambition and cycle up the platform. Lifetime ambition No. 2 may have to wait, unless Claudia Schiffer happens to be watching the football tonight in the pub in Greystoke. We make the train by quite literally seconds, and the accommodating guard lets all four of us on with our bikes, despite the fact that the rules would let him restrict us to two.

11am Start from a drizzly Whitehaven, by the C2C sign. Resist the temptation to dip our wheels in the harbour: the tide is out, the slipway covered in slippery slime, and we could end up drenched. Off we go.

11.15am Drenched anyway. It's pissing down.

3pm By the time we reach Whinlatter, for lunch at the Visitor Centre at the top of the hill, we've had a real variety of terrain: flat railway paths from Whitehaven, stunning lake views, thrilling roller-coaster ribbons of tarmac along the side of the Cocker, and a final climb up through the forest to get here.

3.30pm We set off down the steep forest roads towards Keswick.

3.30.05pm Si arrives at the bottom.

4-5pm One of the great things about the C2C is meeting up with other cyclists doing it, some for charity, some for a challenge, others for fun. All are interesting and have a story to tell, and none are a pain in the arse. Which is just as well, as the long ride from Threlkeld is giving us all one.

6.30pm Arrive Greystoke at our B+B. The pub isn't doing food, but our landlady (name of Wendy, a fact Mark found out suspiciously quickly) gives us a lift in her Land Rover to the one in Blencow that's doing nosh. Strange ideas they have out here: they think 4x4s and off-roaders are for driving in fields, and not in the place they're designed for, viz. supermarket car parks.

10.30pm Toast England's victory over the Colombians with Guinness and Cumberland Sausages. Rob annoyed that this is in fact Westmoreland. Walk home in the eerie half-light with spectral horses eating out of our hands.

Saturday 27 June, 7.30am Wendy makes us an early breakfast as she has to go out bell-ringing for the millennium. Clearly St Bees is further than I thought.

10am Run into a bunch of 16 or so lads from Liverpool, doing the C2C for the local kids's hospital. Cheery Brookside-style banter.

11.30am Visit Long Meg and Her Daughters, a stone circle not far from Hartside. It starts to drizzle. Shelter under a tree that's leakier than the Scottish back four. Decide to wait for it to ease off.

11.45am Drizzle turns to steady rain. Decide to wait for it to ease off.

12noon Steady rain turns to downpour. Decide to wait for it to ease off.

12.15pm Downpour continues. Si, in an effort to warm up, gets on his bike and gives us a demonstration of a sport new to me: Turd Hopping. There's a cow-pat the size of a dinner plate in the middle the road, and Si approaches it on his bike, bunny-hopping over it just in time. Variations on this test of manure manoeuvrability include 'refusing': stopping dead with the wheel on the edge of the ordure, steering it round, then bunny-hopping the back wheel over. The final trick is to slap the front wheel firmly into the middle of the bovine bolus, sending little brown globules flying out in a star-pattern, like satellites of the Planet Poo. Mark suggests as we continue on our way in the sheeting rain that Si's Stump Jumper should be renamed Dump Jumper...

2pm After the long, long climb up Hartside - during which the sun briefly comes out just long enough for me to take the picture up above - we celebrate with lunch among 279 other C2Cers all there with the same idea.

Go on to
next page...