Mende Bremen - Type 250-9
---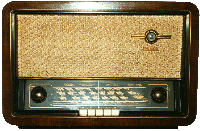 Produced: 1952/53 in Bremen/Germany by Nordmende!!

Case: brown nutwood

Size: (w/h/d)

Loudspeakers: 1

Antennas: dipol antenna, ferrite

Frequencies/Bands: LW, MW, SW 25-50m, FM 87.5-100 MHz

Power: 110/125/150/220/240 V AC

Tubes/Semicond.: 6 tubes ECH 81, EF85, EF 85, EABC 80, EL 41, EM 4? mag. eye, selen rectifier

Originally priced: 298 DM

Condition: good, power cord missing

Comments: The front crest is saying "Mende", inside and on the back "Nordmende" is mentioned. After WW2 Mende moved from Dresden (east Germany) to Bremen (north Germany) and was renamed Nordmende.
---
Philips Jupiter



Eumig 380U
---
This page hosted by
Get your own Free Home Page
---