Juventus' News

May 8, 2006

Juventus players meet Mexican legend Enrique Borja and ex-Americanista Vinicio Bravo
Porterville Juventus players had a once in a life time opportunity to talk with Mexican legends and ex National players Enrique Borja and ex-Americanista Vinicio Bravo after participating in the Toreno Mexicana prelim games where they found themselves leading the U16 group of competition.
"If meeting them was not enough after speaking with Vinicio Bravo, there might be the possibility of sending some of our players for tryouts in Mexican teams like Toluca, Santos and San Luis", said coach Gilbert Hernandez. Our players had an awesome opportunity of meeting two major icons of Mexican soccer and after talking with Vinicio Bravo their might be the possibility of our players tryout for Mexican teams where currently Mr. Bravo is a scout or is affiliated. "I can speak enough of how humble and professional Mr. Vinicio Bravo is. He went out of his way during is busy schedule (autographs, conducting a clinic, etc) to talk to us for over an hour about insights on training youth players and more importantly the "contacts" need in order to ask for a tryout."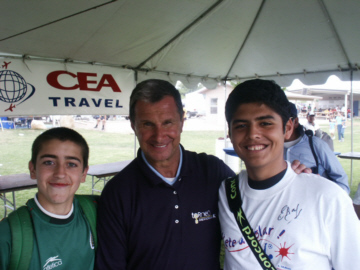 Juventus players Omar Davila and Carlos Loza with Enrique Borja
Enrique Borja
Professional soccer player in Mexico for Pumas and América and one of the most successful goal-scorers in Mexican soccer's history. He formed part of the Mexican National Soccer Team for the 1966 World Cup in England and the 1970 World Cup in Mexico and was selected for the "Rest of the World" soccer team in 1968 and 1971. As a businessman, he was President of Aztecas (US soccer team), assistant to the Executive President of Televisa (1977-1981) and Vice President of the Special Olympics for Mexico (from 1985). He was also Vice President and Director of América's soccer schools, President of Necaxa and Tigres and President of the Mexican Soccer Federation, as well as member of the FIFA Organizing Committee (Fédération Internationale de Football Association) for the Korea-Japan World Cup 2002.
Vinicio Bravo
Best known for his play in the 80's with America played along side people like Héctor Zelada, Adrián Chávez, Alfredo Tena, Mario Trejo, Guillermo Huerta, Guillermo Naranjo, Armando Manzo, Carlos De los Cobos, Cristobal Ortega, Javier Aguirre, Daniel A. Brailovsky, Eduardo Bacas, Carlos A. Santos, Gonzalo Farfán, Carlos Hermosillo, Juan Antonio Luna y Alejandro Domínguez.
---
Apr. 19, 2006

Taking Valley soccer to a higher level
Mark A. Peinado, The Porterville Recorder
(Article in Aug. 19, 2006 edition of the Porterville Recorder)
The players - most attend Porterville schools with a few from Visalia - are looking for a brighter future for themselves. That's what their three coaches have instilled in them.
"Our goal is to try and get these kids scouted at a higher level so that they get a free ride on scholarship. Otherwise they wouldn't be able to afford to go to college," coach Esmaldo Hernandez said. "Our plan for these kids is that they get seen through the Olympic Development program or through some of these high-ranked tournaments that we attend.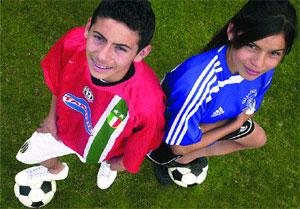 The Hernandez siblings — Alexis, 13 left, and Amber, 12 — were selected to the state Olympic Development Teams for their age group. They started playing at a young age. (Recorder photo by Chieko Hara)
"What we noticed here in the Valley is that there is a high level of talent but nobody takes them anywhere."
Esmaldo along with his brothers Gilbert and Juan Hernandez have taken it upon themselves to try and get these athletes to another level not only athletically but academically as well by coordinating the under-15 Porterville Juventus Soccer Club.
The idea behind the club team was for the players to be scouted by Division I schools from across the country but with some emphasis on the West Coast considering the team isn't exactly wealthy.
The exposure is already beginning to bare fruit with Esmaldo Hernandez's two children, Alexis and Amber. Both made the state ODP teams and each has schools looking at them and they're only 12 and 13-years-old, respectively.
"That's exciting [to be looked at]," Amber Hernandez, who plays club ball for the Bakersfield Gunners yet will practice with her dad's team, said. "I think it's great what my dad's doing because the guys get exposed and they should really appreciate that."
Getting players noticed is the main reason why the coaches take the team to some of the top-tier tournaments across the state. From Irvine to as north as Turlock, the team travels so that the players are seen and scouted.
"I've had good experiences with this team. It's been fun," Cardenas, a sophomore sweeper and in his second year with the team, said. "These coaches do a lot for us. We want to pay them back with hard work. I've been thinking about the scholarship and doing well in school. I didn't think about it before I got to this team. It would be big for my future if I got the scholarship.
"We're here to give our town a name. We have to represent. We're starting to get known for our skills and talent."
Porterville Juventus SC has represented itself so well that there has been talk - it's in the early stages - of starting a Chivas USA soccer academy for Porterville and the surrounding communities.
"They're trying to develop what they have in Mexico which are academies," Gilbert Hernandez said. "What we're looking at is starting from ages 5 to 18. They'll offer us they're method of teaching and their name because they want to start forming all-star teams.
"If we're able to showcase these kids to professional teams then it works."
Things didn't start all that great when the team was born five years ago as an AYSO team. The Hernandez brothers were taking the team to the bigger tournaments and there wasn't much respect given to the team.
"A couple of years back it was who is Porterville and where is it?" Esmaldo Hernandez said. "We've met a lot of people such as Steve Sampson, Landon Donovan and Paul Caliguiri. Now when you mention Porterville Juventus, they know who we are."
Now with the winning has come exposure for the players. And amazingly enough, in this day and age of greedy professionals and over-enthusiastic parents, that's all these coaches want out of it along with the satisfaction of teaching a game to players who want to listen.
"It's great to play for them. It's the best team in the Valley," said Campos, a sophomore forward. "It's great that these coaches care about us and want us to be seen. I've learned to play soccer better and go to school."
There are no aspirations of becoming these players' future agents or wanting the headlines to read that it's all about the Hernandez brothers.
No these brothers take pleasure in the fact that the players will someday fulfill their dream of playing Div. I soccer at schools like UC Santa Barbara, Chico State, Cal Poly-SLO, UC Irvine or even UCLA.
Most of the players don't even pay to be on the team and all the expenses are covered by the three coaches through fund-raising, sponsors and a small group of parents.
"Most other coaches, if we didn't pay, they'd fold the team," Willy Hernandez, a forward who's been with the team for a year and is unrelated to the coaches, said. "They're just trying to help us get out of Porterville and take us to another place. They're good coaches."
The team also has its own personal Web site, www.geocities.com/portervillejuventus, that has news and notes on the comings and goings of the team along with a roster and schedule of upcoming tournaments.
"This is a good thing for us because coaches and scouts from colleges get to see us," Hernandez said. "I get to touch the ball here and make more passes where in high school, it's just long ball. I love soccer. It keeps me from being bored, away from drugs and when I'm down, I play soccer and it makes me feel good."
Hernandez added he most likely would have settled for a lesser college had he not joined Porterville Juventus.
"I was going to go to college but by playing with this team, I have more choices," Hernandez said. "I want to go to Chico State because they have a degree in law enforcement and that's what I want to go into.
"If I hadn't been with this team, people told me I probably could have played at Fresno-Pacific. But I wanted to set my goals higher to an even better college so that's why I came here."
Contact Assistant Sports Editor Mark A. Peinado at 784-5000, Ext. 1048, or at [email protected]
---
Mar. 27, 2006
Juventus finalist at 2006 Celtic Cup
For the second tournament in a row the Porterville Juventus SC were in the final of one of the best and most prestigious tournaments of Southern California. Last November the team was in the final at the Nike Harvest Cup against Reno Moondogs and this past weekend against West Coast FC.
In pool play Juventus was the 1st place team out of their bracket after beating Flyers Pumas 3-0, Celtic Hoops 2-1, and falling 2-1 against FC Barcelona. In the semifinal against Celtic Harps they were able to pull out the win in penalties because regulation time ended in a 2-2 tie.
In the championship game West Coast used the speed of their forwards and Juventus would finally give up the game winner 1-0.
It was a good showing for the team when you consider it was the first tournament after the 3 month break and the addition of new players plus the absence of 3 players.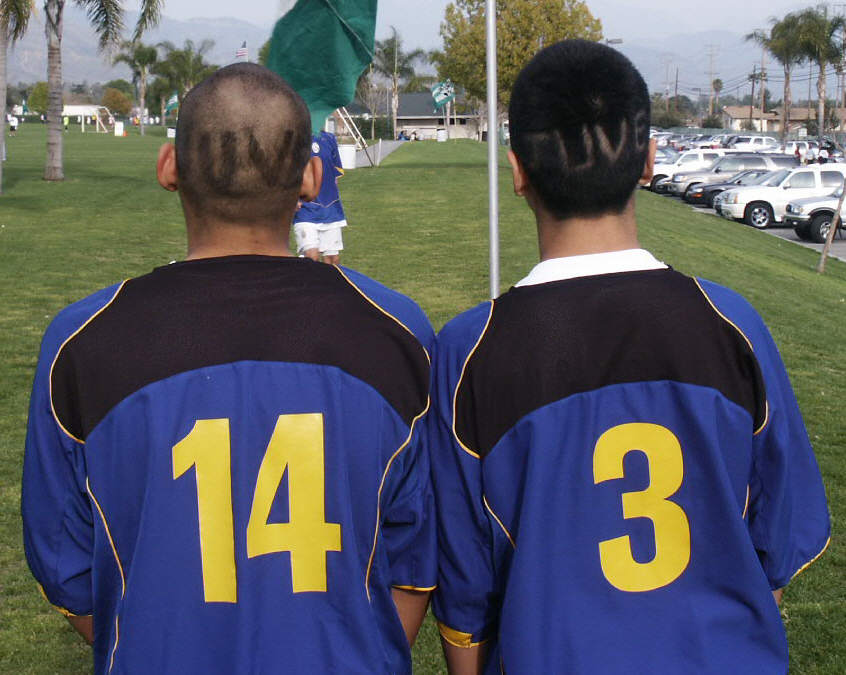 Omar Cardenas and Ivan Yanez showing the shaved "JUVE" heads
---
Mar. 13, 2006
Hernandez siblings are selected to the State Soccer Olympic Development Program
This past weekend the sibling duo of Alexis and Amber Hernandez were selected to the State CYSA North Soccer Olympic Development Program in their respective age groups. After numerous tryouts at the district and state level, they are in a pool of the top 22 players to be selected to represent Northern California at the numerous national and international tournaments.
The Olympic Development Program is a national process for identifying and developing the best youth soccer players. The process promotes players to the U.S. National Teams, which represent the United States in international competition, such as the Youth World Cup and the Olympics and eventually results in becoming members of the teams who represent the US at the World Cup.
The process begins by trying out for the CYSA District 7 ODP team. Then players have to compete against other district ODP teams while being observed by state ODP coaches before they are selected and invited to the final tryout.
Alexis was amongst 76 prospective male soccer players born in 1992 who were invited to the state final tryout, while Amber was selected amongst 69 female players born in 1993.
The final selection consists of four sessions and at the end of each session players are cut to finally reach a roster of 22 players. In order to make each cut players must receive numerous votes from different coaches in order to be selected onto the teams. Putting it into prospective they have each been selected over 200 players by ODP coaches of which many are college coaches and ex-professional soccer players. One can say they are amongst the top 22 players in Cal North at their respective age groups.
The siblings success can be attribute to their hard work of training 3 times a week with the Porterville Juventus SC, and the level of competition and international experience they have gained by playing abroad in Europe. While playing for Porterville Juventus, Alexis has always been playing up 2-3 years, which means he is always playing against players who are bigger and stronger. He has already played in tournaments in Sweden, Holland, and England. Amber on the other hand can always be found taking part in the Juventus practices with boys 3-5 years older than her. When she is not practicing with Porterville Juventus she is making the hour trip to practice with the Bakersfield Gunners twice a week.
Alexis and Amber are students at Burton Middle School and are children of Esmaldo and Miriam Hernandez of Porterville. Esmaldo along with his brothers Gilbert and Juan Hernandez are coaches for Porterville Juventus Soccer Club.
Because of the travel to ODP practices in San Jose and San Francisco plus the out of state traveling to competitions, if anyone or any organization is willing to help out with donations please contact 793-1109 or email: [email protected].
---
Dec. 1, 2005
Juventus close out year with a 2nd place at the prestigous 2005 Nike Harvest Cup.
Year 2005 for the Porterville Juventus SC was a year full of ups and downs but if there is any questions if it was a successful year for the team you can just take a look at the 4th place Cal North ranking given to them by the National Soccer Ranking and the 5th place Cal North ranking assigned to them by GotSoccer.com and more recently their 2nd place finish at the prestigous NIKE Harvest Cup featuring some of the best team in the nation. Locally we don't have to look to far to see the success of this club when you find numerous Juventus soccer players playing varsity soccer at Porterville High, Granite Hills, and Golden West high schools, some of those players are just freshmen.
The main goal since the begining for Juventus has been to expose their players to as many college coaches and soccer personalities for the chance of being offered a college scholarships. The exposure is there already as they have already met or had contact with Steve Sampson (ex US and Costa Rica, national coach), Paul Caliguri (ex US National player and Cal Poly Ponoma head coach), Landon Donovan (US National and LA Galaxy player) , Andrew Ziemer (Sonoma State), Benjamin Ziemer (Ajax America scout), and Chivas Guadalajara personnel like Salvador Reyes (ex-player), Dennis te Kloese (Director of Soccer) and Arturo "el Cura" Chaires (ex-player).
This year seeking more competition than the one offered to them at their age group in District 7 CYSA league play, the team decided to play up a year to prepare them for the tough schedule of college showcase tournaments which they had scheduled year around. In the end, playing against the bigger and stronger teams from the Valley would eventually pay off for the team.
All the hard work and frustration would finally pay off for the team with a 2nd place finish this past Thanksgiving weekend at the prestigous NIKE Harvest Cup put on by the Irvine Strikers held in and around Irvine. At the tournament they played Sparta Premier (Utah), NHB Black (Cal South), Irvine Strikers (Cal South), SC De Sol (Arizona), and Reno Moondogs (NV). In group play, Juventus was the 1st place team after beating Sparta Premier from Utah on Friday, 3-1 with goals coming from William "Willy" Hernandez and Abraham Campos. In the afternoon game they played NHB Black, a team that for the past 2 years they had played numerous time but had never been able to beat but this time with goals from Hernandez and Nicholas Cardenas, they would come away with a 3-2 win. On Saturday, they would play against Irvine Strikers, one of the nation's best team and with a goal from Hernandez and a last minute goal by the Strikers the game ended in a 1-1 draw. In the semi final Juventus would eventually play against Arizona's #1 team in SC del Sol and yet again they would give up a last minute goal for a 2-2 tie which would eventually push the game to be decided by penalty kicks. Juventus would eventually win after goalie Junior Toscano stopped 3 goals and shooters Hernandez, Juan Escobar, Alexis Hernandez, Ivan Yanez and goalie Junior Toscano converting their penalty kicks. The final was set against Reno Moondogs at UC Irvine where all finalist teams would have the opportunity to meet and talked to US National Soccer and LA Galaxy star Landon Donovan who was on hand for the championship games. In the final, Willy Hernandez would score twice and the team would never be behind until 5 minutes left in the game when again they would give up a late goal which would eventually push the game into two 5 minute sudden death half. Four minutes into the first sudden death half, Reno would score on an individual play from the left side of the field which would end Juventus run for the title. The team has nothing to be ashame of especially when you consider they played some of the best teams from Arizona, Utah, Nevada and California.
Eventhough the team never went with its full squad to numerous college showcase tournaments because of a reason or another, they were still able to come away with victories against some of the toughest team in Southern California and the nation. When you consider Juventus has players as young as 13-14 years, it is a great accomplishment because mostly all other teams they have played are "age pure" teams, meaning all their players were either 15 or 16.
"I personally and I know I speak for the other coaches Esmaldo and Juan Hernandez, would like to thank all Juventus players, parents, fans and sponsors who have been with us through all the ups and downs that we have endured this year", says coach Gilbert Hernandez.
What is in store for Juventus you might ask? Well after the high school season is over, they are already eyeing tournaments in Las Vegas and Phoenix for the months of Feburary and March. In April, they will compete for the 2006 Cal North State Cup against 80 other teams of which they were quarterfinalist this year. In the near future they are planning to travel to tournaments in Europe and Mexico depending on funding and donations.
2005 Juventus players: Abraham Campos, Nicholas Cardenas, Omar Cardenas, Jaime Chavez, Juan Escobar, Edgar Escobar, Alexis Hernandez, William Hernandez, Carlos Loza, Diego Mendoza, Mike Perez, Keith Rodriguez, Allan Rosso, Ivan Yanez, Jose Zamora Coaches: Esmaldo Hernandez, Gilbert Hernandez, Juan Hernandez
If you would like more information about tryouts or how you can help out the team with tax deductible cash donations please feel free to email [email protected] or call 793-1109. More information can be obtain by visiting their website at www.geocities.com/portervillejuventus.
---
Apr. 10, 2005

Juventus advance to Round of 16 in 2005 State Cup

With a 3-0 penalty kick shutout victory over DeAnza Earthquakes Red, the Porterville Juventus have advanced to play in Morgan Hill at the 2005 State Cup Round of 16. In the shootout, Juventus goalkeeper Diego Mendoza stopped 2 penalty kicks after DeAnza's first kicker kicked the ball wide. Juventus shooters were Abraham Campos, Juan Escobar and Alexis Hernandez.
In Group C play, Juventus tied 1-1 against DeAnza, and then came back with two impressive victory 11-0 and 7-0 over Hertiage Voo Doo and Bullard United Flyers.
---
Sept. 18, 2004

Juventus suffer first lost of season 3-4 against Bullard United


Juventus suffered their first lost of the young season 3-4 at the hands of Bullard United. After taking an 2-0 in the first ten minutes of the game Bullard would come back with 2 goals of their own before the half and then add 2 more before Juventus would start to react. Juventus players just got to over confident of a quick 2-0. It sure looked like it was going to be the blow out of a week earlier.

"They just wanted the game more than we did", said coach Gilbert Hernandez. "We fell into their long ball game and we are not a long ball team. There is no doubt in my mind we are a better team overall, but today some of our players were not playing to the level they had been playing. We gave them the middle field and they just took advantage of it. We could of easily been up 4-0 in the first 20 minutes of the game but we just started to get to confident."
---
Sept. 12, 2004

Juventus starts league play with 6-0 win over Lemoore Arsenal


Juventus start league play with a conviencing 6-0 win over Lemoore Arsenal. The goals scored came from from Abraham Campos (3), "Mike" Perez (1), Nick Cardenas (1) and Romel Velarde (1).

The team passed and moved the ball very well in this game against the Arsenal. The hard work and one-touch game really had Arsenal against their backs for most of the game.
---
Sept. 7, 2004

Juventus finalist at Simi Valley Labor Day Invitational


Juventus came back with a 2nd place from the Simi Vally Labor Day Invitational this past weekend.

In pool play on Saturday, they beat Simi Valley Eclipse 1-0 and AV Heat 2-0. Not having any games on Sunday, they came back on Monday and beat Atletico Madrid in penalty kicks after the game ended in a 1-1 tie.

In the championship game the team would eventually fall 2-0 to Oxnard Wave.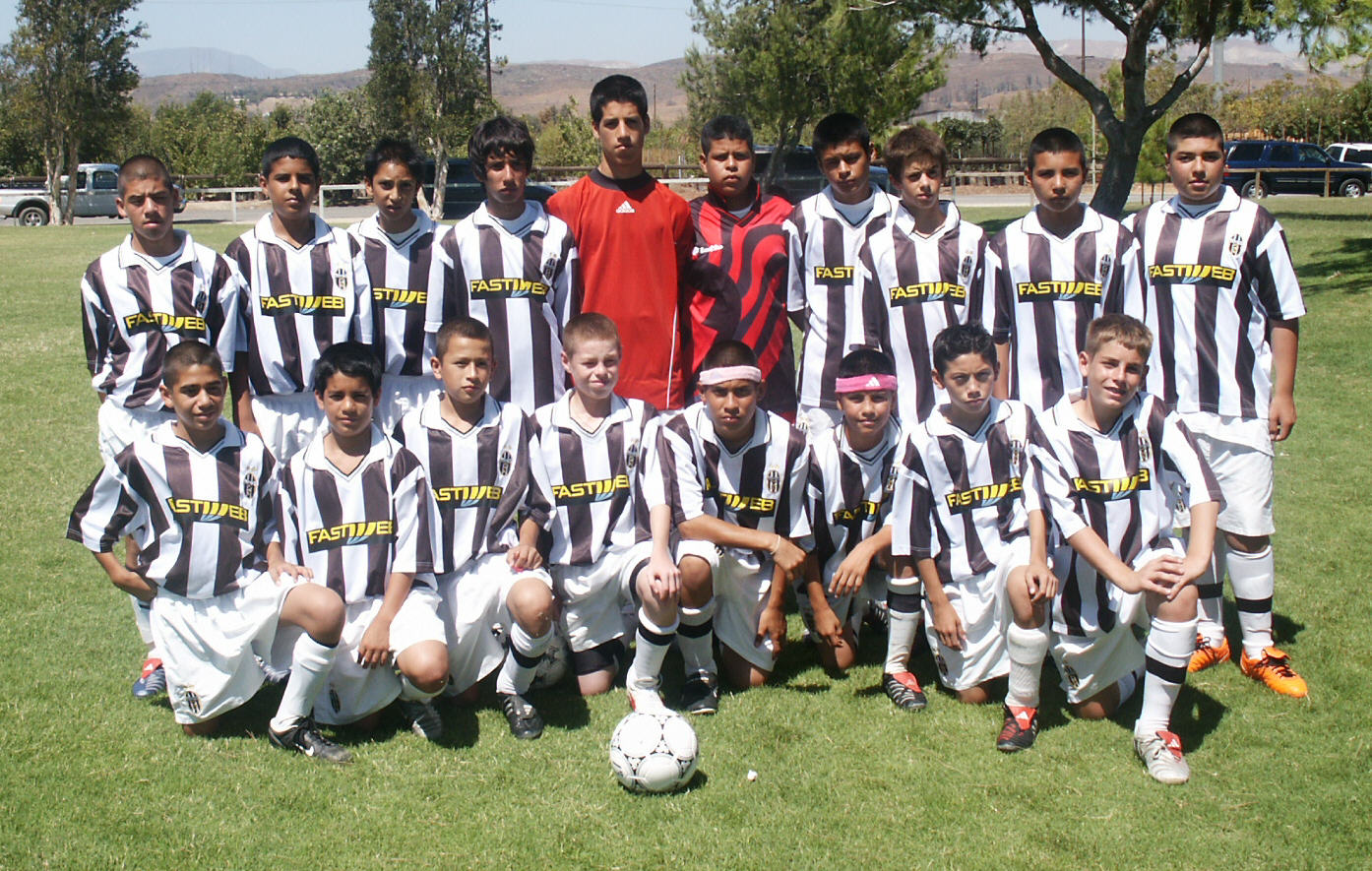 Bottom l-r: Edgar, Jonathan, Eduardo, Allan, Omar, Ivan, Alexis, Claudio
Top l-r: Juan, Abraham, Gabriel, Romel, Diego, Jorge, Ismael, Nick, Jose, Junior
---
Aug. 5, 2004

Rough and tumble play
(Alexis and Nick's Europe trip)


By Sylas Wright, The Porterville Recorder

(Article in Aug. 5, 2004 edition of the Porterville Recorder)
Nick Cardenas and Alexis Hernandez found the European zeal for soccer to be an accurate stereotype. "Everywhere you look, it's soccer," Nick said of Sweden and the Netherlands. "Everywhere. They have street soccer like we have basketball courts."
The pair of Porterville Juventus team members were scouted during their California Youth Soccer Association (CYSA) games - played statewide - and chosen to try out at the University of San Francisco for the United States' 13-and-under team.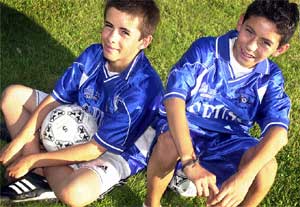 Representing the U.S., Nick Cardenas, 13, left, and Alexis Hernandez, 12, went to Europe and won the Holland tournament. The two boys are members of the Porterville Juventus. Cardenas and Hernandez were selected for the elite team from over 200 soccer players.
Representing the U.S., Nick Cardenas, 13, left, and Alexis Hernandez, 12, went to Europe and won the Holland tournament. The two boys are members of the Porterville Juventus. Cardenas and Hernandez were selected for the elite team from over 200 soccer players.
There, they were deemed worthy of global competition.
Nick, a 13-year-old from Bartlett Middle School, and Alexis, a 12-year-old from Burton Middle School, were not aware they were being scouted for the team scheduled to represent the United States in the Holland World Cup and Gothia Cup, held in Sweden.
To secure spots on the team, they had to compete each weekend against 240 youth soccer players from around the nation for seven straight weeks at USF - turning their parents into part-time chauffeurs.
But it paid off, as the parents got to accompany the team - and other parents - on the July 9 flight to Europe, relieving them of their chauffeuring duties and transforming them into tourists and patriotic fans.
"As parents, we thought we were going to get beat bad," said Esmaldo Hernandez, Alexis' father and coach of the Porterville Juventus. "The level of soccer was far superior. You could definitely tell the difference. It was a lot more competitive."
But that didn't prevent the American squad from winning, as the team took first place in the Holland World Cup and made it to the third round of the Gothia Cup before Germany - the team with a 6-foot-4-inch player - eliminated them.
"I was the biggest kid on the team, and I was smaller than all their players," Nick, a 5-foot-3-inch 97-pound player said.
Nick, a fullback, and Alexis, a forward, found that the style of soccer played by the rest of the world resembled American football.
"The referees aren't as strict," Alexis said. "They let you pull shirts, and they don't call fouls."
Nick's mother, Rhonda , was not accustomed to seeing that.
"It was very hard to watch," Sweetser said of the rough games. "They sure let them play. There was a lot more pushing and shoving going on."
Hernandez said the relaxed officiating and aggressive play surprised him as well.
"The first game they got taught a lesson," he said. "There would be contact and we'd wait for a whistle, but they would just keep playing.
"The kids were beat up. That's how aggressive the games were."
The remnants of a bruise on Nick's calf served as proof, as did a photograph of Alexis in Europe exhibiting a dark, cleat-sized contusion on his thigh.
When asked if intimidated, Nick said:
"Not really. Most of our team was, but I wasn't."
Nick also denied being tired on the days loaded with three games.
But Hernandez said Alexis and Nick fell asleep on hotel room couches between games and had to be awaken with a shake.
The best part of the trip, which concluded July 26, was "playing," both players quipped with little contemplation.
The worst part, they agreed, was the food. In particular, the absence of Mexican food and bad American food.
In addition to the shirts they acquired in trades with players from all over the world, both brought back a swagger of confidence.
"I'll be beating him," Nick said about future high school games against his friend. Alexis plans to attend Monache and Nick, Granite Hills.
"He'll be playing high school," Alexis scoffed. "I'll be playing professional."
In a final quote after a restlessly long interview, Nick said, "I'll give you my autograph later. In a couple of years."
This story was published in The Porterville Recorder on August 5, 2004
---
June 26, 2004

Juventus win Anaheim California Cup Tournament

In less than a month the Porterville Juventus SC have won their second championship trophy of the season. This past weekend they traveled to Anaheim to participate in the Anaheim California Cup and came home undefeated with a 4-0 record to win the championship.
In pool play on Saturday morning they played host Anaheim SC Express and beat them 3-2 for a victory. In the second game of the tournament, Juventus played the Tucson Charges from Arizona and Juventus had a field day getting a 8-0 victory.
With the two victories Juventus would end up no.1 in their pool so they would have to face off against the second-place team from another pool, which ended up being the Plus Patriots from the greater Los Angeles area. Juventus would take the early 1-0 lead in the first half but after controlling most of the game and having numerous opportunities to score, the Plus Patriots would tie the game in the last play of the game for the 1-1 tie. The outcome of the game would have to be decided in penalties kicks, which eventually Juventus would win 4-2.
In the championship game would be a rematch of the first game against ASC Express and again Juventus would beat them 2-1 to bring home the championship.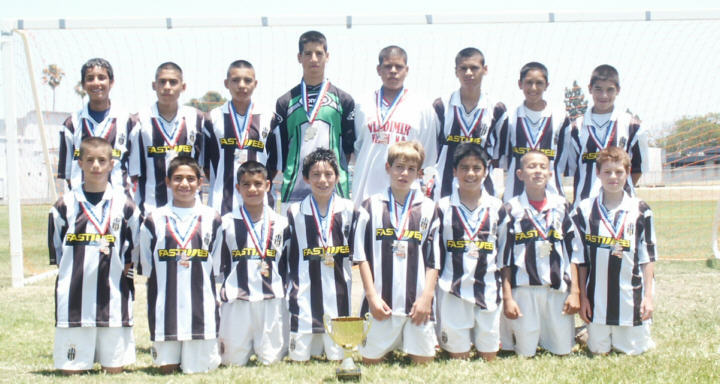 Bottom l-r: Nicholas Cardenas, Edgar Escobar, Jonathan Mendoza, Alexis Hernandez, Claudio Ribeiro, Ivan Yanez, Eduardo Padilla, Allan Rosso
Top l-r: Romel Velarde, Omar Cardenas, Jose Zamora, Diego Mendoza, Jorge Mena, Ismael Perez, Gabriel Alcantar, Juan Escobar
---
May 23, 2004

Juventus win Los Gauchos Invitational Tournament

Porterville Juventus came home this past weekend with the championship from the Los Gauchos Invitational Tournament which took place at the CYSA South Soccer Complex in San Bernardino. With 3 victories in group play over Riverside United 3-1, Aztecs FC 1-0 and MV Terminators 6-0, Juventus advanced to the championship game where they beat NV Fusion 4-3 in overtime.
In the first game of the tournament against Riverside United, Juventus forward Ismael Perez scored all 3 goals to give Juventus the win. Against Aztecs FC from Alta Loma, it would take a second half goal from Nicholas Cardenas to give Juventus the win. "The Aztecs brought to us a very physical game and our kids responded very well", said coach Gilbert Hernandez. "They tried to take advantage of their height but the team distributed the ball very well." On Sunday Juventus routed MV Terminators 6-0 to earn the right to play for the championship against NV Fusion.
The championship game against the Fusion had to go into overtime beofre Juventus would put it away. "We took an early 3-0 lead in the first half so our players got to relaxed", said Hernandez. "We decide to make numerous substitutions and that is when the Fusion came back with 3 unanswered goals pushing the game into overtime." In the end it would take a break away goal from Ismael Perez to hand Fusion the loss.
Juventus players playing in the tournament: Diego Mendoza, Jose Zamora, Ivan Yanez, Alexis Hernandez, Nicholas Cardenas, Omar Cardenas, Claudio Ribeiro, Juan Escobar, Romel Velarde, Ismael Perez, Abraham Campos, Jorge Mena, Jonathan Mendoza, Junior Toscano, Edgar Escobar, Gabriel Alcantar, Allan Rosso.
Photos from tournament.
---
Jan. 31, 2004

Porterville Juventus advance in State Cup
by Porterville Recorder staff

(Article in Feb. 4, 2004 edition of the Porterville Recorder)
Porterville Juventus U13 Boys soccer team beat the Sunnyvale Spartans, 6-5, Saturday in penalty kicks to advance to the quarterfinals of the Snicker's State Cup.
The Snickers State Cup tournament, which is put on by California Youth Soccer Association North, this year started off with 70 U13 boys teams from Porterville all the way to the Oregon border.
Against the Sunnyvale Spartans, the score ended 1-1 after regulation play and two 10-minute overtime periods. Porterville's goal in regulation play came by way of Julian Espino.
Juventus players scoring on the penalty kicks were Abraham Campos, Ivan Yanez, Julian Espino, Alexis Hernandez and goalkeeper Diego Mendoza.
Mendoza stopped two penalty kicks, which had to be retaken because the officials said he moved before the kicks.
"It was a tough game, with opportunities for both sides," said Porterville coach Gilbert Hernandez.
Sunnyvale had fast forwards, which were well contained by Porterville's fullbacks Nicholas Cardenas, Eduardo Padilla, Edgar Escobar, Ivan Yanez and Alexis Hernandez.
"Being in the top eight teams of the state is a great accomplishment when you think there were 70 teams in the competition," Hernandez said.
Two weekends ago, Porterville beat Union City United, 2-1, and league rival Roosevelt Revolution, 3-0, and a 0-0 tie against Tracy United.
Next up for Juventus is Santa Cruz Chivitas, last year's State Cup runnerup. The game has been scheduled for 1:45 p.m. Feb. 14 at the Stevenson Polo Fields, close to Modesto.
Porterville Juventus players playing in the State Cup: Diego Mendoza, Nicholas Cardenas, Edgar Escobar, Eduardo Padilla, Alexis Hernandez, Ivan Yanez, Romel Velarde, Juan Escobar, Julian Espino, Ezekiel Rodriguez, Allan Rosso, Abraham Campos, Junior Toscano, Robert Guzman and Jonathan Mendoza. Coaches: Esmaldo Hernandez, Gilbert Hernandez and Juan Hernandez.
---
Jan. 19, 2004

Juventus into the Snicker's State Cup Rnd of 16

This past weekend with a record of 2-0-1, Porterville Juventus got into the Rnd of 16 in the 2004 Snicker's State Cup. With two wins over Union City United and Roosevelt Revolution on Saturday and a tie on Sunday against Tracy United, Juventus ended up with more points in the prelims group pool play.
On Saturday, Juventus beat Union City United 2-1 and came back that afternoon to beat Roosevelt Revolution 3-0. On Sunday Juventus pulled out a hard fought 0-0 tie to put them into the next round.
All wins were great victories for the team since key players were missing. The bench really stepped up and gave the team a needed boost.
---
Mar. 22, 2003

Juventus 1-2 at the Nike Invitational Tournament

The Porterville Juventus U12 boys soccer team came back with only one win from the Nike Invitational Tournament held in the Thousand Oaks/Ventura area over the weekend. The team ended up with a 1-2 record losing to OYSA Wave and So Cal United and getting its only win against Monarcas USA.
The first game set the tempo for the rest of the tournament. The team controlled 80% of the game but just couldn't put it in against OYSA Wave who did take advantage of their opportunities and would eventually win 3-0. It's frustrating to know you were a better team on the field and still lose a game. We had alot more scoring opportunities but soccer games are won with goals.
The team would rebound from the the earlier lost to be Monarcas USA 3-1. Eventhough the Monarcas took the earlier lead eventual the team would answer back with 3 goals. Juventus scorers were Romel Velarde, Roberto Guzman and Jonathan Mendoza.
In the last game against So Cal United the team gave up 4 goals for a 0-4 lost against a very good team. The So Cal United team completely dominated the game and took control of the game from the start.
Tournament Game Results: Juventus 0 - OYSA Wave 3, Juventus 3 - Monarcas 1, Juventus 0 - So Cal United 4
---
Mar. 01, 2003

Juventus have a strong showing at Mayors Cup 2003

The Porterville Juventus U12 boys soccer team had a very strong showing this past weekend at the Mayors Cup 2003. Juventus came home with a 2-0-1 record having not lost a single game and being tied with 21 points with 17th national ranked CDO Elite 91 of Tuscon, Arizona (National Rankings).
Highlights of the tournament was playing against CDO Elite 91, in a game where Juventus created more opportunities to score but just couldn't put one in. Most of the second half Juventus had CDO Elite 91 against their backs with the ball on CDO Elite side of the field. "This was definately a game we should of won", said Gilbert Hernandez.
Tournament Game Results: Juventus 5 - Apple Valley Storm 3, Juventus 0 - CDO Elite 0, Juventus 3 - OSC Inter 1
---
Dec. 16, 2002

Juventus champions of 2002 Anaheim Holiday Soccer Classic.

The Porterville Juventus U12 boys soccer team brought home the championship over the weekend from the Anaheim Holiday Soccer Classic after winning the championship game 3-1 over West Coast United from Mission Viejo.
The tournament feature over 200 soccer teams in 12 divisions and had teams as far as Canada come play. It was played on 10 different sites while the championship games were played at the tournament headquarter on the grounds of Magnolia High School in Anaheim.
"This had to be the most heart stopping games we have ever played", said coach Gilbert Hernandez. "This was the best showing we have ever had in tournaments from our kids . In almost every game we always had to come back from behind in order to win. It really showed what this team is really made out of."
On Saturday the team defeated SVYSL rival Visalia Vipers 3-2. The team was down 2-0 at the half but came back in the second half with 2 goals from Abraham Campos and a game-winning goal from Julian Espino with 5 minutes left to play. Espino placed the ball nicely over the Viper goalie from a good 35 yards away. "The Vipers caught us off guard with a quick 2 goals", said Hernandez. "But in the second half it was a totally different game with our midfielders Juan Escobar, Romel Velarde, Ezekiel Rodriguez, and Espino getting control of the midfield." Goalkeeper Diego Mendoza had some numerous saves throughout the game.
In the afternoon game Juventus defeated the Antelope Valley Heat 3-2 with again goals from Campos and Espino. "In this game we had a great game from our youngest players on the team Jonathan Mendoza and Antonio Perez."
With the 2 wins on Saturday the team just needed a tie to move onto the championship game. On Sunday morning, Juventus would eventually pulled out an amazing last minute 2-2 tie against Foothill Storm from Claremont. With a minute left in regulation and down by 1 goal, Alexis Hernandez would score a last minute heroic goal with a defender on his back and falling down he was able to cross the shot past a diving keeper. "Foothill Storm had to be the tallest and most aggressive team we played in the tournament", said Hernandez. "Our defenders Eduardo Padilla, Alexis Hernandez, Juan and Edgar Escobar played a great game and were able to keep us in the game. Goalkeeper Diego Mendoza had some great saves in these game as well."
In the championship game, the West Coast United team would get on the scoreboard first with a penalty kick. But after that it was Juventus' striker Abraham Campos who would put in 3 unanswered goals to give the team the title. "It was complete dominance over the West Coast United", said Hernandez. "Our kids finished up the tournament with a great passing game. They never had a chance against us, we totally outplayed them at every spot."
---
Sept. 21, 2002

Juventus gets a 2-1 win over Visalia Vipers.

Porterville Juventus pulled out a hard fought 2-1 against Visalia Vipers this past Saturday in Visalia. Juventus player Abraham Campos scored both goals for Juventus.
Juventus openned up the scoring early in the first half with a nice shot from Campos which ended up going into the upper left corner. Vipers made it 1-1 in the second half before Campos was able to shake off two defenders with a nice cross shot which gave Juventus the win.
"Every player on the team gave it 110% for the win. It was truely a team win", said assistant coach Gilbert Hernandez.
Juventus next game will be 10/05/2002 in Hanford against the South Valley Hawks.
---
Sept. 8, 2002

Juventus start SVYSL with 6-0 win over Valley Elite from Fresno

Porterville Juventus U12 Boys Soccer Club started their South Valley Youth Soccer League with a 6-0 romp over Valley Elite from Fresno. Juventus players scoring in the game were Abraham Campos, Alexis Hernandez and Julian Espino.
"Our whole team played an outstanding game. Our passing game was excellent and it really reflected in the lopsided score", said assistant coach Gilbert Hernandez. "If our team plays at the level they played today, we should be able to defend our SVYSL title which we won last year at the U11 division. We basically have all the players returning back from last year and the only thing we have changed is our name from the Porterville Gladiators to the Porterville Juventus".
Porterville Juventus next game will be this Saturday in Lindsay at 9:30am when they take on Bullard United from Fresno.
---
July 19, 2002

British futbol comes to the Valley
By Brian Williams, The Porterville Recorder

PORTERVILLE - For the past two seasons, an eager bunch of youths have been learning the game of soccer from three coaching brothers Esmaldo, Gilbert and Juan Hernandez.

And judging by the results, the brothers and their traveling soccer club, Porterville Juventus, also formerly known as the Porterville Gladiators, must be doing something right.

Now in an effort to expand the players' knowledge and maybe bring them closer to a state title, they are spending this week learning the game of futbol, British style. And who better to learn from than England native Simon Talbot who flew across the "pond" and arrived in Porterville over the weekend.

"We play futbol, not soccer," a smiling Talbot said in a heavy British accent. "That is one problem I have. Only here is it soccer."

Talbot, 21, calls home a town about an hour south of Manchester, England. He went on to say that it is about the size of Visalia and much, much cooler than here. The red-haired, freckle faced coach was brought here to put a dozen or so youths, from Porterville to Fresno, through the paces of a Challenger British Soccer Camp.

Where Talbot comes from, soccer - or futbol as it is commonly referred to outside of the states - is the number one sport played by children. As common as it is here for youths to be seen playing a pickup basketball game, it is even more common to find a pickup soccer game over there.

"I got me first ball when I was six," Talbot said. "Me dad and I passed it around in the garden. I did not play on me first team until I was nine.

"I played for me county, town, school and college. I played semi-professional for Nantwich Town and Newcastle Town for about a year. I was captain for a time."

The camp was exclusive to Porterville Juventus club players. The traveling club team was formed two years ago by the brothers, but was initially called the Gladiators.

"We wanted to give them a chance to face the best competition," Esmaldo Hernandez said.

This season, they changed their name from the Gladiators to Juventus, which is a top-notch professional team from the Italian League.

Juventus will also be moving up and competing in the 12-and-Under division of the CYSA and participating in tournaments up and down the state. Some of the players are 12-years-old, but seven of the dozen or so players are only 10.

Two girls participated in the camp. Esmaldo Hernandez said the hope is to get enough girls interested and be able to form a girls traveling club team.

The Juventus coaches, players and their parents spent the off-season raising the $1,500 needed to bring Talbot across the ocean so he could conduct the week-long camp.

Esmaldo Hernandez learned of the Challenger soccer camps during a visit to England two years ago. It was then that he began making inquiries about bringing it stateside.

It is not the first time Talbot or the camp has been in the U.S. He is one of many Challenger coaches that conduct hundreds of camps around the world through the course of a year.

Talbot admitted having no idea where Porterville was when he was asked to come over.

"I asked, 'Where is that'," Talbot said. "I learned where it was and that it had nice weather. It is a little bit hotter than I expected."

See, where Talbot is from, a temperature in the upper 70s is considered a hot day.

The heat proved to be one of several obstacles the campers have dealt with.

With Valley temperatures in the upper-90s to above 100, Talbot and the parents decided it would be best to have two sessions per day - 8:30 to 11:30 a.m. and then from 5:30 to 8:30 p.m.

After spending Monday and Tuesday afternoons swatting away a pesky swarm of mosquitos, the camp was forced to move from William R. Buckley to Monache.

Then there was the language barrier. Esmaldo Hernandez, 35, the oldest of the three brothers, became the designated interpreter.

"The first day was a challenge," Esmaldo Hernandez said. "Simon would say something and the kids would stare back. But now there is no problem."

Challenger coaches are matched to the skill level and age of the campers.

"Their skill level is quite high," Talbot said.

Four Juventus players - Juan Escobar, 11, Alexis Hernandez, 9, Gabriel Alcantar, 10, and Edward Padilla - were invited to play for the U.S. junior national team in Australia.

Juan Escobar's mother, Silvia, explains why they were unable to make the trip: "Too young, too far away and too much money."

Many of the parents watching the camp were impressed with Talbot.

"Our kids are learning," said Gabriel Alcantar's father, Ramon. "It is good having them here rather than running around getting into trouble."

For more information on sponsoring Juventus, attending try-outs or in forming a girls team, call 781-8705.