Surf articles
---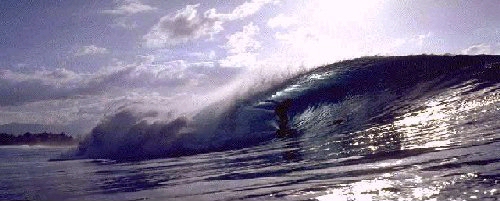 A collection of intelligent, thought-provoking, frightening and informative articles on all aspects of surfing, from the plight of surfing to gain Olympic recognition to The Tao of Surfing, it's all here.

NEWS
In God's Hands This new full-length film gets a pretty good review from the LA Times. Stars Shane Dorian and Darrick Doerner. I don't know if its being released on this side of the pond.
AXED! British Surfing faces a bleak future as the UK Sports Council pulls the plug on surfing.
El Nino and Hurricane Guillerme An interview with Surfline's Chris Borg on the biggest El Nino in living memory resulting in huge Pacific swells.
ARTICLES
The Tao of Surfing by James Meachan. In my opininion, the best surf article ever written, it sums up all our feelings.
Mavericks The most hardcore paddle-in break on earth. No question. There is so much here, from the recent Quiksilver contest to backround on the spot and the hellmen who ride it.
Eddie Aikau The Eddie - Fighting off the Monster. The Eddie hasn't been held since 1990, and has lost much of its mystique over the intervening years with the advent of tow in.
Waves Background, how they're formed, maximum heights, everything.
SHARK ATTACK!! We've all heard horror stories, but what is the real situation reagarding sharks in our seas? Startling facts, including that pissing your wetsuit can have fatal consequences in the wrong places.
Tracking Great White Sharks Sean Van Sommeran is the Operations Director of Pelagic Shark Research Foundation, a Snata Cruz based non-profit education and research gruop formed in 1990. Here he talks of the infamous Great White, and his efforts to find out about these fascinating and deadly beasts.
WORLD SURFING
World Review Got some cash burnin' a hole in yer pocket? Blow it all on an epic surfari someplace - GO FOR INDO!! The whole world is reviewed here - Europe, Australia, Central America, Hawaii, Indonesia, Mexico, South Africa, South America, and mainland USA.
Indonesia Good guide to what's what. Go to Indo.
The Canaries The Hawaii of Europe.
Travel Tips Here are some tips on travelling, including information on preparing to go, packing your boards, surf equipment and a medical kit.
Western Oz One of the surf meccas of the world. Here's the story.
TOW-IN SURFING
JAWS! Undoubtably the most spectacular, breath-taking sport on Earth, the radical tow-in movement has been spearheaded by a daring and talented group of experienced watermen at the legendary Jaws Break in Hawaii. Read their amazing story here.
Mavericks The most hardcore paddle-in break on earth. No question. There is so much here, from the recent Quiksilver contest to backround on the spot and the hellmen who ride it.
Tow-in Surfing: Is it legit? There are those who argue that tow-in is artificial and not legitimate surfing. Some say its just a money-making scam. But, according to tow-in master Laird Hamilton, its not how you get out to your waves but what you do on them that counts. Sam George investigates and tries it out for himself...
Big Wave Performance set to rocket With the bounderies in small surf already stretched beyond belief, the largely un-tapped area of big wave surfing is set for radical improvements over the next few years, led first and foremost by the ground-breaking 'tow-in Brigade'.
Big Wave Riding - physical or mental? Surviving and mastering the 30ft bluebirds is as much to do with mental as physical conditioning.
Breaking the Law Possible problems for tow-in and other watersports in the States as a reult of new legislation governing the use of personal watercraft.
Tow-in hard men chill out at voleyball! What do you do for kicks when you're not riding the biggest, most dangerous waves in the world? In the case of the Jaws brigade on Maui, when not towing each other into hell-waves, they're honing their terrestrial teamwork - on the volleyball court.