Irish Surf Base
Join the East Coast Surf Club! Call 01-2856137 or e-mail me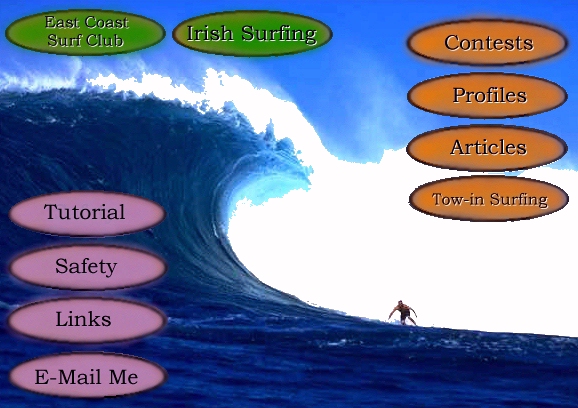 Despite a low public profile and the image of piss cold water, Ireland really is a surfer's paradise (well, except for the afformentioned water) with consistently huge swells rolling in from thousands of miles of North Atlantic power.
Because the west coast is so jagged and full of peninsulas, one break can be windswept onshore slop, then five miles down the road perfect offshore eight footers. And there all yours - virtually no crowds anywhere except for the core surf meccas. Ireland really is the perfect surfari with the friendliest people in the world, take the soul surfer approach and hike cross country to that undiscovered spot or head to somewhere like Easkey or Lahinch for that unique, laid-back Irish buzz with fellow wave riders a plenty.
But the water isn't really that cold either. You trace a line west from Ireland across the Atlantic on the map and where do you end up? Fuckin' Newfoundland or somewhere, and they get frozen in from November to April. Thank god for the Gulf Stream
Anyway, enough with the crap, here's what you want. I've tried to keep it as simple and uncluttered as possible, and keep the picture numbers reasonable to speed up loading times.
Sorry - this counter keeps resetting...
---
**BOOKMARK THIS SITE**

It's constantly being developed and updated.
---
---