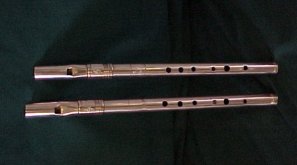 I hand make copper two-piece pennywhistles, using artificial material fipple plugs in black & rose. The material is a polymer which looks like blackwood when dyed black, but is water-resistant and gives a very good sound. Additionally, I normally try to offer at least two types of wood to choose from for fipple plugs (black walnut and maple at present) with the understanding that these may swell a bit if you're a wet blower, which can soften the tone while wet..

Your initials or a thistle can be added onto the tuning slide at no extra cost. I can also do freehand engraving on the whistle body, such as vines, a flower or a grape cluster.

Each whistle is tunable using a slide mechanism.
A special "quiet" whistle can be ordered, which has a lower volume, very low air requirements and is extremely sweet through the entire melodic range. Also, I can make a whistle with an adjustable fipple plug, with the understanding that this raises the price by about $50.

All whistles are made to order, and I do not normally stock extra whistles.

You are welcome to email me regarding any special requests you may have regarding the manufacture of your whistle.

Whistles are available in the key of D, C, E, Eb, F or a Parky Brass High G (New! as of 2/11/03). Additionally, extra bodies/mouthpieces can be ordered as desired.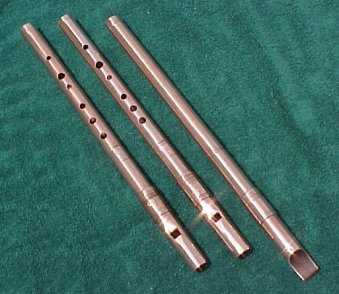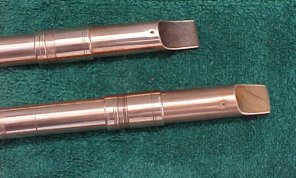 All whistles are $80 except for the high G, which is $100. Whistle bodies are $35 and mouthpieces are $45. These prices include shipping within the United States. Shipping overseas can be arranged at an extra cost. I accept either check, money order or bank transfer. At present, I don't accept credit card or C.O.D. orders. To order, just drop me an email:

[email protected]

All of my whistles are under warranty for a period of two years, although I will gladly consider repair of any whistle I make at any time, regardless of it's age. For unusual requests (ie: a body to fit another maker's head, etc.) please email me and I'll see what I can do.... I like to tinker.
Looking for info on Ireland or Irish music? Check out these links!
http://www.mayo-ireland.ie/ Information on the mighty County Mayo...
http://www.irish-music.net/ Info on festivals, summer schools, CDs and more stuff
http://www.mag.irish-music.net/ A webzine for the Irish Trad scene