Cut a Trail...Texas to Montana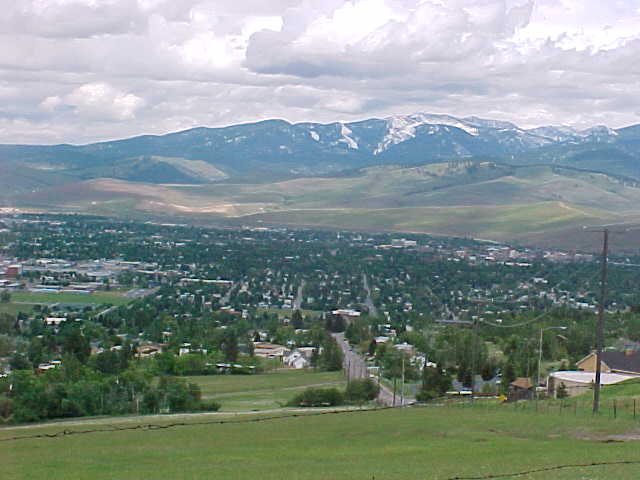 By Benford E. "Buffalo" Standley
Old Texas buddy Willis Allen Ramsey, who wrote "Muskrat Love," and who had spent some time
in Missoula like many other writers and painters over the years wrote a great old song called,
"Good-bye To Ole Missoula." Missoula was a great hideout for artists. Rent was cheep and it
had the beauty of wilderness and nature like very few places on the North American continent.
There were still great herds of buffalo, elk, black bear and grizzly, moose standing at the
sides of the rivers where beaver still swim and build their dams. Did you see Robert Redford's
"A River Run Through It?" Then you know a little about Missoula, Montana. Jimmy Buffett had
mentioned Missoula and Montana in a few songs and I knew of the great wilderness that it was.

LET ME GO BACK IN TIME A LITTLE

I was at the University of Texas and doing some graduate work in Psychology, while doing
a Internship with the National Institute of Mental Health working with one of the first grants they
ever extended to study what was being called at the time "childhood autism." I was also working
on the psychology staff at the Austin State School working with the profoundly and severely
retarded and pretty much the other backward cases in the Institution. I was working and going
to school in the Cookoo's nest. I saw and experienced things that would make grown men and
Senators cry. I became a expert on the subject of the ill fate that millions of the children and youth
of America are experiencing in the institutions, jails, detention centers set up with public money
to help them, but in fact where more harm is done to them at the hands of the state that what
happens to many of them in the streets.

From there I worked for awhile with kids in the streets. Then there was the time that the Governor
of Texas called up the Texas Rangers and the Senate and House sub committees on Human
Resources to investigate some things I pointed out at a press conference that I held in the state
capitol of Texas back there in 1973. From there I left the United States in shock and roamed
the ruins of Peru, Boliva, Equador, wet to Brazil, lived in Guatemala, bought land and lived in
Costa Rica where I was a counselor at the High School where the president of Costa Rica and
all his staff and all the Ambassadors from all over the world sent their kids to school. To make a
living I shipped orchids and bromeliads back to U.S. growers and I sold and dealt in gem stones,
which I had studied and learned back in my early days as a "rock hound" and did an apprenticeship
as a gemologist. Always wondered why anyone would go down there to deal dope when there
were so many great legal resources in that part of the world.

The experiences that I had as a young guy and the State and National debates and investigations
that I became involved with will be a subject of a book I hope to finish someday, and is a manuscript
that I have been working on now for over twenty years. I have seen and know things that I have
seen many people including Senators begin to cry when I am talking about what I know about the
state and fate of children in the United States.

I cried and thought a lot about what I had been through and seen in all the hospitals, jails,
institutions and in the streets...I wandered and wondered the jungles of Mexico, Central and
South America, with a trip or so to Europe for the next seven years of my life. Really pretty
much in shock of what I had been through looking into the Cuckoo's nest...What I had seen
go on in my own country during the sixties then between Kent State and Watergate and what
I learned about what was happening to our Nation's youth and what I had seen working in surgery
and in all the mental hospitals drove me to some alone madness that took me to just walking and
wondering in jungles and on ancient ruins, a wandering wonder.


---


"I believe in and support the work you are doing with our young people and thank you
for all the good things you and your organization are doing to help guide our nation's
youth." Birch Bayh, past U.S. Senator, author of the 1974 Youth Runaway &
Act & the Eighteen Year Old Right to Vote Act.

"I certainly share your very deep concern for the children of Texas, and I pledge to
continue my efforts to offer them every protection avaliable...again, thank you for
bringing your concerns to my attention. I hope you will continue to keep me advised
of matters of importance to you in the future." Mark White, past Governor of Texas

http://www.geocities.com/somranwest
Go to this link to read more about my three decades plus
working with runaway, missing and homeless children...


---


While living in Panachel Guatemala in Central America, where I hung my Panama hat many
times over the years...I met Cathie Stubbs, from Missoula, Montana. For two years we had
a International love affair and on August 8th, 1980, we were married in Tucson, Arizona.
I moved to Montana back in 1982, after Cathie had a scare with cancer and wanted to be near
her family. I was working with the country music scene in Austin, Texas, with Willie Nelson,
Jerry Jeff Walker, Michael Martin Murphey and others. I did not want to leave Texas, but I loved
my wife and understood her fears. So, there I was in Zoola, Montana. Far cry from Austin,
Texas and the life that I had known in the music biz and all the travels I had been doing.

BACK TO MISSOULA, MONTANA
I worked some at a plant nursery, God that Missoula dirt is hard when it is cold. I helped my old
buddy Jack Kolberg run his little country store. I looked and looked for a job. Hell fire, Missoula,
was broke. The kids that grew up there were broke. There were no jobs for anybody. Much
less this rock & roll cowboy from the music biz. I had no choice. I had to do some shows...and
I did. Over a couple of years I brought Kris Kristofferson, Hoyt Axton, Michael Martin Murphey, the
most incredible Riders in the Sky, who rode the streets of Missoula in a horse drawn wagon playing
their instruments and singing cowboy songs. I brought Gary P. Nunn, one of the great legendary
songwriters in country music to town a couple of times. I brought up Willie Nelson's daughter Suzie
and did shows with Montana's own MONTANA and Montana Skyline, Jack Gladstone and others.
Several articles were coming out about my work bringing music to the town, God knows that it
needed it. I had many people thank me for bringing all the new and much needed talent and
entertainment to Missoula.
---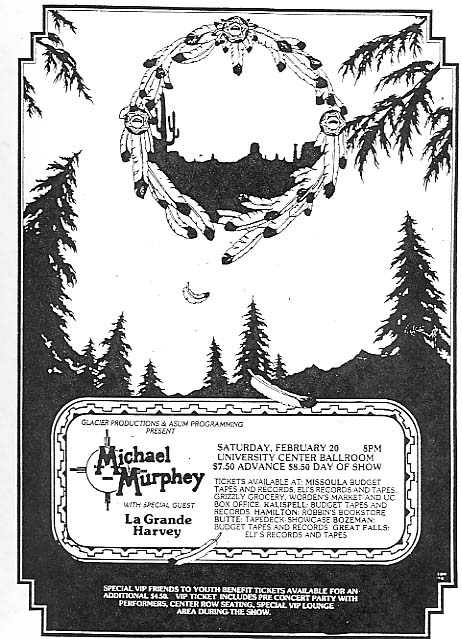 ---
The show with Michael Martin Murphy was for Friends to Youth, a organization that works with
runaways. The following link will take you to resume concerning my three decades of work in the
name of children and youth. This work is very well documented. I went on to make introductions
and arrangements for the Mark White, the Governor of Texas to appoint Murphy as the National
Chairperson for The Runaway Hotline, a hotline run out of Texas that I was part of organizing back
in 1973. It was an incredible show and was opened by LeGrande Harvey. Took place on the U. of
Montana campus. All my bills were paid and the show made a little money. We even had the
kids from the school that was on the "Montana Melody" record to come in and sing. Was a great
experience for the kids. Speaking of kids...in seven months my little girl Desiree would be born
in Missoula. I was having some of the great moments of my life there in Missoula, Montana.
---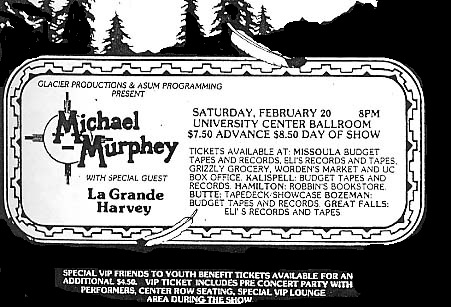 ---
I found a Recording Studio for rent, which was hard to believe and I worked out a deal with the ole
boys that owned the studio. I was bringing in and trying to help as much of the local talent as I
could. Was wanting to find some local business men to help me get the studio more developed
and advertised and thought that the "music business" could be a good business for Missoula. Again,
this is part of where I felt a force going against me. There was also a group of business men that did
not want me to bring a anything that rang of the arts or the like kind of business into town.
A guy came in the studio one day, who had moved from Tennessee by the name of LeGrande Harvey.
I knew LeGrande's brother in Austin, TX. Alex Harvey had written "Delta Dawn" and "Rubin James"
recorded by Kenny Rogers. LeGrande had written a song and came in a recording studio that I was
and played me this song he had written called "Montana Melody." First, time I heard it I thought...
"Well, shoot lets record that and sell it to the tourist." Not really, but we did record it and I brought in
28 kids from a elementary school in Missoula to sing the chorus on the recording. Long story short...
cut the song in a 45 RPM record, no foolin', one of those with the big holes in the middle. I did also
begin the pursuit to see how we could sell these records around the state. LeGrande put another
song on the flip side called "Montana Waltz," written by a eithty-year old lady from Billings.
I mailed some of the records to some folks with the
the Montana tourist bureau, legislators and other
folks in the entertainment world. A movement began
and the song ended up being voted as the OFFICIAL
STATE BALLAD OF THE STATE OF MONTANA.

Thank you very much, I produced the Official
State Ballad of Montana, and did 85% of the
work to make it all become a reality...some-
thing on my list of things to tell my grand kids
about...and with two kids born there in ole
Montana...I can not help think it will always
be one of my homes.

Went on to produce a album and released there in Montana with the State Ballad on the album.
Will not go into it right now, but it was an incredible album. And Montana school children to this day
sing the song "Montana Melody" in their classrooms in the band halls and on their football fields.
I love what the song stood for and the beauty and wilderness that is Montana. I will always feel part
of that state. LeGrande Harvey still owes me money, but that is the way it goes. I put a good year
of my life into the project and the reward was really enough that it became the State Ballad. We
had a deal and he broke it...but, I didn't just fall off a turnip truck...been down that road a few times
before. Did make it a little rough in that my wife wanted me to bring home some money for all
the work that I was doing and all the time that I was putting into the projects. I have all the
documents if anybody would like to see from those days back there in the early part of 1980s.
Over several years I did several shows with the ole boys
from Montana known as MONTANA. Great bunch of
guys and they had that "Austin, Texas" sound...I did
several shows with them in Missoula and was in talks
with them to do a tour and record some when the
band died in a plane crash at the lake in Polson,
Montana. A sad day I know for many of the music
lovers from back then.

For its size, Missoula had more live music than any
town in the Northwestern United States. Had that
Santa Fe, New Mexico...Austin...Nashville vibe, with
all the musicians and writers and environmentalist.
I am proud of many of the great performers that I brought to Missoula over the years and against
some incredible odds. I always felt that there was some Force going against trying to create
artistic events. Some RIGHT WING force, some more Holy than thou...some Arian Nation
hideout, old WWII boys that just as soon shoot someone for dancing as anything. Kinda like
they did not like the arts. Then the University changed over to become more of a business
school. A University setting surrounded by some of the greatest wilderness in the country
and they make it a business school? Go figure?


So strange while I am working on my Cybersequel here on October 16, 2001, and
have been cleaning up these exact pages...I am also doing some research online
and I find the two attached articles about Missoula and the lack of live shows
there in ye ole Missoula. Another Irony in the fire of my life... CLICK

Never could put my finger on it...some "Una bomber" stupid country dumb. Kind like that
Elizabeth Clair Profit bunch that set up shop down near where Jimmy Buffett, Peter Fonda, and
others lived...just seemed to be a large number of fanatics or something. Just seemed to be a
force against me trying to bring these shows to town. Always seemed to be a struggle to
produce a concert or bring music to town. Always felt this "dead" feeling that folks were just
stuck in their bar fly existence. There was for sure some great talent in Missoula, I always
thought that the city was missing its calling not supporting its local music more. After not
only living, but being part of the Austin, Texas music scene before and after Willie Nelson
had moved there, I saw that it could be a economic viability for the town.

Talk around town about why the more fun things like outdoor concerts and other art and music
events not happening you would hear that it was because of the Mormons, the Missioulian, and
Lambros Reality and some of the other business that control the town. I just never could put
my finger on it...do understand how the Missoulian hurt the town and the Morman thang for sure.
Could not understand why they demolished the Fox Theater...in any case, I did not for sure know
how else to make a living, and it seemed that there was a great need. There was for sure a
group in Missoula that were the kind of people I grew up with in the Bible belt of Texas...those
kind of folks that don't like people to dance. Sure don't want nobody drink a beer and dance
at the same time.

© 2001 Benford E. Standley
All Rights Reserved.