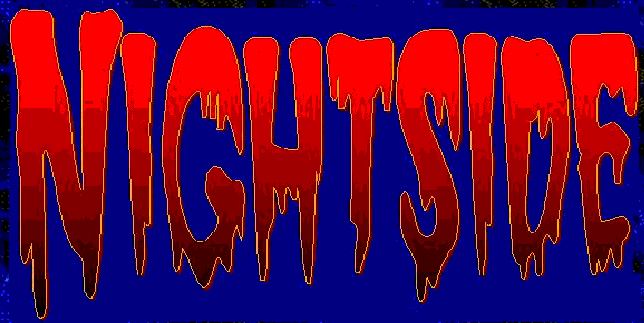 site content (c)&tm 2002 Rice Deckart all rights reserved. NIGHTSIDE is tm & (c) Pisces All Media / JONATHAN NOLAN and this site is approved as an official fan site by them. All opinions on this site are those of Rice Deckart's, and are not in any way connected with the Pisces All Media company or the author Jonathan Nolan.

NIGHTSIDE is a series of books of horror and erotica. Unlike other horror stories, these are all set in Australia and are developing a sort of Australian version of the Cthulhu Mythos. Only it isn't just a copy of Cthulhu, in fact there's no Cthulhu element in the first published book at all. It's just that the book creates a mythical, horrible version of reality to tell ghost stories, stories about vampires, and stories about monsters.

The hero of the book is Jake Alialta, and one of his friends, who gets eaten by a Mothman, is Rice Deckart - which is where my nic comes from.

With the author's blessing, this site is set up to promote awareness of the books and the world they are set in, and to discuss topics relevant to the books. For example in the first book, "Nightside", a map is provided of where Jake Alialta lived. The city where he lived isn't named, but it is pretty obvious from the stories where it must be... Prospect, SA, Australia. I haven't worked out yet where my character, Rice, bought the farm. It must be in the Adelaide Hills somewhere. Gosh, being ghoulish is FUN! I also owe the author a big THANK-YOU for the site resources. Jonathan let me use files from his commercial site. I guess he thinks having an obsessed fan might be a good thing!

Why am I such a big fan of the book already published? I must have led a very boring life! I really was terrified by some of the stories. I woke up screaming from the worst nightmares of my life! It's not every day you read a book like that!

WHEN I GET A CHANCE, I will be putting links here as well as scans of some of the pictures from the articles quoted in book one. As soon as a publishing date for book two is announced, I will put it here as well.

EMAIL ME by clicking here or at [email protected]

NIGHTSIDE NEWS This book might do really well, and then you need to know all the hot gossip! I have put up bits from my latest "interview" with the author. NOW FEATURES MORE NEWS FROM THE AUTHOR!Last updated
HOT AND COLD A sci-fi horror sex story. One of my favourites. Apparently this story might be sold soon to a men's magazine. Wouldn't know myself.
It's hard to know exactly how to categorise the story, which is one of the reasons I like it so much. This is the original version posted to the Australian Big Brother website. The version in the book is a bit longer - and steamier!!
NIGHT FLYERS This is the story where my namesake dies horribly. Thanks are due to Jonathan Nolan for allowing me to post the story here as it has never been seen separate from the book. Guess being a #1 fan of something has some advantages!


If you want to buy a copy of NIGHTSIDE, go to the author's business site here. The book retails for $18.00 Australian, and the author's company charges $2.00 postage for it. Apparently it will soon be available as a pay-for-download, which is called a ESD for some reason - I don't know why. So you could wait and pay halfprice for an electronic version. I am getting an electronic version as well because it will be easier to quote from.

NIGHTSIDE LINKS As I find links that seem to fit the site I will add them on this page! Some are going to be mature content. YOU HAVE BEEN WARNED!


So far
people have disappeared at the Make-It-Gro(tm) Factory...
Sign Guestbook
View Guestbook