Geography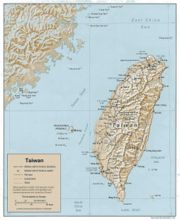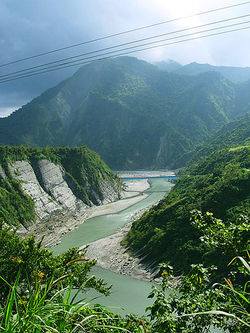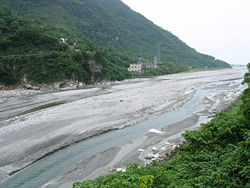 The island of Taiwan lies some 120 kilometers off the southeastern coast of mainland China, across the Taiwan Strait, and has an area of 35,801 square kilometers (13,823 square miles). The East China Sea lies to the north, the Philippine Sea to the east, the Luzon Strait directly to the south and the South China Sea to the southwest. The island is characterized by the contrast between the eastern two-thirds, consisting mostly of rugged mountains running in five ranges from the northern to the southern tip of the island, and the flat to gently rolling plains in the west that are also home to most of Taiwan's population. Taiwan's highest point is the Yu Shan at 3,952 meters, and there are five other peaks over 3,500 meters. This makes it the world's seventh-highest island. Taroko National Park,located on the mountainous eastern side of the island, has good examples of mountainous terrain, gorges and erosion caused by a swiftly flowing river.

The shape of the main island of Taiwan is similar to a sweet potato seen in a south-to-north direction, and therefore, Taiwanese people, especially the Min-nan division, often call themselves "children of the Sweet Potato."[17] There are also other interpretations of the island shape, one of which is a whale in the ocean (the Pacific Ocean) if viewed in a west-to-east direction, which is a common orientation in ancient maps, plotted either by Western explorers or the Ching Dynasty.


Siouguluan RiverTaiwan's climate is marine tropical.[18] The Northern part of the island has a rainy season that lasts from January to late March during the southwest monsoon, and also experiences meiyu in May.[19] The entire island succumbs to hot humid weather from June until September, while October to December are arguably the most pleasant times of year. The middle and southern parts of the island do not have an extended monsoon season during the winter months, but can experience several weeks of rain, especially during and after Lunar New Year. Natural hazards such as typhoons and earthquakes[20] are common in the region.

Taiwan is a center of bird endemism; see Endemic birds of Taiwan for further information
Environment and pollution
With its high population density and many factories, some areas in Taiwan suffer from heavy pollution. Most notable are the southern suburbs of Taipei and the western stretch from Tainan to Lin Yuan, south of Kaohsiung. In the past, Taipei suffered from extensive vehicle and factory air pollution, but with mandatory use of unleaded gasoline and the establishment of the Environmental Protection Agency, the air quality of Taiwan has improved dramatically.[21] Motor scooters, especially older or cheaper two-stroke versions, which are ubiquitous in Taiwan, also contribute disproportionately to air pollution in Taiwan.

Land and soil pollution has decreased as Taiwanese industry moves out of heavy industry; however, several toxic sites continue to pose challenges. Solid waste disposal has become less of a problem as a nation-wide recycling movement has taken hold, especially with support from Buddhist charity organizations.[citation needed]

Water pollution remains a problematic issue. Nearly 90% of sewage waste in Taiwan is dumped untreated into waterways. Several rivers are so heavily polluted that it would take billions of dollars to clean them
Natural resources
Because of the intensive exploitation throughout Taiwan's pre-modern and modern history, the island's mineral resources (eg. coal, gold, marble), as well as wild animal reserves (eg. deer), have been virtually exhausted. Moreover, much of its forestry resources was harvested during Japanese rule for the construction of shrines (using particularly firs) and has only recovered slightly since then. The remaining forests nowadays do not contribute to significant timber production mainly because of concerns about production costs and regulations of environmental protection.

Camphor oil extraction and cane sugar production played an important role in Taiwan's exportation from the late nineteenth century through the first half of the twentieth century. The importance of the above industries subsequently declined not because of the exhaustion of related natural resources but mainly of the decline of international market demands.

Nowadays, few natural resources with significant economic value are retained in Taiwan, which are essentially agriculture-associated. Domestic agriculture (rice being the dominant kind of crop) and fishery retain importance to a certain degree, but they have been greatly challenged by foreign imports since Taiwan's accession to the World Trade Organization in 2001. Consequently, upon the decline of subsistent importance, Taiwan's agriculture now relies heavily on the marketing and exportation of certain kinds of specialty, such as banana, guava, lychee, wax apple, and high-mountain tea.
Energy resources
See also: Energy policy of Taiwan
Taiwan has significant coal deposits and some insignificant oil and gas deposits. Electrical power generation is nearly 55% coal-based, 18% nuclear power, 17% natural gas, and about 5% oil, and 5% from renewable energy sources. Nearly all oil and gas for transportation and power needs must be imported, making Taiwan particularly sensitive to fluctuations in energy prices. Because of this, Taiwan's Executive Yuan is pushing for 10% of energy generation to come from renewable energy by 2010, double from the current figure of approximately 5%. In fact, several wind-farms built by American and German companies have come online or will in the near future. Taiwan is rich in wind-energy resources, both on-shore and off-shore, though limited land area favors offshore wind resources. Solar energy is also a potential resource to some extent. By promoting renewable energy, Taiwan's government hopes to also aid the nascent renewable energy manufacturing industry, and develop it into an export market