Society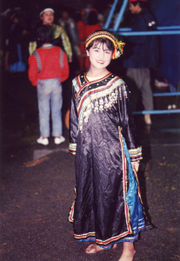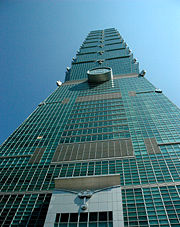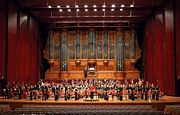 Ethnic groups
Bunun dancer in traditional aboriginal dress.Main articles: Demographics of Taiwan, Taiwanese aborigines, and Taiwanese people
The Republic of China's population was estimated in 2005 at 22.9 million, most of whom are on the island of Taiwan. About 98% of the population is of Han Chinese ethnicity. Of these, 86% are descendants of early Han immigrants known as "native Taiwanese" (Chinese: 本省人; pinyin: Běnshěng rén; literally "home-province person"). This group contains two subgroups: the Southern Fujianese or "Hokkien" or "Min-nan" (70% of the total population), who migrated from the coastal Southern Fujian (Min-nan) region in the southeast of mainland China; and the Hakka (15% of the total population), who originally migrated south to Guangdong, its surrounding areas and Taiwan, intermarrying extensively with Taiwanese aborigines. The remaining 12% of Han Chinese are known as "mainlanders" (Chinese: 外省人; pinyin: Wàishěng rén; literally "out-of-province person") and are composed of and descend from immigrants who arrived after the Second World War. This group also includes those who fled mainland China in 1949 following the Nationalist defeat in the Chinese Civil War. For political reasons, more and more young people started to call the mainlanders xin zhùmín (traditional Chinese: 新住民), or "new residents". A survey in November 2006 conducted by the Taiwanese National Chengchi University, the Japanese University of the Ryukyus and the Chinese University of Hong Kong showed that more than 60% of Taiwan's population consider themselves Taiwanese, compared to only 18% in 1992.[citation needed]

Dalu ren (traditional Chinese: 大陸人; simplified Chinese: 大陆人; pinyin: dàlù rén) refers to residents of mainland China. This group excludes almost all Taiwanese, including the mainlanders, except recent immigrants from mainland China, such as those brides made ROC citizens through marriage. It also excludes foreign brides from Vietnam, Indonesia, Thailand and the Philippines or foreign grooms of which a greater number come from Western countries. One in seven marriages now involves a partner from another country. As Taiwan's birthrate is among the lowest in the world,[22] this contingent is playing an increasingly important role in changing Taiwan's demographic makeup. Transnational marriages now account for one out of six births.

The other 2% of Taiwan's population, numbering about 458,000, are listed as the Taiwanese aborigines (traditional Chinese: 原住民; Hanyu Pinyin: yuánzhùmín; Tongyong Pinyin: yuánjhùmín), divided into 13 major groups: Ami, Atayal, Paiwan, Bunun, Puyuma, Rukai, Tsou, Saisiyat, Tao (Yami), Thao, Kavalan, Taroko and Sakizaya .[23]
Languages
Main article: Languages of Taiwan
About 80% of the people in Taiwan belong to the Hoklo (Chinese: 福佬; pinyin: fúlǎo; Pe̍h-ōe-jī: Hok-ló) ethnic group and speak both Standard Mandarin (officially recognized by the ROC as the National Dialect) and Taiwanese (a variant of the Min Nan dialect spoken in Fujian province). Mandarin is the primary language of instruction in schools; however, most spoken media is split between Mandarin and Taiwanese. The Hakka (Chinese: 客家; pinyin: Kèjiā), about 15% of the population, have a distinct Hakka dialect. Aboriginal minority groups still speak their native languages, although most also speak Mandarin. English is a common second language, with many large private schools providing English instruction. English is also featured on several of Taiwan's education exams.

Although Mandarin is still the language of instruction in schools and dominates television and radio, non-Mandarin dialects have undergone a revival in public life in Taiwan. A large fraction of the populace speak the Taiwanese dialect, a variant of Min Nan spoken in Fujian, China, and a majority understand it. Many also speak Hakka. People educated during the Japanese period of 1900 to 1945 used Japanese as the medium of instruction. Some in the older generations only speak the Japanese they learned at school and the Taiwanese they spoke at home and are unable to communicate with many in the modern generations who only speak Mandarin.

Most aboriginal groups in Taiwan have their own languages which, unlike Taiwanese or Hakka, do not belong to the Chinese language family, but rather to the Austronesian language family.
Religion
Main article: Religion in Taiwan

Tainan Confucius Temple. Four characters on the inscribed board mean "First School in All of Taiwan"Over 93% of Taiwanese are adherents of a combination of Buddhism, Confucianism, and Taoism; 4.5% are adherents of Christianity, which includes Protestants, Catholics, Mormons, and other non-denominational Christian groups; and 2.5% are adherents of other religions, such as Islam. Taiwanese aborigines comprise a notable subgroup among professing Christians: "...over 64 percent identify as Christian... Church buildings are the most obvious markers of Aboriginal villages, distinguishing them from Taiwanese or Hakka villages."[24]

Confucianism is a philosophy that deals with secular moral ethics, and serves as the foundation of both Chinese and Taiwanese culture. The majority of Taiwanese and Chinese usually combine the secular moral teachings of Confucianism with whatever religions they are affiliated with.

One especially important goddess for Taiwanese people is Matsu, who symbolizes the seafaring spirit of Taiwan's ancestors from Fujian and Guangdong.
Culture
The cultures of Taiwan are a hybrid blend of Confucianist Han Chinese cultures, Japanese, European, American, global, local and indigenous influences which are both interlocked and divided between perceptions of tradition and modernity (Harrell/Huang 1994:1-5).

After the retreat to Taiwan, the Nationalists promoted an official interpretation of traditional Chinese culture over the local Taiwanese cultures. The government launched a program promoting Chinese calligraphy, traditional Chinese painting, folk art, and Chinese opera.

Since the Taiwan localization movement of the 1990s, Taiwan's cultural identity has been allowed greater expression. Identity politics, along with the over one hundred years of political separation from mainland China has led to distinct traditions in many areas, including cuisine, opera, and music.

The status of Taiwanese culture is debated. It is disputed whether Taiwanese culture is part of Chinese culture or a distinct culture. Speaking Hoklo as a symbol of the localization movement has become an emblem of Taiwanese identity.

One of Taiwan's greatest attractions is the National Palace Museum, which houses more than 650,000 pieces of Chinese bronze, jade, calligraphy, painting and porcelain. The KMT moved this collection from the Forbidden City in Beijing in 1949 when it fled to Taiwan. The collection, estimated to be one-tenth of China's cultural treasures, is so extensive that only 1% is on display at any time.

Popular sports in Taiwan include basketball and baseball. Cheerleading performances and billiards are quite fashionable. Badminton is also common.

Karaoke, drawn from contemporary Japanese culture, is extremely popular in Taiwan, where it is known as KTV.

Taiwan has a high density of 24-hour convenience stores, which in addition to the usual services, provide services on behalf of financial institutions or government agencies such as collection of parking fees, utility bills, traffic violation fines, and credit card payments.[25]

Taiwanese culture has also influenced other cultures. Bubble tea and milk tea are available in Australia, Europe and North America. Ang Lee has directed critically acclaimed films such as Crouching Tiger Hidden Dragon, Eat Drink Man Woman, Sense and Sensibility and Brokeback Mountain.