Notes
Martin Fulterman (Mark Snow) - Born on August 26th, 1946 in Brooklyn, New York. USA
Parents: Harry and Leah Fulterman.
Father: percussionist. Mother: kindergarten teacher.
Married in 1967. Wife: Glynn Snow (sister of Tyne and Tim Daly). Three daughters: Sarah, Megan & Nora.
Pets – cocker spaniel puppies: "Cowie", "Bixon", "Poppy".
Favourite composers include: Handel, Bach, Vivaldi, Bartok, Prokofiev, Stravinsky, Ravel, Debussy, Schoenberg, Webern, Bernard Hermann, Jerry Goldsmith, Thomas Newman, Elliot Goldenthal, etc.
Larold Rebhun is his sound engineer.
Main instrument in his home studio: "synclavier" – a digital recording device. "It is basically a piece of architecture that holds many, many millions of sounds and different libraries, which are incredibly easy to call up on the keyboard, and then instantly record into the machine, to play back quickly." - Mark Snow, 1998.
Other Equipment includes: S-760 Roland Sampler x 4; Tape Deck (BR-2U66BR2); Sony 27" TV Monitor; Sony D7 Delay Echo Unit; JVC Professional Super VHS Video, etc. – Info from The Official Mark Snow Web Site.
MARK SNOW (Martin Fulterman) has composed music for more than a hundred TV-movies, a dozen television series and feature films. He has been nominated for 11 Emmy awards and won at least 18 ASCAP awards.
Mark Snow was born on August 26th, 1946 in Brooklyn, New York. His father, Harry Fulterman, was a professional percussionist and his mother, Leah, was a kindergarten teacher, although she did play the piano.
Mark began piano studies at age 10. He went on to master both the drums and oboe. Discovering a passion for the woodwind instrument, he began performing at local events and concerts involving baroque and renaissance music.
His musical studies continued at Manhattan's High School of Music and Art. He made the acquaintance of another musician Michael Kamen. The two became good friends and were roommates at the prestigious Juilliard School of Music from 1964 to 1968. Mark concentrated on the art of composing under the guidance of several prominent musicians: oboist Melvin Kaplan, jazz arranger Hall Overton, twelve-tone composer George Tremblay and composer Earle H. Hagen (Hagen composed The Andy Griffith Show theme). Mark says that he learned the basics of writing a TV theme from this composer.
Mark Snow became interested in popular music, and with the help of Michael Kamen and fellow students, they formed "The New York Rock and Roll Ensemble". The band caught the attention of Atlantic Records, thanks to the interesting mix of rock and classical music. The group became a popular concert act on campuses across the US and they released five albums between 1968 and 1972.
The first three albums were released on ATCO/Atlantic:
"The New York Rock & Roll Ensemble" (1968) [Atco SD33240]
"Faithful Friends" (1969) [Atco SD33294]
"Reflecions" (1970) [Atco SD33312]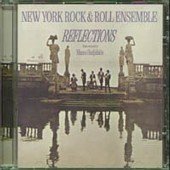 One song from "Faithful Friends" titled "Brandenburg" began with two oboes, a cello and a harpsichord. It ended with heavy metal guitars and drums. On the same album, they did an old Jimi Hendrix standard. Atlantic Germany re-issued "Reflections" on CD in 1995. It contains music composed by Manos Hadjidakis with lyrics by members of the band.
The final two albums were released on CBS Records. The name of the band became "The New York Rock Ensemble".
"Roll Over" (1971) [CBS 30033]
"Freedomburger" (1972) [CBS 31317]
In 1999, Collector's Choice Music/Sony Music Special Products re-issued "Roll Over" and "Freedomburger" on one CD. It contains all 22 tracks from the original LPs.
When the band broke up, Mark Snow went into record producing. However, this only lasted for a brief period of time. Inspired by the Planet of the Apes score, Mark realised that he wanted to compose music for film and television. He and Glynn, his wife, moved to Los Angeles. Six months later, Mark got his first job, composing music for an episode of Aaron Spelling's The Rookies.

In the late 1970s, Mark composed music for several TV programs including The Boy in the Plastic Bubble, Starsky and Hutch, Gemini Man, Family and Hart to Hart. In 1977, he did the underscore for a feature film, Skateboard. His music for this film was released on LP. Two years later, he did the music for Something Short of Paradise — another motion picture.
Mark's score for the TV movie, Something About Amelia (1984), earned him his first Emmy nomination. Other significant scores from the 1980s include Murder Ordained, Dynasty, Falcon Crest, T. J. Hooker, Cagney and Lacey, Vietnam War Stories, Blood & Orchids, Jake Speed, Ernest Saves Christmas and The In Crowd. Mark earned his first Genie nomination in the early 1990s for the TV movie, The Little Kidnappers. In 1991, he shared an Emmy nomination with his wife for The Lost Capone. An American Story earned him his third Emmy nomination.
In 1993, Chris Carter's The X-Files premiered on the Fox network. A year later, the show received two Creative Arts Emmy nominations — outstanding main title design and outstanding main title theme. Mark didn't win but his X-Files theme became an unexpected smash hit in many countries. DJs started mixing their own dance music based on this theme. Mark's music for The X-Files was so popular that Warner Brothers Records released a CD of his atmospheric music in 1996 titled "The Truth and The Light". Snow's music for the feature film "X-Files: Fight the Future" was also available on CD. A newly recorded 31-minute X-Files suite was featured on Mark Snow's "The Snow Files" compilation CD, released in 1999.
Mark may be best known for his electronic work on The X-Files and Millennium but he has also scored some wonderful orchestral scores for projects like the Emmy-nominated Oldest Living Confederate Widow Tells All and Children Of The Dust, The Day Lincoln Was Shot, Down The Long Hills, and 20,000 Leagues Under the Sea.
"Snow's work in film and television has effortlessly woven together an avant-garde sensibility with a confident populism to create soundscapes as lush as they are recognizable." - The Official Mark Snow Website.
Sources: The Official Michael Kamen Web Site, "20,000 Leagues Under the Sea" CD Notes, "The Snow Files" CD Notes and Glynn Snow.