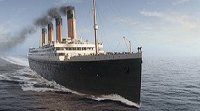 LINKS TO OTHER NEWSnose SITES ON THE WEB
(Newsnose was born April 26, 1941 in Chicago, Illinois, but grew up in Montrose, Colorado and Grants, New Mexico. He is a graduate of New Mexico State University. (http://www.nmsu.edu/))
Titanic Pages
Titanic afficianados (and afficianadas) are you a player of Titanic...Adventure out of Time?. This CD-ROM computer game provides an awesome look at Titanic, the Ship of Dreams. Check it out at the link below:
Cyberflix.com
More Titanic stuff!!
Newsy's Titanic site.

The Girl at the Rail...
=================================================================
In Memoriam:

The Final Voyage of the Edmund Fitzgerald
On November 10, 1975, the 729-foot freighter SS Edmund Fitzgerald was hauling a heavy load of taconite (small iron ore pellets) from Superior, Wisconsin to Detroit, Michigan when she was caught in a severe storm that churned up 27- to 30-foot waves with a following sea.
Trying to find protection from heavy seas in the more protected lee waters of the Canadian shore, Captain Ernest McSorley selected a northerly alternate route across Lake Superior as he steered toward Whitefish Bay.
The ship's two radar systems failed and, in a rare occurrence, the back-up generator for the Whitefish Point signals failed to turn on when electrical power was knocked out by the storm.
Eventually the light was restored, but the radio beacon remained inoperable. At 7:25 p.m., Captain Jesse Cooper of the Arthur M. Anderson, which was following 8 to 10 miles behind the Fitzgerald and offering navigational assistance, lost the Fitzgerald's image on his radar screen less than 15 minutes after his last radio contact with Captain McSorley.
Although McSorley had earlier reported a list (tilt to one side) and loss of a fence rail and two vents, his last transmission to Cooper at 7:10 was, "We're holding our own."
The ship, with its load of iron ore and crew of 29 men, sank to the bottom of Lake Superior where it now rests, broken in two with bow upright and stern upside down.
(Now, whenever you hear Gordon Lightfoot's haunting ballad,"The Wreck of the Edmund Fitzgerald" you will know there really was such a ship, and the ballad is a true story.)
=============================================
An "Unsinkable" Woman...
Movies

LINKS TO MOTION PICTURE SITES (Except Titanic)
A long time ago they used to say "Movies are better than ever." Some of them are. Most are a little bit of a disappointment, however.
It isn't enough to keep Newsy away. Newsy goes to a lot of movies. Some of them good, and some not so good. So this feature highlights movies worth watching and especially film personalities worth watching.
Remember The Titans, This is a football movie for people who don't necessarily like football. The Titans are a high school football team in a school which has been integrated in 1971, where young men (and young women) suddenly find themselves confronted by young people of a different color. Denzel Washington plays the new head coach, who is forced to deal with professional jealousy as well as racism as he leads his team to a championship--and to social maturity. Outstanding.
The Perfect Storm, A screen adaptation of the book by Sebastian Junger, and a dramatization of a true story of men and machines versus nature. Worth seeing--exceptional special effects.
The Patriot, A new Mel Gibson movie, a spectacular epic about things that are worth fighting for.
Gladiator, ...action, adventure and recognizable heroes and villains. Worth at least three stars, rated "R" because of violence.
Shanghai Noon, starring Jackie Chan and Owen Wilson. "The classic western gets a kick in the pants." A surprisingly good spoof on just about every martial arts and western stereotype, but which one is the straight man? Try it. You will probably like it.
The Haunting, A movie version of the novel, "The Haunting of Hill House." Good. Another vehicle for Catherine Zeta-Jones, and another credit for Owen Wilson as well. Special effects are amazing, but falls a bit short in the suspense area. Still fun and worth seeing.
The Sixth Sense, starring Bruce Willis...simply superb. See it.
The Green mile, starring Tom Hanks...written by Stephen King. One of 1999's best movies.
Catherine Zeta-Jones (enjoy her in The Mask of Zorro, Entrapment and The Haunting)
Entrapment,a movie for fans of Sean Connery and Catherine Zeta-Jones.
Star Wars First Episode - The Phantom Menace This is the official web site for the newest and oldest episode!!
Miss Congeniality Starring the incomparable Sandra Bullock in a fun action comedy which was largely filmed in San Antonio. Some critics loved it--some hated it. Uh, Newsy and family liked it.
Pearl Harbor Well, what can Newsy say that hasn't already been said? It was expensive, spectacular. I give it high marks for special effects, somewhat lower marks for historical accuracy--but still well worth seeing. See it because it depicts an event all Americans NEED to remember. Uhhh, okay, it's a romantic movie, too. That means the girls will like it at least as much as the guys. There were veterans of the Pearl Harbor attack that thought this was pretty realistic. Make it noisy enough and blow up a lot of things and it will be realistic. As I said, it's worth seeing.
Tora! Tora! Tora! Now, let's look at a movie about the Pearl Harbor attack that is a little truer to history. This 1970 masterpiece still holds up very well, and--remarkably--has a web site. Which one is better--Pearl Harbor or Tora! Tora! Tora!? See both. Make up your own mind.
Crouching Tiger Hidden Dragon A martial arts film that turns out to be an artistic masterpiece. See it for the Asian splendor, for the special effects and for the gifts to sight and sound that come from a superb musical score and spectacular settings.
Rush Hour and Rush Hour II, starring Jackie Chan and . Two very funny, sort of raunchy and not-to-be taken seriously action comedies. Jackie Chan emerges as a truly talented, very athletic star. His able and funny co-star is Chris Tucker.
Government
Hail to the Chief!!
George W. Bush
The 43rd President of the United States
Texas House of Representatives, Austin, Texas

CNN All Politics
Texas Government Web Site
Mexico On-Line Web Site



Kelly AFB Public Site
---