---

Welcome to my site dedicated to the new Batgirl. But, wait! There's a new Batgirl? Well, for those of you who don't know, there is indeed a new Batgirl... who is living with the original Batgirl. This new Batgirl is meaner, tougher, and an unstoppable fighting machine. Plus, she fills out the black leather quite nicely. I hope to make this site THE new Batgirl resource of the Internet, providing fans with the most accurate and up-to-date information, and any multimedia I can get my hands... er... cursor on. So, please enjoy my site. If you have any comments, suggestions, or contributions, please do not hesitate to e-mail me. - M.Chan
---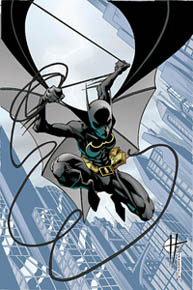 News - Letting you know what's happening with this site and with Batgirl.
About Batgirl - Everything you need to know about our heroine.
Comics - A complete comic list and information about each issue.
Analysis - Interesting interpretations of certains aspects of Batgirl.
Multimedia - Cool stuff like images and Sims models/skins.
Fan Fiction - Stories written by the fans for the the fans.
Merchandise - Stuff you can buy at stores to sate your Batgirl needs.
Official Forum - DC's message board, which includes a Batgirl section.
Contact Info - Wanna contact me? Here's how to do it.
About M. Chan - All you need to know about me, plus a special message.
Links - Other pages if you want to find more information.

---

Batgirl is owned and copyrighted by DC Comics. This site was created by M. Chan, ©2004
THIS SITE WAS ACKNOWLEDGED IN WIZARD MAGAZINE, ISSUE 126!!!
---