Wanna help the game but don't have any creative ideas? Visit those that help others visit us. Each click on one of the banners at the bottom of the page, earns us an advertisement on other RPG sites and helps us gather more players.
Graphics created by Conceptual Design Works
Character Generator and Update System created for Nessus by
MOY Industries
Presents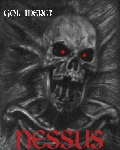 I have read the Terms of Service, Warnings, Disclaimers, and Copyrights, so take me to the game!
Warning!
*The fictional fortress of Nessus and it's surrounding worlds are quite violent and deadly, where dragons are as real as humans.
*Some parents may find the violence, adult scenarios, adult language, and the supernatural elements of this game inappropriate for younger players. Parental Discretion is advised.
*The contents of the game pages and the chatrooms used to play this game are considered, for lack of better definition, rated Hard R. The owners and operators of Nessus RPG, and the owners of RPGWorlds will not be held liable for lack of parental supervision.
*Please note that none of us condone nor encourage the occult, practice of magic, the use of drugs, or violence.

Join the RPG Host Banner Exchange | ARCHIVE | LINKS | REVIEWS | TOP 100

---
Nessus RPG copyrighted ©2000-2001 Joe Pombo
All rights reserved under the Universal Copyright Convention. No part of this web site may be reproduced in part or whole, in any form or by any means, without permission from the publisher, except for brief quotes for use in reviews. All incidents, situations, institutions, governments and people are fictional and any similarity, without satiric intent, of characters or persons living or dead, is strictly coincidental.
Terms of Service, Disclaimers, and Copyrights

Tracker placed September 25, 2000