Nebraska Horseshoe Pitchers Association
On or before October 16th 2009 you will not be able access the Nebraska State Horseshoe web site here. To access the new Nebraska State Horseshoe web site click here Nebraska State Horsehoes Please make note of this.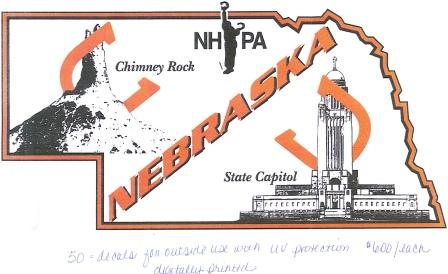 Fellow Officers; This is what we came up with for our new State Horseshoe logo. Hope you like it. The coin was to detailed to make for a screen. This I assume we will use on the backboards of courts, and on the back of our shirts more than anywhere else. This will unify the State. If this is approved we can go ahead and have a screen made. What size should we make it? I think the size it is on the sheet. Its U V coated so the sun will not fade the colors. Please let me know your opinion. Sportsmanship 1st Pat Wemhoff RD
for comments or suggestions
please contact Gary Smith
---
This page last updated on December 16, 2008.