Introduction
UK139-L went active on the 10th September 2003.

UK139-L is a PMR446 Internet Gateway/Repeater which is connected to the network maintained by www.446user.co.uk which makes it possible to talk to other users in other parts of the UK or even different countries using a PMR446 radio through local gateways (assuming you're within range). This has created a new dimension to PMR446 and the operators hope that this network will contribute to the continuing uptake of the PMR446 service.
The aid identification the gateway is setup to announce itself every 5 minutes using the following message WAV File generated by http://www.naturalvoices.att.com/demos/
PMR446
Introduced in 1999 PMR446 is an unlicensed system which allows personal voice communication using relatively cheap and small handheld sets or put very simply PMR446 means license free walkie-talkies. These radios can be used in most of Europe but not in the USA, they have there own similar system called the Family Radio System (FRS).
PMR446 is allocated 8 radio frequency channels at 446MHz. PMR446 equipment must have a non-removable antenna delivering a maximum of 500mW of Effective Radiated Power. These restrictions limit the effective range to a quoted 3km/2miles, however communication over larger ranges can be achieved under line-of-sight conditions. The range can be limited to less than half a mile in built up areas with lots of obstructions.
Since its introduction PMR446 has become very popular, many of the high street stores such as Argos and Dixons sell these handsets for less than £20 each! These radios can provide an effective radio service for leisure, family or business use.
Common uses are in offices, schools, sports events, factories, on building sites, as well as numerous others. People use them when out walking, cycling and motor biking (with hands free kits of course) Many radios have a voice-activated option (VOX) and people use them as long-range baby monitors.
eQSO Gateways

PMR446 is intended for short range communication, however the eQSO system allows you to use your handset to talk to someone in another part of the UK, or even different countries using a eQSO gateway.
The eQSO software was developed by Paul M0ZPD and was intended specifically for use by Radio Amateurs, although he has given permission for its use within the terms of its freeware licence for PMR446.

The following diagram shows how the system functions using the internet as its backbone.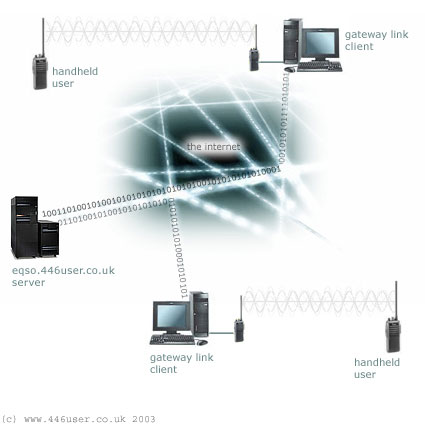 Computers are set up to act as gateways and communicate with a central server across the internet. The gateways receive local transmissions and pass them across the network via the server to other gateways where they are broadcast, thus allowing two way communication.
For more details of the system check out http://www.446user.co.uk and the main eQSO site http://www.eqso.org