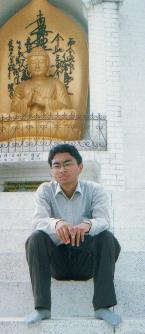 GREETINGS FROM NEPAL

Hi, I'm Ravi Kishor Shakya. My friends often call me G-Man, nerd etc.
My specialization is in Computer Engineering but have interest in diverse fields and am crazy about technology. Aside from my Internet/Networking journeys, I'm also fond of reading works ( of great lads!) and like to share knowledge. As far as the boring stuff goes, I dislike boisterous parties.

Books, Computers are my constant companions. I invite you to explore my site to the fullest and have fun...But, please remember just as too many cooks spoil the food, too many clicks spoil the browse.

As this page is in rudimentary form, suggestions for improvement will be highly appreciated.

I started my career as a Lecturer at Gandaki College of Engineering and Science, Pokhara, Nepal. I worked as a Web Programmer(PHP/MySQL) at Yomari Inc P Ltd, Kathmandu. I was a Webmaster of Bazaar International. Currently, I am working for Stratify Software India P Ltd in Bangalore, India. I am a member of RECRAAN and Nepal Engineering Council.