Electroluminescent wire, aka EL wire, glow wire, neon string, is flexible electric wire that glows brightly and can be used virtually anywhere.
Available in a wide range of colors, EL wire can be powered by batteries, car/boat electricity, or household current.
EL wire is now being used for decorating parties/events, modding computer cases, raves, detailing cars, hobbies, Halloween costumes, stage props, toys, safety enhancements, military applications, signs/advertising, art, and many other uses.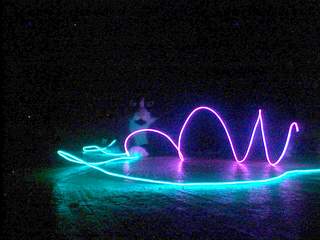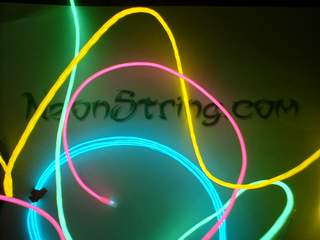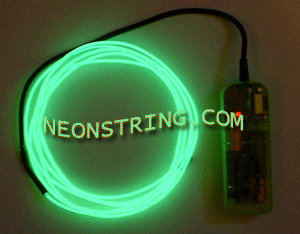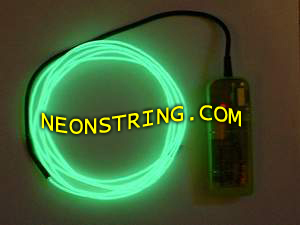 Blink mode
Continuous mode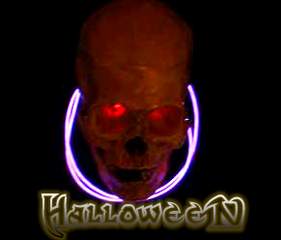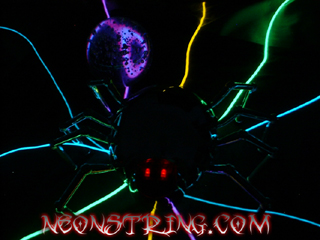 Available colors:

white,

purple,

blue,

blue-green,

aqua,

lime,

yellow,

orange,

red,

pink
Available sizes: 1.2mm (angel hair), 2.3mm, 2.5mm (standard), 3.2mm, 5mm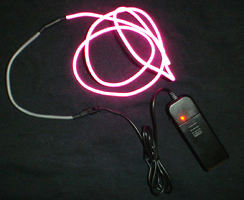 AA driver with short length of pink el wire
(takes two AA batteries)

Basic facts about electroluminescent wire:



Electroluminescent wire, also referred to as el wire, glowstring, glowwire, or neon string, must have




alternating current in order to light up. Powering el wire with batteries is done through the use


of

inverters

, also referred to as

drivers

.. EL wire Inverters/drivers change the direct current from the
batteries into alternating current. Different inverters are available for different applications, depending
on the length of electroluminescent wire and the power source be used. Some inverters / drivers have
sequencers and can power several different strands of el wire, turning them on and off in the desired sequennce.
NeonString carries a variety of drivers and sequencers. Electroluminescent wire can be soldered end to end if necessary.
El wire can be cut to a shorter length simply using wire cutters.

NeonString is located in the Houston area, but will ship anywhere in the USA.
If you are in the Houston area, please contact me to inquire about purchasing locally to save on shipping.




Copyright © 2005 NeonString.com