01.25.03
My cousin Jennifer is getting married!!! and guess who's gonna be a bridesmaid? i'm so honored that she chose me, and thankfully she's already promised no seafoam green or fushcia for the dresses. oh, and i'm sure that Grandma Wang must be very happy. Although the plans still aren't set in stone, I was told that the wedding is going to be on an island off the coast of Thailand! I can't wait! this is the only one i have, so here's a picture of her and the Wang Fam cousins (she's the one in the middle).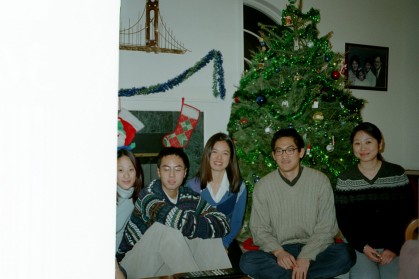 12.24.02
Merry Christmas Everyone!! I'm back home at my parents' place in Westchester. How I spent the first 18 years of my life living in Weschester, I don't know. I've been in this house no more then 30 hours and the most excitement I experience is when I sneeze to relieve the uncontrollable allergies that build up in my sinuses. Oh yeah, I'm allergic to this house, too. woooohoooo...no Cornell for the next 8 months!! i'm living in new york city starting mid January! living at the Cornell Medical dorms on the upper east! yay! can't wait!

This site has been visited
times.