---

Here's the page for all Beginning and Advanced BAND Students. Also, my private students can find some information here, too

Prue Music

Here is where you'll find my own original compositions.

Genealogy

This is a link to my family history and genealogy. It is under constant construction. This page includes names like Prue, Blanchard, Bond, Camp, Landry, LaRue, Mackay, Major, Rice, Root, Thrasher, and more.
Here are some random favorite non-music links of mine, that I do not maintain.
All of my MUSIC links you'll find under the BAND page or PRUE MUSIC page.
Refdesk Packers Onwar History Channel Discovery Channel NASA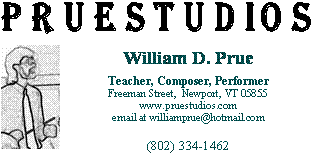 Why PRUESTUDIOS?? While still in college, I established a business named Pruestudios primarily for giving private lessons. The business expanded into music composition, though I never made any money there. It then faded away from "business" status into "hobby" status as I became a full-time BAND teacher. I still use the name for this Website and for copyrighting my music.
Graphics from http://www.grsites.com
©2005 Pruestudios