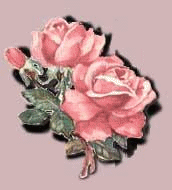 My Backyard
My Roses                    My Garden
My very first rose           Seven Sisters Rose and various flowers
Hydrangea
Amaryllis & Angel Trumpet 
Frequent visitors...
After removing 2 windows in the dining area and
adding sliding doors then a deck. The window upstairs on the right
used to be a door. The 2 flower containers are wash basins from the basement.
I painted them to match the trim around the windows.
Double Hollyhock is the lilac flower.
The front of the house.The bushes have been removed and Hostas planted.
There is a rock wall below the hill.
My peach tree died last year, so there will be no peaches this year.
Created October 10,2000
Font used CAC Champagne
Updated April 24, 2001
Music: I Never Promised You A Rose Garden