To
My Awards Page 1


Milly,I would like to present you this Award for your site.
You have a beautiful site and it's growing fast.I know
that you will keep adding more beautiful pages! Please
accept this Award from Granny's World. You have
earned it!
Love & Hugs,
Bobbie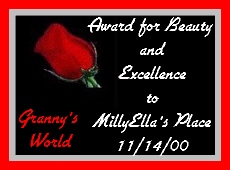 Bobbie, You have made my old brown eyes blurry.
Thank you sooooo much . I have never in my life ever gotten
an Award! From the bottom of my heart I thank you and Franny.
You know I would never have done this without insistance on both.
Love you,
Milly



This award is being bestowed to those that have shown me they care
and respect our nation's servicemen and women.Those of the past that
have given all of us all the freedom,liberty and the best life of any people on
this earth.To the present, that serve in all corners of the world,so we and
all others can continue to have this great free life and to those that will
give of themselves in the future.
Awarded this 10th day of November 2000,the 225th birthday of my
United States Marine Corp.
Ronald A Lay
USMC Retired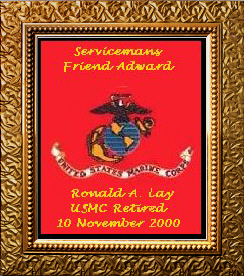 Ron, I am in total awe that you would give this beautiful award to
me.I don't have any service people on my site yet.But,rest
assured I will put my Dad(WWII)and son,
Rich(Germany)and cousin William York(Viet Nam.They served
proudly.My Father-In-Law served in Canada during WWII as well
as his two brothers.Thanks again,Milly



C O N G R A T U L A T I O N S
************************
Milly : ) after viewing your site, I would like to inform you that you have qualified for my Frannytastic !!! Award.
*************************
This award is given to pages that express Love, Poetry and/or Spirituality, or just a Frannytastic !!!!! Site.
*************************
Ms Milly : ) I would like to Add, You and your site has brung many good LOL!!! and ROFLOLWTIME!!!!!
*************************
I Hope you will enjoy your well-deserving award! Along with your many others you have and will receive!!!
*************************
Love Ya' Girlie : ) Franny : )
*************************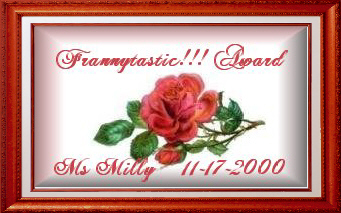 Franny, thank you for the beautiful award. I love the rose.
I could never have done this without you on the puter and phone,
with the hours you spent with me. I should be giving you an award..
Ok, I will when I learn how to make them.....LOL Thanks
again from the bottom of my heart....Luv you too,
My "Frantastic" Friend




Ahem.....
Milly, you have worked hard on your website. You have made a site
showing family love. You have made it with beauty, and skill. You have
touched our hearts, and those hearts of all those around you in
cyberspace.
We, the list members of Tennesee Memories, are proud to present to you
our humble award of website excellence!! Please display it proudly, for
you have earned it. We thank you for all of your work, and for bringing
a website to cyberspace that is a refuge of graciousness and peace.
Your Tenn-Memories family
Thanks to all of you who voted for me.
My AWARD is beautiful and I'll make you proud...
I just never expected it.Really I didn't.....
You are the Bestest ever.
I'll show my AWARD with pride .
To those who know me...
I'm sitting here showing my big white pearlies...;))))))))
in total awe..

Milly,
I want to present you a special award for your page "Our Song". It really
touched my heart to see a love so beautiful! Anyone who views the page can
see that it was made with pure love and came straight from your heart.
Love & Hugs,
~Bobbie~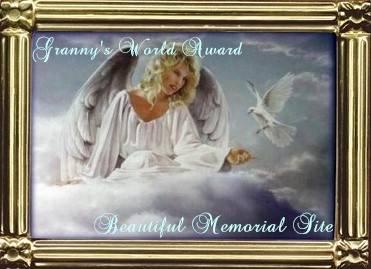 Dear Bobbie, You totally surprised me with this award.
It is absolutely stunning and I am honored.
Our Song page was a little difficult to do because of my love for Bob.
Now, you have made it worthwhile. Thank You so much...
Love you too!!

Thanks, Franny, for my Globe ....It's beautiful

Susan sent me this beautiful Eagle..
Thank You, Susan. I love it!!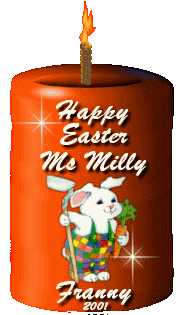 Thank you,Granny Franny..

Dear Milly,
I have visited your beautiful site
and thoroughly enjoyed my stay.
It is with great pride that I would like
to present to you my awards.
Your site shows Love and beauty!
I'd be honored if you accept my awards
for all the hard work you put into
creating such an EXCELLENT Site.
Congratulations for a job well done!!
Hugs
Princess MS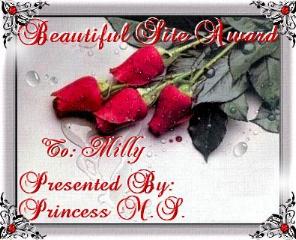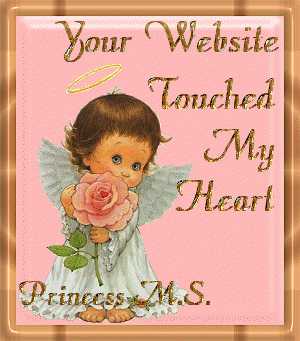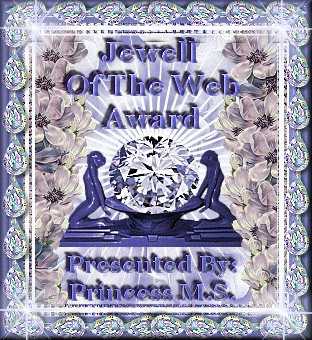 Princess MS,
Thank you for allowing all to use your beautiful work.
And thanks for stopping in...
I love my awards you gave me..I'll do my best to live up to them.




To JoinOne of These Lists~Send a Letter with Subscribe in the Subject Line
To Join TNMEMORIES LIST
To Join Down-Home-Chatter List
To Join the Fentress Co List
Music:I Am Woman