This is for a special interest of mine concerning Lawter engines.
One of a kind engines have always been
favorites of mine, and recently a friend of mine
bought a 1907 Lawter engine. This is the only
one that I, or any of my friends have ever seen.
This engine is a 4 cycle, tank cooled, two flywheel
with a cross head like a steam engine. It also has
ratchet type governor. It is a real oddball
engine rated at 2 1/2 h.p.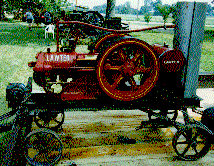 This engine was built in New Castle Ind, USA,
( my home town) in 1907 by Benjamin Lawter.
He was a plant superintendent, employed by
the Safety Shredder Co. He also designed
and built an automobile and a tractor, both
of these were also called Lawter.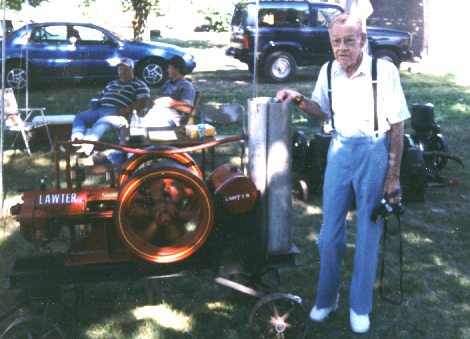 Above Thomas Lawter stands beside the engine that his
father built in 1907. Tom knew his father built an engine,
but had never seen one until he saw this one at the
New Lisbon, In Old Time Days, in 1996.
Tom still resides in New Castle, In where the Lawter
engine was built.

This was one of the happiest days of his life!
I've been collecting history on this engine and
anything else to do with Lawter built items,
or anything about the Safety Shredder Co.
If you have any information on this subject please let me know.


Contact Mike by clicking here.