---
THE STORY OF DUNEK (DONEK)
- THE PRISHTIN PIGEON
Taken from the book 'Golubovi novije rase - Modern Breeds of Pigeons'
by B.Sc. Bora Vasic,
one of those men who contributed greatly to creating Duneks as a separate breed.
---
STANDARD CHARACTERISTICS OF DUNEK (DONEK)
---
"THE HISTORY OF DUNEK (DONEK)"
"'Prishtin roller', or better known by its turkish name as 'Dunek' or 'Donek' is a specific and particular breed of pigeons, which origins date from 19th and the beginning of 20th century. According to the stories of old breeders, this breed was made from ORIENTAL ROLLER, which was brought to the Kosovo region together with Turk invasion...
However, while the most properties of this kind stayed the same in Turkey, Greek and Macedonia, and in another regions, oriental roller in the Kosovo's town of Prishtin has undergone great changes.
After the coming of Turks in Prishtin, pigeons could mainly be seen under the roofs and in open fields, and rarely in the houseyards. In those times, pigeons fed and multiplied by themselves.
Wealthy Turks could afford breeding of pigeons, so they brought pigeons from their homes in Turkey.
For a long time, probably until the end of 19th century, ORIENTAL ROLLER in Prishtin was breeded in the similar way as in Turkey, Macedonia, and Greece.
But, as the number of pigeons grew, so the number of breeders increased, and with it, grew the ambition for making something special and more attractive. Already in those years, there were rather good breeders, mostly Turks, but also Serbs, Albanians and Roms.
The wars at the beginning of the 20th century disturbed this process of breeding, but already after the First World War, breeders focused on creating the PRISHTIN ROLLER - DUNEK (DONEK).
The basic vision of this patient work was to get the new characteristics of this pigeon, and above all, specific rolling and considerable exterior (aesthetic) characteristics.
As a main method, the line breeding was used, where the best and most wanted successors were chosen and perfected. It is known that the mixing with some domestic pigeons was pursued, but only because of body constitution. In the similar way, some pigeons from the northern regions of the country were used.
The most famous old breeders from these legendary times and men who contributed to making the breed of Duneks were: Domanik Hilmiya, Vebia Batal, Jovan Simeon, Chemal Pantolia, Imer-agha, Bechir Ismail, Blagoye Denic, Ljaljuk Sadiku, Milan Shampa, Ahmet Cheklik, Zafir Denic, Daut Krushka, Sali Eshekdzhija, Iliya Jovanovic, Shuchuri Toplak, Ljuba Calich, Shaba Murtez, Husko Chel, Dobrosav Krivokapic, Adilji Salia, and other. All these and other people, from whom the most are not alive anymore, incorporated a great effort and will, and gave financial support to make better and distinctive breed of Dunek - Prihtin roller.
Thanks to such a work and effort, today the Prishtin Roller - Dunek - considerably differentiates from its ORIENTAL ROLLER, Macedonian and other rollers in Yugoslavia. It is most similar to Macedonian roller, considering the size, colours and flying abilities.
But, contrary to macedonian and other rollers, Prishtin roller must NOT have yellow or red eyes, feathered legs, dropped wings, and must not tumble over the tail.
This breed is capable and endurable, it gives young birds easily, it is modest in feeding and resistable to great deal of illnesses.
Except in Prishtin, this pigeon is breeded in another places in Kosovo and Metochia, such as Vuchitrn, Mitrovica, Prizren, Uroshevac, Gnjilane. In all these places there exist good pigeons, but most of them originated in Prishtin.
In 1981. the Federal Comission granted the standard characteristics of Prishtin roller - Dunek."
---
"STANDARD CHARACTERISTICS OF DUNEK (DONEK)"
"General characteristics. Generally, Dunek is a little bit bigger than plain, halfwild pigeon.Its length varies from 28 to 32 cm from the neck to the end of the tail. Its body is strong, it has intermediate height, wide and emphasized chests. Its overall appereance is very 'proud'. It has peaceful character and it is very faithful. There are a number of colour variants. It is easily trained and rehearsed.
Head is strong, smooth, rounded, proportional to overall looks. The top of the head is more flat, and the forehead has middle height. The length of the head is 2.5 to 2.8 cm from nosetip to back of the head; height is 1.5 to 2 cm and width of the head at forehead is 2.1 to 2.4 cm. Female pigeon has a little bit more elegant head, neck and whole body.
Eyes are white, with white coloured iris and gentle double white-greyish rings, on white pigeons. On darker pigeons, eye iris iz of darker colour. There are pigeons with one eye white and one dark. These are pigeons with so called 'chakr' - doublecoloured eyes.
Nose is strong, middle lengthed, 20 to 28 mm from the tip to the jaw angle. On the tip it is a little bit curved and white coloured. For most of the black and darker pigeons, the nose is of darker colour. Pigeons with white nose have priority, particulary if their feather is black.
Neck is proportional to head and chests. It is wide at the bottom, and elegantly thinning to the head.
Chests of prishtin roller are strong and a little bit put forward, width is about 9.5 to 10.5 cm.
Wings are long, strong, tighted to body. The wingtips lay on the tail and do not cross each other.
Tail is long, wide, longer 2-3 cm than wing, with 14 to 16 equally distributed feathers. The best ranked are pigeons with single-colored tail.
Legs are of middle height, 7 to 8 cm, without feather, strong, red coloured. Nails are white. Pigeons with darker feather and nose could have darker legs.
Feather is dense, shiny, smooth and tight to body.
Back is wide, flat, a little bit inclined to the tail.
---
Colours and patterns Prishtin roller is specific by great variety of colours. Generally, there are multicoloured and single coloured pigeons. The names for colours are specific, and they originate from Turkish occupation period, but they were given even later, almost all in Turkish language.
Different colours and patterns are distinctive as: kumra, aladia, mavra, maveli parka etc. All these colours are steady, that is if the care is taken they are inherited.
The Basic colours of Prishtin Roller pigeons are:
kurum (black)
beaz (white)
duke (silver, ash)
mavra (blue)
karapal (red)
chiull (chocolate)
In the next table the name of the pigeon and the colour are given:
| | |
| --- | --- |
| ORIGINAL NAME OF THE DUNEK PIGEON | COLOUR |
| KURUM | PURE BLACK, BLACK WITH WING TRACKS |
| KURUM SASKANAT | BLACK, ONE WING WITH WHITE TIP |
| KURUM BEAZKURUKLI | BLACK WITH WHITE TAIL |
| KURUM BALIOSH | BLACK, WITH WHITE STAIN ON THE HEAD |
| BEAZKANATLI | BLACK, WITH WHITE WINGTIPS |
| SIALI PARKO | BLACK, WITH WHITE SPOTS ON THE HEAD AND WINGS |
| CHIUPELYA | BLACK AND WHITE, WITH BLACK EARINGS |
| ALADIA | BLACK AND WHITE. WHITE HEAD AND TAIL, WHITE WINGTIPS |
| CHIUPRYA | BLACK, WITH WHITE SPOTS ON CHEST |
| CHIUCHUKLYA | BLACK, WITH WHITE LINE ABOVE EYES |
| TENELYA | BLACK, WITH WHITE SPOTS ON HEAD, WHITE WINGTIPS |
| BEAZ | WHITE |
| KARAKANAT | BLACK, WITH WHITE PATTERNS ON WINGS, NECK AND HEAD |
| MAVILI-KARAKANAT | WHITE, WITH BLUE PATTERNS ON WINGS, NECK AND HEAD |
| SENSELYA | WHITE, WITH BLACK SPOT ON THE NECK |
| MAVIAKA | WHITE, WITH BLUE SPOT ON THE NECK |
| ALENSELYA | WHITE, WITH RED SPOT ON THE NECK |
| PENSETLYA | WHITE, WITH BLACK SPOTS ON THE NECK |
| DANGALYA | WHITE WITH WHITE SPOTS ON THE BODY |
| SACHINA | WHITE WITH BLACK, RED OR BLUE RING ABOUT NECK AND COLOURED HEAD (BLACK, RED OR BLUE RINGED) |
| ALTANBASH | WHITE, WITH REDDISH-GOLD COLOUR OF HEAD |
| ALY-PARKO | WHITE, WITH RED-YELLOWISH SPOTS ON THE BODY |
| BOZYAKA | WHITE, WITH BLUE SPOT ON THE NECK AND PARTS OF BACK AND WINGS |
| MAVRA | BLUE, PURE OR WITH WING LINES |
| MAVRA-BEZKURUKLYA | BLUE, WITH WHITE TAIL |
| MAVRA SASKANAT | BLUE, WITH ONE WINGTIP WHITE |
| MAVRA-ZEYTINLYA | BLUE, OLIVE-BROWN, GLOWISH |
| NEZLI MAVRA | BLUE-FORGED |
| KUMRA | BLUE-WHITE.WHITE HEAD AND TAIL, WHITE WINGTIPS |
| VLADIKA | BLUE, WHITE WINGTIPS |
| BOZ | FORGED BLUE AND WHITE |
| CHIELEVIR | BLUE-GRAY, BLUE-BLACK,BLUE-SILVERISH |
| MAVILI-PARKO | BLUE, WITH WHITE SPOTS ON THE HEAD AND WINGS |
| MAVILI-DIUGUS PARKO | BLUE, WITH WHITE SPOTS ON THE NECK AND CHESTSQ |
| DIUGUS-PARKO | BLACK WITH WHITE SPOTS ON THE NECK AND CHESTS |
| KURUM-BALIOSH | BLACK, WITH WHITE STAIN ON THE HEAD |
| KARAPAL | RED |
| KAPLAMA | RED-WHITE, WHITE WINGTIPS |
| MAVISHINA | LIGHT RED TO BLUE, ON THE NECK AND BACK |
| PALUSH | RED-ASHY AND WHITE, WITH WHITE WINGTIPS |
| DIUKLY PARKO | ASHY-REDDISH, TIGRIC |
| DUKE | ASHY, PURE SILVER OR WITH WING LINES |
| DUKE-BEZKANATLY | ASHY, SILVER-WHITE WINGTIPS |
| CHIULY | CHOCOLATE |
Among these colours, especially ranked, and priced, are pigeons with harmonic colours and colour patterns, pigeons with single-coloured tail, pigeons with regular stains on the head (so called 'baliosh' pigeons), black with white tail, with shining feather, blue with white tail, etc.
Many of the breeders breed special sorts with particular colours. These pigeons are always of same colour, which are inherited, and if they roll well, these are the most high ranked, appreciated and priced pigeons.
It is interesting that yellow colours are not registered, except some rare birds with black body and with golden-yellow head.
Ranking according to standard, the general appereance is important, above else the attitude, eyes, nose, colour. But the most important is rolling.
Bigger irregularities Red or yellow eyes, feathered legs, dropped wings, narrow tail, exhausted pigeon, feather bad and without shine. Tumbling over the tail.
Smaller irregularities Slight differnce in size, a little longer or shorter nose, dark nose, 'chakr' eyes, a little less shining feather, some patterns without harmony. Rolling with interrupts.
Size of leg band IV
---
Flight and rolling The flight capability of this breed is extraodinary. Duneks are endurable, and can fly high, 150-350 m, and there are birds who can fly up to 500 m. The flight is however not too long, about 1 to 3 hrs., and always longer if young birds are trained. By the way, during the competition and when pigeons are rolling, the flight lasts until pigeons reach the desired heght.
However, what is most important for this breed of pigeons, the reason why duneks are breeded is ROLLING. This specific rolling, extraodinary and extremely attractive, was created in Prishtin and is very appreciated there.
The rolling of Prishtin Roller - Dunek - is different from 'Purtzler', Oriental roller (roller) and Macedonian Roller. All appreciated and specific characteristics of these breeds such as tumbling over the tail, acrobatic flying, tumbling over head ARE NOT allowed to Prishtin roller (Dunek) and are considered as great irregularity.
Prishtin Roller, during roll, must perform and close the circle with half-spreaded wings, rolling on one or another side, on left or right wing, toward the earth.
The rolling is ranked by its length, that is, by the greater or lesser height from which it is performed, how fast or slow it is, how big is the circle of rolling, but the rolling circle must always be properly closed and clean, so that head, tails and wings are not seen. The rolling must be performed at the angle of 45 degrees to the pigeon-house, with closed circle from the beginning to the end, without interupting, and is better if it is performed equally nice over both wings, so that it is not even noticed.
It is often case that some pigeons can perform the best rolling just over one wing-side. There are pigeons which do not roll in the shape of circle, but more elliptical. , which is appreciated, if it lasts long enough and if it is clean.
There is no difference between male and female rolling, both can perform succesfull rolling.
Sometimes Prishtin Roller rolls so long and perfect, that it can not stop rolling willingly, so pigeon falls on some roof, tree, or earth. If the impact is too strong, pigeon can die immediately, or it can stay permamently disabled fot flying.
However, good pigeon can stop rolling at some altitude, open the circle, and continue normal landing on earth.
In Prishtina the story is told that some breeders had to hold blankets, to prevent their best pigeons not to kill themselves by hitting ground.
---
To get a good roller, besides pure family line, a good training is necessary. Training starts with young pigeons, in the same year when they become able to fly.
Young pigeons first learn to fly and return back to their breeder, and after that they start to learn rolling. They fly one by one, or in small loft, the best results acomplished when they fly together with pigeons already trained to fly, such as Kosmet Julia.
It is expected that young pigeons start rolling the same year they learned to fly, but some sorts start rolling not until next year.
Prishtin roller is signalled to roll - this is called 'oynaterisanye' - at the average height of 80 to 200 metres, or even higher, at the moment when pigeon is towards the pigeon-house, at the angle of 45 degrees. If there is wind, the signal to start rolling is given when pigeon flies upwind.At that moment, the breeder opens the door of pigeon-house, pigeons go outside and in that way give 'signal' to the pigeons in the air, and than rolling starts. The care must be taken that the wind is not too strong.
Some breeders signal to the pigeons by holding the 'dropper'-pigeon in their hand and than letting it go when the moment is right to start rolling.
It is considered that roller pigeon has satisfied if the length of rollng is 15-30 meters. Better pigeons has rolling distance up to 70 m, and the best are those that have the rolling distance over 70 m and up to 100 m!
It is the rule that prishtin roller must not be signalled to roll when it flies over the pigeon-house.
The great number of breeders use a stick for training their pigeons, in that manner that pigeons get used to going in and out of the pigeon-house with the help of stick, almost as sheep do! It can be achieved that when breeder just touches a pigeon with a stick, that pigeon goes out of the pigeon-house and flies off.
---
Photo 1 - Duneks in their mobile pigeon's house, ready for acrobatic flying
---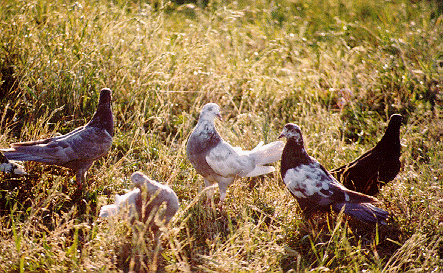 Photo 2 - Duneks enjoying in the grass
---
Photo 3 - Duneks kiss
---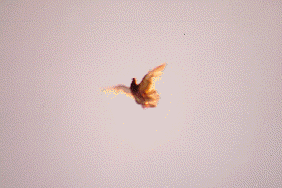 Photo 4 - One dunek caught during the characteristic rolling (notice the unusual attitude of tail)
---
Novakovic Zarko
(member of the Yugoslav Roller Club)
Karpatska 35
26300 Vrsac
YUGOSLAVIA
email: [email protected]
Visitors since 1st November 2000:
---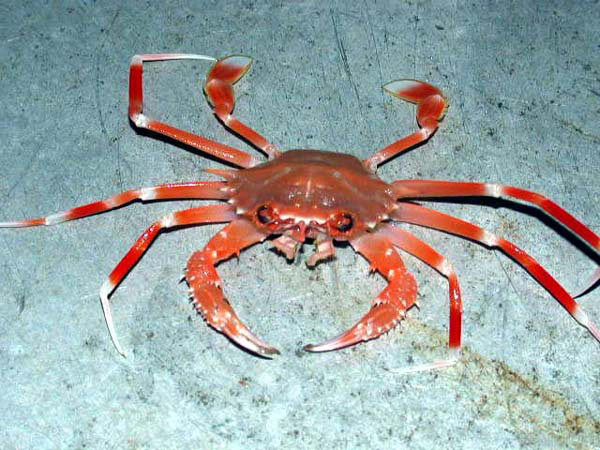 October 2000 by MN
---