Mathew's History - Interesting Facts
---
| | |
| --- | --- |
| Mathew's family - on both his maternal and paternal sides - was white Creole. LeComte, Hertzog, Prudhomme, Benoist, Chopin... these are the names of his ancestors who came directly from France and settled in the Cane River area. | 1911 map of Natchitoches Parish - Cane River area highlighted |
Kate Chopin

Kate Chopin, writer

Mathew's uncle, Oscar, married Kate O'Flaherty while working in St. Louis. The couple eventually settled in Cloutierville, La. Although Kate remained in South Louisiana for only a short time, the local Creole culture made a lasting impression and is consistently recalled in her writings. It is thought that the character of Mr. Pontellier in The Awakening was based on her father-in-law (Mathew's grandfather), Jean-Baptiste Chopin. Kate and Oscar's home in Cloutierville is now on the National Register of Historical Places.

Interestingly, Mathew's wife, Amelia, resided in this same house as a young girl. It belonged to her uncle.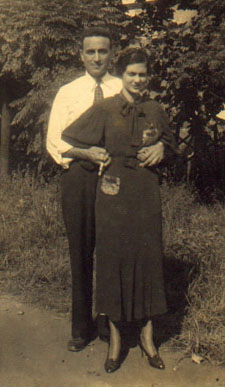 Mathew and his wife Amelia Hanlon Chopin on their wedding day
---
This National Bicentennial Farm located along the Cane River near Derry, La. was the home of Mathew's mother, Frances. Her grandfather, Ambrose LeComte II, had built the plantation on land provided by the French government in 1753. During the Civil War, Union General Nathaniel Banks burned the house, leaving only the 18-inch outer brick walls, basement and pillars. Mathew's grandfather, Matthew Hertzog, rebuilt the plantation using its original specifications. Today, 8 brick slave quarters, a blacksmith shop, pigeonnaire, plantation store, an Acadian style overseer's house, and a rare cotton press remain.
McAlpin - a.k.a. "Chopin" or "Little Eva" - Plantation
Mathew's paternal grandfather, Dr. Jean-Baptiste Chopin, owned at least 3 plantations in his lifetime, McAlpin being his second. Harriet Beecher Stowe's novel Uncle Tom's Cabin is said to have its roots here. The characteristics of Simon LeGree are thought to be those of the plantation's former owner, Robert McAlpin. The cabin, itself, was located on the property. Mathew's mother, Frances, last saw the cabin (on exposition) while on her honeymoon at the World's Fair in Chicago.

Side view of one of the Chopin's homes
---
At the age of 70, Mathew wrote down his thoughts on the changing world for his eldest son, Matt:
| | |
| --- | --- |
| Cane River: "Those were the days when steam boats – the George L. Bass, the Roberta, and the Red River Belle – used to come up Red River, then into the Cane River. When the boat would be coming around a bend, they would blow a whistle and people from all over the country would gather on the bank of Cane River. The boat would drop a gangplank from it to the bank, and then big colored stevedores (men) would carry sacks of rice, coffee, sugar, and what not on their backs. They would jog along up that bank (faster than a walk) and stack all these different things for merchants that had gone to New Orleans and placed their store orders with wholesalers in that city. Then the stevedores would get those big cotton bales from on top of the bank and load the steamer with so many of them that you would swear it was going to sink… | Mathew at age 5 |
First Cars: When the first cars came down along the Cane River road, the horses and mules tried to break fences to get away. It looked like a devil on four wheels. The colored people got behind their cabins, the children were screaming at seeing such a contraption that moved without any horses or mules pulling it along. .. In those days there was not one single mile of paved road as far as I ever knew. All the roads followed every bend along the river and creek banks. They were dusty in dry weather and after a rain, there were mud holes that at times became very famous. You never could be sure that one of those early cars could get to Natchitoches or any other place on those roads… Tires were nothing in those days and many times when we would drive to Natchitoches, we would have to take off as much as three tires to patch them up… I remember one night we were on our way home to Derry from a dance in Natchitoches… I would have a white linen suit on and when we would get to one of those perpetual mud holes, we would all roll our trousers' legs up and wade into the water and mud to push the car through. Then we would roll them down and on to the dance. Believe me, getting to Natchitoches from Derry was quite some event!
Changing Times: In my early days, there were no radios, no cars until the Model T, no supermarkets, no televisions, no talking pictures, no diesel trains, no jet planes… But with it all there was a spirit of brotherly love and peace and harmony and friendship that you can not find these days. You might be a stranger, but you were welcome everywhere and never would you suffer for something to eat or a place to stay…