Last updated:
January 27, 2004
Previous Updates
Sections
Characters
Episode
Multimedia
Features
Beyond this site
Links
Webrings
Acknowledgements
Sign Buurin's guestbook!
Fill out this survey
Tonde Buurin Page Mailing List
---
Other languages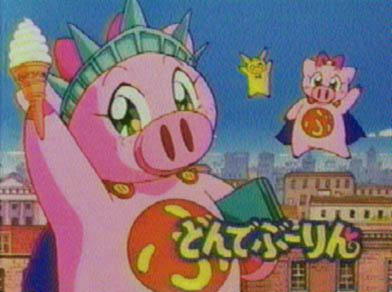 January 27, 2004

Buurin is taking a long nap here... fixed a few broken links.
So what is Tonde Buurin?
Tonde Buurin is the story of a girl named Kokubu Karin. She is your usual junior high school student that is incredibly cheerful, friendly, and of course, a klutz.
One day Karin saved a yellow piglet on her way to school. the piglet gave Karin a magical compact that along with a spell ("Ba Bi Bu Be Buurin!"), will transform her into the superheroine Buurin...
... but instead of some fantastic heroine, Karin turns into Buurin, a fat pink flying pig! It is Buurin's mission to fly around saving people, a la Superman. Karin gets more than her compact, but also a seashell that dispenses pearls. When she collects 108 pearls, she will be able to transform out of her pig-girl form, and into any other magical girl form she wants. But Karin cannot let anyone know about this, or she'd be stuck as Buurin forever.
The show also deals a lot with Karin's friends and her school-life. Together they cause a lot of mischief, it's really a lot of piggish fun!

Main Contents
Characters

Introduce yourself to the personalities in Tonde Buurin.

Episodes

Not afraid being spoiled? Take a peek at the story!

Multimedia gallery

Movies, songs, images, computer stuff... they're all here!

Tonde Buurin Features

Things you wanted to know about Tonde Buurin (but were afraid to ask...)


Buurin, Boorin, and Kokubu Karin has earned
pearls since August 17, 1999.