Last Page Update:
October 1, 2001
---
Contact
Copyright Information
---
Main Page
---
Structure of the Red Kaganate
---
Gatherings, Events,...
---
Historic Steppes Tribes
---
Legends of the Nomads
---
Flags and other Identifiers
---
Clothing and Apearance
---
Food and related Matters
---
Armour
---
Archery
---
Weapons and Combat
---
Public Forum
---
Resource Links
---
Editor:
Norman J. Finkelshteyn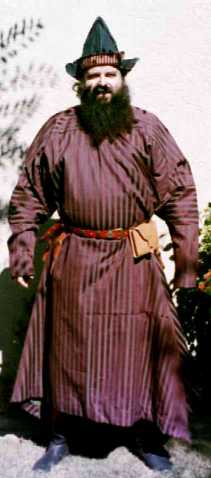 This is my current main set.
The hat is not quite accurate.
The boots are 14th Century Mongol.
The belt fits the 5 metre rule but needs replacing to be authentic close up.

Turko-Mongol Coat Reconstruction

By Steven Baker


This is my version of the Mongol coat.
There are a couple of differences between this and the original (compare photo).
The pleating around the waist has not been done as I'm still trying to work out how to do it and why it was done. Also I've done the crossover Turkish style not Mongol style (That is right to left not left to right). In addition I ran out of fabric so the inside piece does not extend all the way across.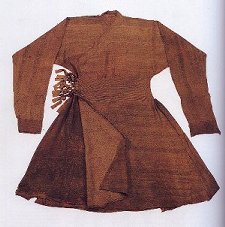 Mongol Coat 14th century
Below are detail photographs of my reconstruction.
Note how the neck sits on the coat and the use of a one-piece yoke. The sleeve pieces match fairly well those in the original including the orientation of the pattern. The only real difference is the length of the sleeve. Again because of material constraints the sleeve is a little shorter.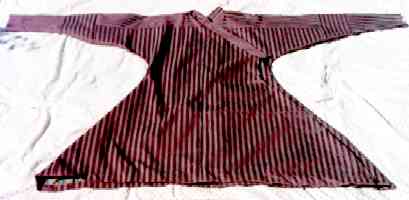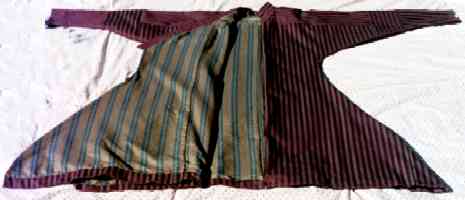 This is a somewhat reorganised version of the information on the Turco-Mongol coat presented at Steven Baker's Steppes Nomad Resource Site - http://www.geocities.com/qilich.