The Hammond M-100 was smaller than the classic B3 model, and is one of the smaller "spinet" organs. The Spinet organs are related to the larger B3 and C3, but have shorter keyboards, built-in amplifiers, and fewer pedal options. These small Hammonds are more portable, and were used by many famous groups: Procol Harum's "Whiter Shade of Pale" (M-100), Booker T and the MG's "Green Onions" (M3), and early Pink Floyd (L-100). The spinet Hammonds generate sounds by mechanical "tonewheels" spinning inside the organ -- just like the B3/C3 series of organs. While other organ companies used electronic oscillators or vibrating reeds to create notes, the Hammond tonewheel system creates a warm, rich sound that has become the classic organ sound of the '60s and '70s.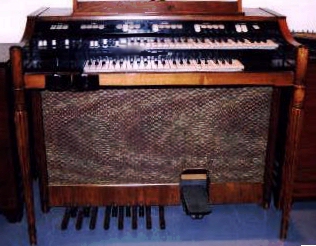 M100 photo courtesy Dave Kean/Audities
John Paul Jones used his own M-100 for the first Led Zeppelin record, on "You Shook Me" and "Your Time Is Gonna Come." The M-100 is featured on the "You Shook Me" solo beginning at 2:07. The most interesting aspect of this track is the lack of a Leslie speaker; considered standard practice for Hammond recording, the Leslie speaker adds a spinning effect to the organ tone. Instead of a Leslie, Jones used the M-100's built-in Vibrato setting and, throughout the solo, he changes the Vibrato/Chorus rate and depth, which effectively creates a similar sound to the Leslie. The M-100's Vibrato/Chorus tone shares the same circuitry as the larger B3 and C3, so it is slightly superior to many other spinet models (like the L-100).

"Your Time Is Gonna Come" begins with two different organ tracks playing simultaneously - very similar to the effect used on "Thank You" from the next album (Led Zeppelin II). Instead of the blues organ style used earlier on "You Shook Me," Jones displays his training as a church organist. The style is very plain, as the intro sound uses a plain tone with no vibrato or percussion settings. Only in the song's choruses does he turn on the Vibrato feature, and it adds the same Leslie-style effect that is heard on "You Shook Me."