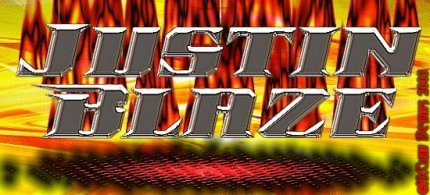 Logo courtesy Matt McClain of McClain Designs!
<![if !supportEmptyParas]> <![endif]>
Hometown:
Edge City, TX
Height:
5'5"
Weight:
145 lbs.
Birthdate:
9/28
Theme:
"Dragula" - Rob Zombie
Finisher:
The Trail Blazer
Biggest Influences:
Humongous, BONES, Bobby 2-Badd, Michael Strider, Hot Stuff Hernandez, ZenZen, AJ Styles to name but a few.
Toughest Opponents:
NARK THE NEVULON & DYLAN STARR
Trained by:
Bones
Trained At:
TASW Training Center-Humble, TX
#1 CURRENT GOAL:
TO ONCE AGAIN REGAIN THE TASW CRUISERWEIGHT CHAMPIONSHIP!
Titles Held:
*3 Time* TASW Cruiserweight Champion; (1) January 15, 2005 - September 17, 2005 / lost to: "Wildman" Chris Allen
(2)November 5, 2005 - January 14, 2006 / lost to: Dylan Starr
(2)November 4, 2006 - current / Won From: Dylan Starr
HIW Cruiserweight Champion; September 20, 2003 - January 10, 2004 / lost to: Mr. B
Career Highlights:
Competeing in the 10th Annual Humble Rumble, Winning the 2nd annual Tomball Rumble also involving legend Kamala The Ugandan Giant, Challenging Chris Allen for the TASW Heavyweight championship on September 6, 2003, Winning the HIW Cruiserweight Title on September 20, 2003, Challenging Nark the Nevulon for the TASW Cruiserweight championship in TASW's first ever ladder match on December 11, 2004! Winning the TASW Cruiserweight Title at Humble Rumble XII from Nark The Nevulon!!!