Free Vinland Republic: 2004 stamps.
---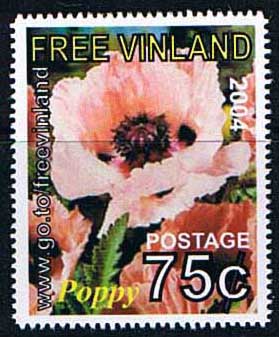 2004 (17th June.) - Poppy. Printed by KDPN on white paper. Perf 12.
This stamp features the poppy, a widely-grown popular flower enjoyed in Free Vinland. It was printed by the KDPN on white paper without gum. The stamps are perf 12. To view the special First Day Cover, click here.
---

HOME | STAMP CATALOG | STOCK LIST | PRODUCTS | NEWS | ALLIES | CONTACT