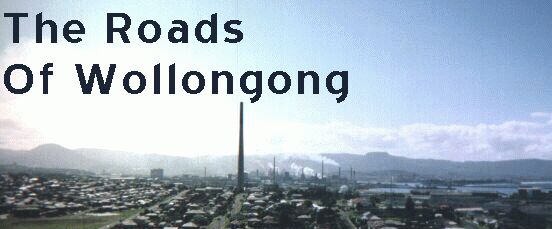 An Introduction to the Steel City of the South
Wollongong is the third-largest city in New South Wales, with a population of around 180,000 inhabitants. Together with the City of Shellharbour and the Municipality of Kiama, it forms a metropolitan area in excess of 250,000 people, making it the ninth-largest metropolitan area in Australia. Downtown Wollongong is located approximately 85km south of Sydney by road.
The Wollongong metro area sits on a coastal plain known as the Illawarra, flanked by the Tasman Sea to the east and a mountain range known as the Escarpment to the west. This has resulted in a rather elongated metropolitan area, stretching up to 60km from north to south, but never more than 15km east to west. This is why all the major roads in the Wollongong area generally run north to south.
The economy of Wollongong is centred around the Port Kembla steelworks and other metal industries. There are also many coalmines and quarries in the area, a power station, a major port and - on the less industrial side of things - a major university and technical college. These industries have also had an effect on the way the road transportation system of Wollongong has developed.
In more recent years, Wollongong has become more and more integrated into the greater metropolitan area of Sydney (though it retains its status as a separate urban area in its own right, thanks to difficult topography and the presence of national parks to the north of Wollongong). With the decline in traditional manufacturing, more and more Wollongonians find themselves having to commute to Sydney for employment. This has also spurred the demand for better roads within and to Sydney.
For pictures of Wollongong roads and signage - click HERE!
Map of Wollongong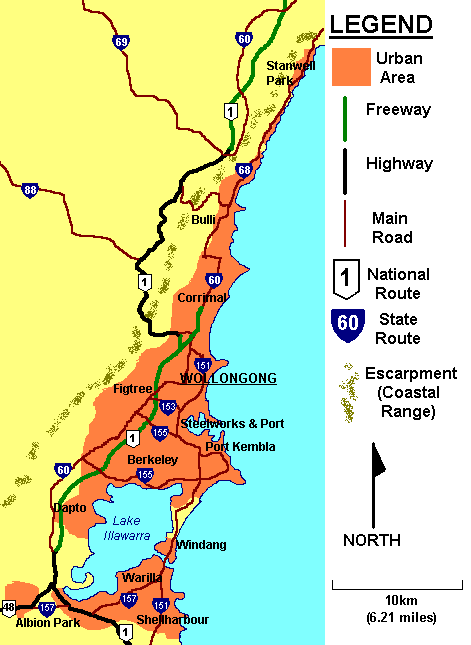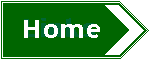 © Bradley Torr. Last updated 14-Mar-2000.