Index
Career
Cards
Articles
Interviews
Pictures
Stats
Links
e-mail
Updated
1/27/09
Copyright 2001-2009
ŠLost Productions
All Rights Reserved
Disclaimer
Official Tribute Website to
The Mighty Hercules Cortez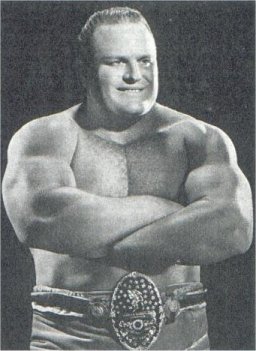 Born Alfonso Carlos Chicharro on July 7th, 1932 in Spain
Ht - 6' 3" | Wt - 340lbs | Chest 68" | Arms 23" & 24"
Heavyweight Champion of the World
Champion of Spain
1962 World Wrestling Champion
1964 European Heavyweight Champion Title
1965 IWA World Heavyweight Champion
1971 AWA World Heavyweight Tag Team Champion

He began his professional career as Pepe Chicharro/Pepe Cortes in Spain in the early 1950s. After passing through Venezuela, he was wrestling as Claude Dassary by 1958 in the US and Canada. He finally settled on "Hercules Cortez" in 1960 at the suggestion of his wife Valeri and traveled all over the world wrestling until his death in 1971. 3 weeks after he turned 39.
A trademark of Hercules Cortez was a giant boulder he brought from Spain which he would place in the ring and dare others to lift. Reports are that no one ever did. Boulder lifting & carrying was a sport of the Basque.

Wrestlers of his time period included Red Bastien, The Sheik, The Mighty Igor, The Vachons, The Crusher, Dick The Bruiser, Gene & Ole Anderson, Killer Kowalski, Crippler Ray Stevens, Nick Bockwinkel, Verne Gagne, Lou Thesz, The Destroyer and many more.