<![if !vml]>
<![endif]>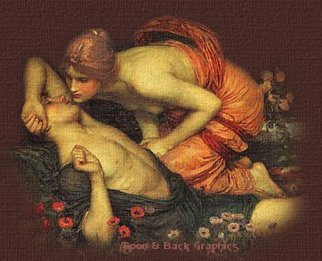 "Your kiss is seducing,
Ever so sweet and tempting,
My love I never want these lips
To part from yours."
---
I hope you will enjoy these starry-eyed poems.
Please let me know you were here, sign the guestbook at the bottom of the page. Thanks

Eyes of Love
Loves Inviting
Love is...
Our Love
Reflections of Passion
To Eros from Psyche
Under the Cherry Tree
Eyes of Love

I walked through the woodlands,
A different view was seen,
I walked the mossy paths,
As I did many times before,
However it was if it was all new to me.
The bluebells that hung their heads down
And the lush emerald green vegetation
Seemed more beautiful; more eye-catching
Than the various times I have seen them before.
The treetops gave a sheltered hideaway,
But the sunbeams still found their way though,
Coating the land beneath,
Following me wherever I ventured to.
The morning was a new birth,
As the chilled fog came rolling in,
Immersing my white nightgown
Into its sheer essence,
The feel of the coolness
Against my warm skin was invigorating.
Wind blew my tresses elegantly,
And placed it back in place,
Yet once again all was not the same
The yellowbirds hovered together two by two,
And the fawns pranced ahead,
As they would often do.
I looked at my surroundings,
The forest to which I'd escape,
Seeing clearly now that I was glancing
From the eyes of love.
Loves Inviting

Love is a passion; a feeling,
It cannot be kept inside.
To love is a dream come true,
One can taste the delight,
And undergo the spell that it brings
Upon its sweet sufferers.
Love is inviting,
Love is spellbinding,
It takes you by the heart
Never to let go.
To love is to be alive,
And at night when the stars go by,
Loves spirit floats in the sky.
Love Is...

Love is a dream,
Love is a mystery,
It cannot be foreseen.

Love is a flame,
Love is a symphony,
Love has no shame.

Love creeps into your heart,
Love knocks at your door,
It can never part.
Our Love

Our love is not a fairy book romance,
Yet we are like star-crossed lovers,
The distance that we have to part
Sometimes not to see each other,
It hurts deep down inside,
Many nights tears fill these eyes;
But you are my Romeo,
I, your Juliet.

No matter what shall happen,
I shall love you heart and soul,
No matter what our fate prepares,
We will pay its toll.

Our love is not a fairytale romance,
Yet we play the roles of one,
I do not know why it has to be this way,
Love can be cruel sometimes I can see,
But we are each others future; destiny,
You, my Romeo,
I, your Juliet.
Reflections of Passion

Standing by the lake-side,
I gazed into the quiescent water,
Touching the unclouded liquid
Only to find; like a mirror,
Were reflections of passion.

I searched the lagoon,
Looking for those memories,
And almost like magic,
They appeared and disappeared.

I closed my eyes and opened
Bowing my head down,
Only seeing my image reflecting
Off the glassy surface,
My fingers laced the water again.

Foreseen reflections of passion,
Floated all around,
Almost like a dream,
I saw us tightly embraced
Under a flowing waterfall,
I saw us walking on a rainbow,
I saw the way you looked
When we silently kissed,
And I saw how beautiful you were,
Standing beneath a blazing globe.

Then the rain which fell,
Blurred the sweet pictures
On that lake.
Looking harder and harder,
All was lost,
But oh how sweet,
Reflections of passion can be.
To Eros from Psyche
(Poem of the week winner)

Oh fairest one,
With handsomest eyes,
Thy youthful foolish heart
Has so becharmed me,
Thy know all things called love,
For Aphrodite is thy Madonna,
She has taught thee well,
Even thine name brings about desire.

Bow and arrow decorated
In liquid silver shine,
Always trying to make a perfect romance
Like the one we have together,
Shooting darts of caprice
From thy strong, intense hand,
Hands that could easily wound any man,
Yet I find they are so tender
When thy lightly stroke my skin,
Almost like a windflowers brush.

I could not ask for more,
My angelic soul mate,
This is my prelude to thee,
My love will flow like a symphony,
Oh sweet Eros,
My lips shall always greet thee,
As will my loving nestles.

My Greek God,
Would thee not once again
Strike thy mighty arrow
To my bosom?
So I may fall in love
All over again;
Thou art so ravishing and merciful.
Under the Cherry Tree

I shall be sitting under the cherry tree,
That has newly sprung its blooms,
I shall wait along the palace moat,
Wearing my dress of finest silk,
Hoping that thou shall come
And find me here.

Until the bittersweet night
Rises in front of the sun,
I shall sit to contemplate
Of these blossoms,
Until through it I find thee,
On thy majestic boat built for two,
I wish for thee to sail to me;
Till then I shall sit awaiting your arrival,
Beneath the cherry tree, in my silken gown.

When I see thee, my love,
I shall wrap my foolish arms around,
Kiss your brow, your eyes, and thy lips,
Then I shall gape to see
Thy loveliest smile once again,
For it has been a long time my prince.

Still hours left till thy arrival be seen,
Nevertheless I shall keep to our spot,
The spot where thou proposed to me,
The spot by the palace's moat
Underneath here, where I, a youngster,
Kissed those lips that tainted my soul
With such a numbing pleasure.
So, I shall be under the cherry tree,
Waiting for thee, hoping that thou
Shall come and find me here.
Graphics by Moon & Back Graphics