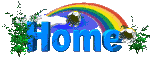 <! -- serial # 041801-1 -->

Northampton High School Class of 1962
this is our 'Hamp High home away from home... on the web!
Where we love is home.
Home that our feet may leave but not our hearts.
-Oliver Wendell Holmes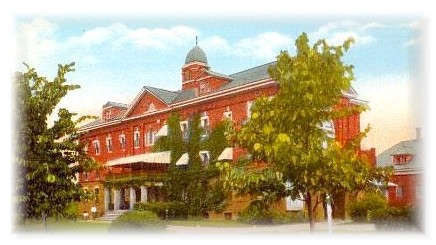 And in the end, we come back to where we began,
and recognize the place for the first time.
-T. S. Eliot (Thomas Stearns Eliot),
American poet, critic and playwright 1888 - 1965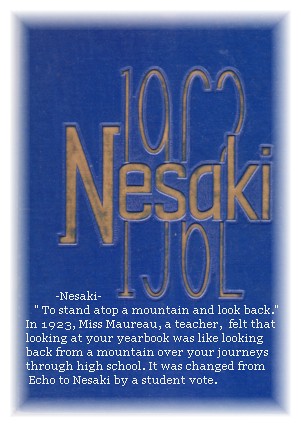 There are years when nothing happens and years in which centuries happen.
-Carlos Fuentes

This web site is a place to come to to reminisce* either alone or with your loved ones; -to share with a spouse, child, grandchild, or significant other. A place where the Class of 1962 from NHS, can share the memories and mementos of "our days". Get a cup of java... 20 pages are here for your enjoyment.
Memory is the power to gather roses in winter. -Anonymous
*reminisce v.i. call to mind. -reminiscence n. remembering; thing recollected. -pl. memoirs. -reminiscent a. remminding or suggestive (of). (v.i.= impersonal verb; n.=noun; pl.=plural; a.=adjective)

If you have a suggestion for a topic or if there is something from our Nesaki yearbook, (years 1958 -1962 only,) you'd like to see posted onn these pages? Send the year and page number and -- check back frequently!

If you have any memorabilia to add to these pages it is most welcome. If you feel your submission should be posted on a particular page, please indicate which page so we can "get it right the first time"!
Down loading may take awhile, the pages have graphic and music files. Sorry! Didn't want to compromise poor graphics and no music for a fast download time, this is the fastest page.

Email links are provided on the various pages. If you are going to send an email with an attachment, it would be very helpful if you would send two emails - one telling me you are sending an attachment, the second with the attachment. This way I am aware that the attachment is not a virus sent unintentionally. If you have a photo or memorabilia to send via snail mail email me and I'll send you the postal address. If you want your photo or memorabilia returned please include a return address.

Names -or, better yet, the lack of them on these pages. Names will not be used on these pages unless the submitter and/or the person featured specifically requests their whole name, nickname, or initials be posted. Identity theft is rampant and it is not our desire to aid that endeavor. While having fun on the web interacting with others, we can maintain our privacy as much as possible.

Poetry & Quotes on this site by various poets and authors originally started to be a filler for some pages and then turned into a small project on its own with it's own page with all the formatting removed I tried to keep the number of them limited! -Honest! I hope you enjoy them.
Music Please let me know if you have a copy of the class song. Midi files also became a project! What started out to be just a couple ended up with music for almost every page. Most of the files load automatically when you open the page, some are embedded in the page and you must click on them to open. They are programmed to play just once, if you want to hear the song again, refresh your page or the media player. If you want to stop a music file that opened with the page you must click on STOP on your browser. If you want to save a midi that opened with the web page, I have hyperlinked them at the bottom of the web page. Go to the end of the page, click the link and your media player will then open and play the tune. You can then save it on your pc! (For now, midi files are free on the web, perhaps not for long.) They're fun! Save a few!-Remember, have fun!
Font the large type is used here as these pages are for recycled teenagers, some with failing sight! Yes, I am aware one can change the size of the viewed font in their browser, however, the viewer may not be. Best viewed with medium setting. Carpe diem!
Copyright everything on this web site is copyrighted by the web master; true, some of it is in public domain, it is my compilation that is copyrighted. Much of what you see here is from others, some have been my own creations. All are free for you to use provided they are not used for commercial purposes. If you are a submitter of a picture or memorabilia created for this site the copyright remains yours.
The ornament of a house is the friends who frequent it.
-Ralph Waldo Emerson

Here's a review of the web pages - enjoy!
~ Informational ~

HISTORY - Short History of NHS, the thumbnail at the bottom of the page gives you a 1930 map of Hamp schools some of us attended, older pictures of 'Hamp High, links to the new renovations. The red numbers were put on the map by me - so, if there's an error or omission, my apologies.

REUNION NEWS - past, present, & future; have a photo from one? 5th, 10th, 25th, 40th, & 45th all have their own pages... Dates, times places, & reservation information with local Northampton links. Bring your Nesaki, wear the ring.

~ Fun & interactive ~

JUKEBOX - hear the the top 40 - midi music from 1958-1961, click the link - your media player will open the file - save them to your PC. Click the record and the album covers, find which one originally cost 89¢ !

CARS - see the cars "we" drove, send one of your dream machine! One of our classmates already has his posted! My (Mom's) '57 Chevy is there too! Hear a Beetle screech! (stop the page music first).
STYLES - pictures of the clothes and jewelry we wore and paper doll clothes from the '50 & '60's. See the Underclassmen from the 1959 Nesaki p. 37 - a great example of "our" clothes!

SENIOR TRIP - the postcard is from my best friend while she was there!
PROM NIGHT - have a favorite prom photo of you and your main squeeze? See it on the web! ~send one in and check back later! 3 midi songs for you to listen to while you're searching for that photo!

BOOSTER DAY - seven thumbnails including Main & So. St. in winter, the football field, and other booster day photos from Nesaki ('59-'62 only). (as stated above, some of these may not work)
HOME ROOM - see 21 Nesaki homeroom pictures for Junior, Sophomore, and Freshman years (none for Senior) - (No names policy.) Click the midi links to listen while trying to find yourself! say the Pledge of Allegiance, click your browser's return button - do not close the window.

EMAIL GROUP - if you were a senior class member in 1962, we welcome you to our fledgling email group at Yahoo! Groups; NHS62; it's for sharing our "stuff" since NHS, (not jokes and chain letters). It is entirely free subscribe with links provided. This is not like the dot com one most of us are listed on, where you have to pay to interact with others. Once you are subscribed, you may send a message to all on the list. Messages viewable by members only. Near, far, wherever you are, join us! See the Northampton post office in 1907 and the mural that hung there!

~ On a more serious tone ~

IN MEMORIAM - In remembrance, for posting information of classmates who have gone on before us. Know of some one who has passed on? There is an email link on the page. We are also seeking a person who lives locally to do lookups for obituaries at the Forbes Library or Daily Hampshire Gazette so that the obit may be posted here also. See one of my best grade-school friends who's there already. With your help, this could be an awesome web page!

THE LOST - under construction so far, no names are posted here. Page does give an email link of where to send an address for someone not listed in the class biography booklet from the 40th reunion. Finding the lost will be a great aid in making our 50th reunion in 2012 the best yet! Let's not wait until 2011 !!!

CLASS NIGHT - GRADUATION - see the class night program, feel the music! -Soar once more!

FACULTY - see the list of teachers we had, who's attended past reunions.
POETRY & QUOTES - all the poems, sayings, quotes! -without the fluff! Printable.

I was asked, "Why? Why take the time to build a webpage for your High School class...?" In the words of others, Confucius said: "Words are the voice of the heart."; Rumi said, "Only from the heart can you reach the sky." And, most importantly, "I expect to pass through this world but once; any good thing ...that I can do, or any kindness that I can show to any fellow creature, let me do it now; ...for I shall not pass this way again." -author unknown .
I hope you enjoy our 'Hamp High home away from home... on the web!
(Click picture to hear my classmates clapping!!!)
Midi: St. Elmo's Fire - Main Theme 21k 5:08 (Lyrics available) .

Copyright © 2002 NHS Class of 1962