Janet House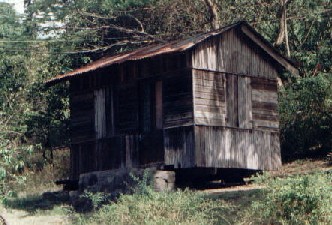 After the destruction of Isle Of Spice in 1955 by 
Hurricane Janet, the Janet house(s) became a popular 
building structure in the Tri Island State of Grenada, 
Carriacou and Petite Martinique. The house got its 
name "Janet House" because of the time it was built 
and the purpose it was built for. It was built to 
shelter homeless people, who lost their original homes 
during the hurricane disaster.	According to what my 
father told me about the Janet- House, is that the 
lumber that was used to build the houses came from 
Surinam, (Dutch Guiana), South America. During that 
period of Grenada's history, the late popular leader 
Sir Eric Gairy was leader of the country.  Although 
Gairy political strength and power came from the 
working class, there were some bourgeoisie in the GULP 
party, who had some power and influence. These upper 
class GULP were corrupted, so they gave some of the 
houses to their friends and family, while the people 
who needed shelter the most were deprived.  (Grenada 
always has this class problem) 
 
The Janet house was a open "cepulka". Everything in 
one; as Grenadians would say: " All in one" A sort of 
'Jupa' kind of house.  After the houses were built , 
people had problem living in them, because the wood or 
board had a unpleasant odor…A stink smell. A Grenadian 
comrade told me that some people were not able to get 
a Janet-House because they were living on the estate 
property and the estate owners did not want them to 
build wall pillars on their lands.  (A Janet-House was 
built on four concrete pillars pined to foundation  
running board)	For  example,  in Hermitage, I can 
remember there was some Janet-Houses, but people who 
had middle class houses  and middle class life style 
owned the majority of them.  Some of these people were 
descendants of the plantocrats.  So they were using 
the Janet-House as a "Bucan"  to store their 
agriculture products, such as nutmeg, mace, cinnamon 
and cinnamon and clove. (Hermitage has lots of spices) 
 
My father also told me that these plantocrat people 
were the middle class GULP who took these 'Janet 
Houses', although they were not homeless. Therefore, 
they robed the victims of the hurricane.  He also told 
me that Sir Eric Gairy promised the people better 
houses with room and hall separated, by saying: 
" I will give you houses with privacy, so that the 
children won't see what daddy and mommy doing in the 
night"	 However, Sir Eric Gairy never fulfilled his 
promise.  In spite of all those political and social 
problems in relation to the Janet-House,  the building 
becomes  part of our history. People used to say that 
the Janet-House is very strong, but anytime you break 
it and rebuild it somewhere else,  it never looks the 
same again.  (visible spaces usually appear between 
the groove and tongue of the board and reflection of 
the bed room lights become visible at night) 
 
There is also cultural history tied to the 
Janet-House. For example, one of the baddest  
Shortknee mas band in Grenada  (In the Mt Fendue-Mt 
Rich area in St Patrick) was called Janet.  The 
brothers were tough. Real Bajohn! They had their 
belly.	"Janet Shortknee"  had warriors such as Vance 
Best and Dandoray. Vance was the fastest razor man 
Grenada ever had. Before you say: "Jack Robinson" 
Vance would give you about fifty razor cuts. The 
reason why the band was called Janet, is because one 
of the bajhon inherited a Janet-House from his 
fore-parents and all the 'bajohn' used to congregate 
in that Janet-house as a community centre. They used 
to cook people fowl, make fish broth and tannia log in 
the house. So they called their Shortknee band "Janet" 
 Those days, for a young man to  play Shortknee with 
"Janet band",  he had to be a criminal.  His resume 
must be a prison sentence or the prerequisite.	 
 
As a young boy growing up in  Hermitage, St. Patrick, 
I remember when Janet Shortknee took over the 
Hermitage police station and beat up the police. Vance 
cut a policeman's belt with his razor. If the police 
were not wearing his thick belt, the razor would have 
cut his belly.	That was the first time I saw civilian 
with so much guns. (This is why I believe the 
Shortknee spirit played a part in the Grenada 
revolution)  Janet Shortknee waved their guns and 
feloto in the air and sing the song:  "Six O' Clock 
gone already, Rose Hill mas  dam had to come. If Ah 
the know was so, any dam thing could of happen."  
Those days Janet and Rose Hill had the baddest 
Shortknee mas in Grenada. (Most of Janet Shortknee 
members were from Mt Rich Village. But there were 
rumours that Rose Hill Shortknee had stole some 
dynamite on the construction site in Bathway, where 
the Canadians were building houses. Plus they had guns 
too and they were taller.  So the Janet-House is 
really part of our history.  Although it real purposes 
was to shelter the homeless,  the bourgeoisie and 
Shortknee used it as bucan and community centre. Even 
today, our young men  are still using the Janet-House 
as a place to socialized, sleep and 'snick' in their 
girl-friends at night when they parents are sleeping 
in the	family house.	      
 
There is also stories about how the Janet-House was a 
good habitat for bed bugs.  Most Grenadians who lived 
in Janet-Houses prior to the hurricane, would tell 
stories about bed bug hidding in the crevice of the 
board.	When night comes and they turned of the 
kerosene light, those bed bug used to come out.   
During their sleep those bed-bug used to bite them and 
drink thier blood like vampire. They say when children 
peeing in bed, the bed bug used to be more vicious and 
numerous. Those days people used to sing a song: "Bug 
O Bug O, Bug O in the island" 
  

© Hudson George 2001.  All rights reserved.