GOKUL'S TAMIL MOVIE REVIEWS
     ______________________________________________________________
    |                                                              |
    | MY CINEMA NEWS REACHES MORE THAN 11175 TAMIL CINEMA FANS!!!  | 
    |        For more Cinema News Visit My Home page               |
    |         http://www.geocities.com/Hollywood/Lot/2330          |
    |                  MY SPECIAL THANX TO                         |
    |  *Rajesh & Prabhu of LOLLU EXPRESS (The No:1 Web Express)    |
    |  *Priyanka,Menaka,Deepti,..... of MIAMI EXPRESS              |
    |  *Prakash & Members of Tamil Cinema News Mailing List        |
    |  *Sachitnanan Pinagapani(Tamil Movie Page)                   |
    |  *Siddharthan Ramamurthi(Tamil Nadu Home Page)               |
    |______________________________________________________________|
     


KADHALA KADHALA:(Kamal,Prabhudeva,Rambha,Soundarya music:Karthik Raja dir:Singeetham Srinivasa Rao)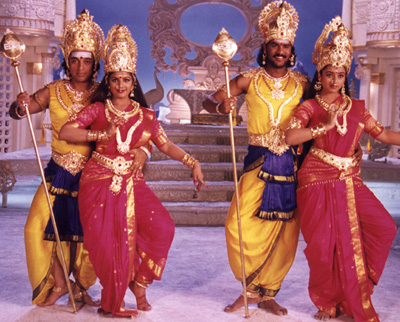 Another Crazy Mohan drama. It would have been better if Maadhu and Cheenu had acted in this movie. Kamal and Prabhudeva have been completely wasted in this film. There is no logic but a full length comedy. For the 999th time, the heroes (Kamal and Pdeva) are orphans and they take care of another 8-10 orphan kids. Due to a mix up, Kamal meets Soundarya and Pdeva meets Rambha. What else?, they start loving each other. Rambha marries Pdeva against the wishes of her father(M.S.V). Soundarya tells her father(Mouli) that she is in love with Kamal and that he is very rich. Rambha tries to pacify her father by writing to him that Pdeva has become rich and that she has given birth to a child. Rambha's parents come to chennai to meet her. Rambha hires a big house and due to unavoidable circumstances Kamal acts as her husband, Pdeva as cook and Soundarya as maid. They also hire a child(to act as Rambha's child) and her mother, Kovai Sarala acts as milk maid. A blackmailer(who knows these secrets) enters the house. Mouli also arrives. Confusion, Confusion, Confusion everywhere. Needless to say Crazy Mohan and Kamal excel. The film is a full length comedy movie. Soundarya and Rambha are also wasted. Karthik Raja's music is very ordinary (though the songs are a hit). You can watch this movie once.


DINAMTHORUM:(Murali,Suvalakshmi music:Oviyan dir:Nagaraj)

Another love story without KADHAL in title. as usual Murali is a fresh graduate looking for a job (Happy news: Murali has declared that he will not act as a college student anymore). Murali is in Love with Suvalakshmi and proposes to her after a long time. Suva asks him to find a job and tells him that only after he finds a job she can marry him. His love with Suva, helps him to find a job and marry her. Though the story sounds dull, the movie is interesting. The director, who also acts in the film, impresses the audience. Nice movie.... you can watch it once.


NAAM IRUVAR NAMAKKU IRUVAR: (Prabhudeva,Meena,Maheshwari music:Karthik Raja dir:Sunder.C)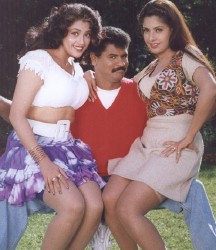 This time Sunder.C did not take the trouble of watching many english movies.....just one. This film is an exact replica of the english film TWO MUCH. The hero is like ENGA MAMA, Sivaji. He supports many orphans and inorder to bring them up in life, he steals a diamond. Manivannan misplaces the diamond in a car. The car belongs to Maheshwari and so they go to her house in search of the diamond. Prabhudeva meets Meena and falls in love with her. Due to unavoidable circumstances, he gets engaed to Maheshwari. After the engagement he meets Meena again(she is Maheshwari's sister). The remaining part of the story is the usual Sunder.C stuff. The film(though a copy) is a very good entertainer. Karthik Raja's music is a plus point for the movie. This is the first movie where Meena appears in a swim suit(padam fulla Meenu kutty kalakuthu).


MARUMALARCHI: (Mammoty,Devayani music:S.A.Rajkumar Dir:Bharathi)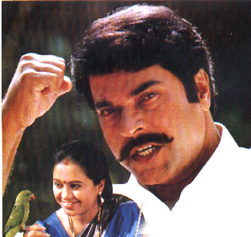 Vijayakanth will surely repent for not accepting this film. Excellent team effort & hardwork by the debutant director Bharathi has helped this film to strike gold. Mammoty is Rasu Padayachi, who is one step more than CHINNA GOUNDER because he is the head of 36 Patti villages(CG was the head of 18 Patti only). One day Mammoty goes to some 37th Patti "Sandhai". People in this village dont know him. In the market place, he pulls Devayani to save her from a snake. Devayani slaps Rasu Padayachi without realizing what has happened. The Village Head, Ranjith, ties Mammoty to a tree and hits him with a whip. Mamooty is injured badly but tells his villagers that it was due to a car accident. Later(without the knowledge of Mammoty), his driver tells the truth to the villagers. The agitated villagers , kill Ranjith's parents and burn the entire village(Devayani's mother too dies in fire). Devayani marries Mammoty to take revenge but soon changes her mind. Ranjith too tries his best to insult and kill Mammoty but in the end Mamooty's good nature wins. Mammoty has lived as Rasu Padayachi. Thanger Pacchan's camera is too good(especially during the title). it is the second consecutive success for producer Henry(BHARATHI KANNAMA).


KADHALEY NIMATHI: (Surya,Murali,Kavitha mus:Deva dir:Indiran)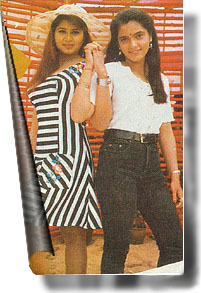 Producer "Sivasakthi" Pandiyan was constantly giving hits and now he is trying very hard to make this film run for a 100 days. The success of Letter Kadhal, Telephone Kadhal, One side Kadhal, Parental Kadhal...etc. has urged the director to try something new and "EUREKA" they got the most stupidest idea........Kadhaley Illatha Kadhal(Love without Love). New heroine Kavitha and her brother(Nasser) go to a temple.Surya, an amateur photographer takes photos of the statues at the temple. Nasser, thinks that Surya is taking snaps of his sister and hits him. He also thinks that Surya and Kavitha are in love and so warns his sister. Kavitha, out of symapthy, goes to the hospital to see Surya but is caught by Nasser. The entire family of Kavitha, think that she is in love with Surya. Kavitha, thinks that only Surya can explain the real situation to her parents and so goes to Chennai to meet him. This causes more confusion because Nasser and Kavitha's parents think that she has eloped with Surya. They file a kidnapping case against Surya and in the climax, Kavitha explains in the court what really happened. Till now, everything is fine. After the court scene, Murali(Kavitha's fiancee) tells everyone that since Surya and Kavitha have undergone so much trouble without even being in Love, it is very just to get them married(Height of Stupidism) and gets them married.Except for the climax the movie is very good. There is one more thing which I cannot tolerate.
"Vitha Vithama Soppu Seepu Kannadi
En Akka Maga Vanthu Ninna Munnadi.....
Davu Davu Davuda, Davillati DIEada."
Deva at his peak form (Thanga Mudiyalada Saameeeeeey).


KONDATTAM: (Arjun,Simran,Manthra music:Raj(Kotti) dir:K.S.Ravikumar)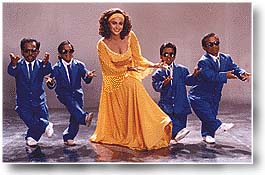 It would have been better if they had kept the name as OPPARI. Everybody in this movie keep crying at some time or other(I wonder how the director had the heart to make Simran cry...... I cross my heart and say,"When Simu cries, i cannot bear it"). Arjun is a fun loving youth, who keeps playing jokes on others. Once, because of his prank, his friends die in an accident. Simran(Arjun's lover) does not like this and so they split. Arjun goes to his dead friend's house and works there as a servant. Meanwhile, Simran is engaged to a person in that house and comes there for her marriage. There is also a suspense segment where Arjun tracks the person who wants to kill his friend's child. The film has some 100 characters and all of them were not utilised properly. Songs are okay but back ground score is pathetic. Not many sentiment scenes for the audience but there are lot such scenes for the characters and half the time someone is crying. one main reason why you shouldn't watch this film...Simran & Manthra are wasted.


VETTIYA MADICHU KATTU: (Bhagyaraj, Nagma music:Deva dir:Bhagyaraj) In another few days JEANS is going to be released. In this JEAN's age Bhagyaraj is still Madichu Kattufying an already torn Vetti. Bhagyaraj is a coward, but wants his son to be a brave person. He makes his son believe that he is a brave person. Once Bhagyaraj sees a murder and is forced to appear in the court as a witness. The murderer is given a death sentence but escapes from prison. He is after Bhagyaraj(to take revenge). In the end Bhakyaraj turns bold, fights the murderer and hands him over to the police. Dabba Kathai+Dabba direction+ Deva= VETTIYA M K. If you are a Bhagyaraj fan...Please don't see this movie.


SORNAMUGHI: (Parthiban, Prakashraj, Devayani music:Swaraj dir:K.S.Adhiyaman)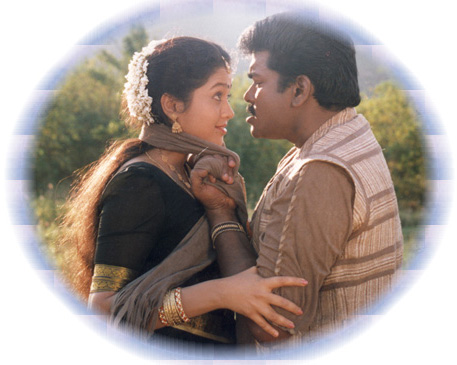 A must watch movie. Superb acting by Parthiban and Prakashraj, powerful dialogues, good background score and an interesting screenlay by director Adhiyaman, is sure to make this movie a hit. Devayani is the daughter of a Devadasi(Fathima). She falle in love with Parthiban. Parthibans father is against their love and sends his men to bring Parthiban back. Unfortunately Parth cuts the hand of the person and is sent to the prison. Devayani is not aware about this. She thinks that Parthiban had ditched her. She leaves to Chennai and becomes a famous dancer. She meets Prakashraj and just when they are about to start a new love chapter, Parthiban returns from prison. Now Devayani cannot decide on whom to marry and whom to reject. The climax involves a lot of emotion & soem superb performance. The new music director Swaraj has a bright future. Swaraj, especially excels in the classical sequences. Parthiban is Kalakal as ususal. Dont miss this movie.


KADHAL MANNAN: (Ajith,Manu music: Bharadwaj dir :Charan)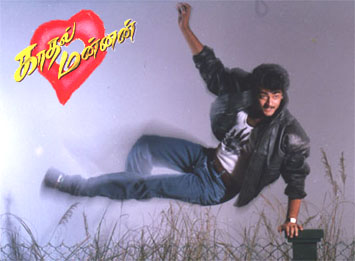 A very good entertainer. Director Charan was an assistant director to Balachander. Charan lives upto the expectation. I think after a long time, this film will give Ajit, the break he is looking for. Ajith meets Manu's sister in Delhi, who asks him to give a letter to Manu without the knowledge of her father. This is bcos Manu's sister had a love marriage against the wishes of her father. Manu is already engaged to Karan.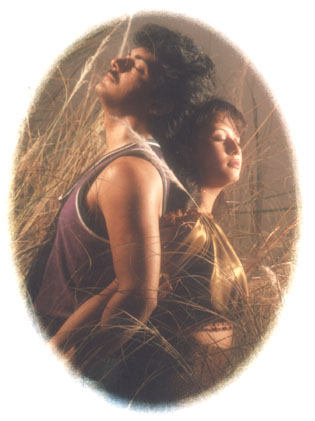 Ajith meets her and gives her the letter. They become friends. Ajith takes her to Delhi to meet her sister. Slowly they start loving each other. Manu could not disclose her love bcos she is already engaged to Karan. The movie is very entertaining from start to end. The only irritating aspect of this movie is M.S.Viswanathan's comedy (he has acted as Mess Viswanathan). The music is very good. New music director(Bharadwaj) kalakkurar. The songs in this movie have been sung by some 6 music directors. Manu has acted well.


PONMANAM: (Prabhu,Suvalakshmi,Priyaraman music:S.A.Rajkumar dir:S.P.Rajkumar)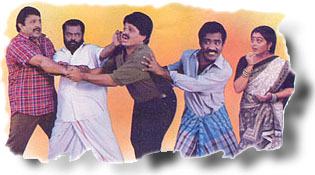 Another boring movie from Prabhu. If Prabhu acts in a few more movie like this he will soon become extinct. If you have decided not to see this movie then you can read the review(bcos it has some suspense in it). Prabhu and his wife, Suvalakshmi live in a colony. Prabhu meets Priyaraman in a scooter mix up and soon Priya starts loving Prabhu. Karan comes to the colony. He goes after Suvalakshmi and one day, proposes to her. The suspense breaks here and they say that Suva is not Prabhu's wife and that they have been acting as if they were husband and wife. Suva and Karan marry and in the end Prabhu sacrifices his love with Priya bcos of her family. Except for the comedy, nothing else in good in this movie.


ULAVUTHURAI: (Vijayakanth,Meena dir:Ramesh)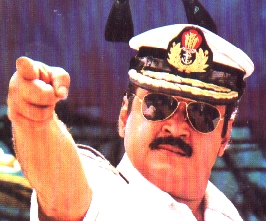 Yet another flop from this hero. This is his 125th movie and it didn't run for even 125 shows. there is no story. Music is very bad(in some scenes the back ground score is good). The director wanted to take a movie like ABYSS but it ended as a tragedy. The under water scenes are very funny. Vijayakanth finds some nuclear bombs and towards the end of the movie, the villains pick pocket the bomb(?!!!). Onumey Puriyaley Ulagathillai!!!!


KALAR KANAVUGAL: (Karan,Kushbu music:Deva)

Another kaddi movie. Manivannan asks his son Karan to Love a rich girl and marry her. Karan meets Kushbu(a rich girl) and falls in love with her. He realizes that it is a true love. Though Kushbu likes him as a friend, she gets angry when he proposes to her. At one stage she could not tolerate Karan and hands him over to the police. The police officer tries to molest Kushbu and Karan kills him. Even after this Kushbu does not love him and gives a big lecture and leaves him. Semma bore. Kushbu looks like Karan's elder sisterMusic...okay.


MOOVENDHAR: (Sarathkumar,Devayani music:Sirpi dir:Suraaj) I wanted to see this movie in its second week but I couldn't find it. If someone knows where this film is running please let me know.


UDAVIKKU VARALAMMA: (Karthik,Devayani,Rasika) This movie is better than MOOVENDHAR. It ran for two weeks. Thank God, I missed this film.


KIZHAKKUM MERKKUM : (Napolean,Nasser,Devayani music:Illayaraja dir:Kalanjiyum)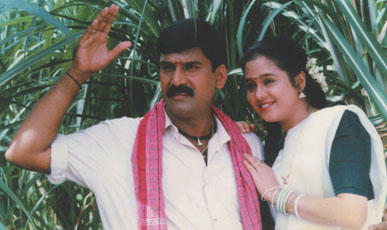 Another KIZHAKKU SEEMAYILLEY. The film is good but could not attract the audience. In this story Napolean is the brother and Devayani is the sister. A lot of sentiment scenes. Ladies are requested to carry a big kerchief. Illayaraja's music brings in a new dimension to this village subject. Kalanjium's direction is good but the topic he has approached is very old.




THULLI THIRINDHA KAALAM: (Arunkumar,Karan,Kushbu,Roshini music:Jayanth dir:Balasekharan)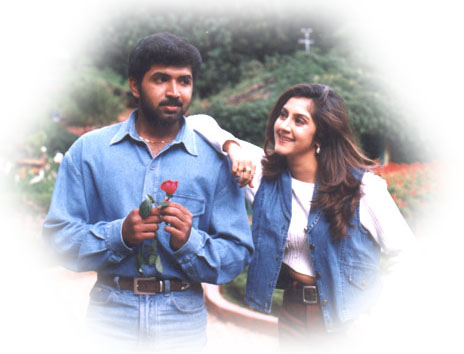 If you are ready for a 2.5 hrs of advice..... this film is the right thing for you. Except fot the climax(which ofcourse, delivers an excellent message), the film is filled with an overdose of advices. Arunkumar and friends are unemployed youth. Throghout the day, they sit on a wall and waste their time chatting . They havent understood the seriousness of life and Kushboo helps them understand it by sending a love letter to each one of them. Arunkumar and friends think that the letter was sent to them by Roshini.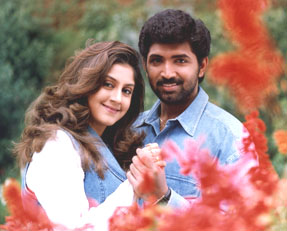 Later they find that Roshini is insane and that the it was Kushboo who was responsible for the letter. Kushboo explains the reason for the letter and delivers a punch line advice note which forms the backbone for the entire movie. The film is a very good lesson for all those youth who waste their lives. Raghuvaran(Kushbu's father) & Karan(Kush's brother) have a dynamic role and they play it with ease. Music? Director Balashekaran(LOVE TODAY) has made producer Balachander happy.



For more CINEMA news visit this page regularly.
Go Back To Previous Page
MY MAIN PAGE
Please click below to record your comments



Boquet or Soda Bottle, send me an E-Mail


[email protected]
©1997 Gokul Santhanam
---