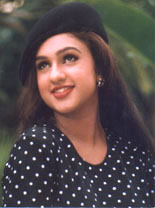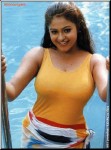 GOKUL'S TAMIL CINEMA NEWS
     ______________________________________________________________
    |                                                              |
    | MY CINEMA NEWS REACHES MORE THAN 11175 TAMIL CINEMA FANS!!!  | 
    |        For more Cinema News Visit My Home page               |
    |         http://www.geocities.com/Hollywood/Lot/2330          |
    |                  MY SPECIAL THANX TO                         |
    |  *Rajesh & Prabhu of LOLLU EXPRESS (The No:1 Web Express)    |
    |  *Priyanka,Menaka,Deepti,..... of MIAMI EXPRESS              |
    |  *Prakash & Members of Tamil Cinema News Mailing List        |
    |  *Sachitnanan Pinagapani(Tamil Movie Page)                   |
    |  *Siddharthan Ramamurthi(Tamil Nadu Home Page)               |
    |______________________________________________________________|
     


Rajini: Rajini hasn't announced his new movie yet. The suspense is too much for his fans. Meanwhile film industry sources confirm that Balakumaran,Sujatha and Ra.Ke.Rangarajan are into story discussion for Rajini's next film. Simran might be his new heroine. Music will be by Illayaraja.Direction.....95% it is Suresh Krishna.


Kamal: Now that KADHALA KADHALA is over,everyone are expecting Kamal to announce about MARUDHUNAYAGAM, but Kamal is planning to act in another film before starting the Mega Project. Sources say, that Kamal wants to make sure that he has sufficient funds before starting MARUDHUNAYAGAM.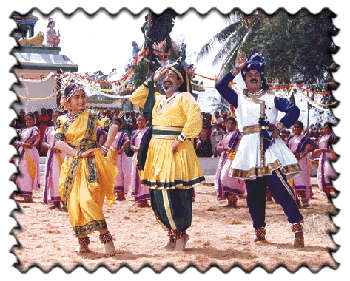 Sivaji:is back. This time it is a village subject. He is acting as a Devar dancer in Kasthuriraja's EN ASA RASAVEY. Murali, Suvalakshmi and Roja have got the opportuniy to act with Nadigar Thilagam. Deva scores music for this film. After this film,Sivaji has agreed to act in PUNNIYAVAN, which will be directed by P.Vasu.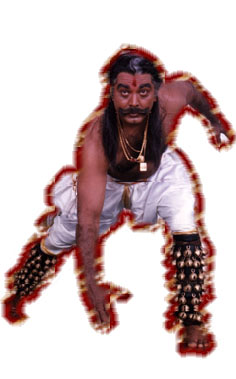 Sarathkumar: Though he lost in the Lok Sabha elections, he is working hard to complete SIMMARASI (heroine:Nagma, music:S.A.Rajkumar, producer: R.B.Chowdry, director: Erode Sounder). He will also act in NATPUKKAGA(music:Deva, producer:A.M.Rathnam, heroine might be Simran and director:K.S.Ravikumar).


Sathyaraj: is acting in KALYANA KALATTA. Kushbu and Manthra are the heroines. The film is directed by Rajkapoor.music is by Uvan Shanker Raja. Sathyaraj is also acting in VANDANGA JEYUCHANGA. The film is directed by Guru Dhanabal. Meena is the heroine.


Prabhudeva: has signed up to do a film for Sathyaraj's manager, Ramanathan(Raj Film International). The film will be directed by the director of LOVE TODAY, Balashekaran.


Prabhu: has signed to act in MANAM VIRUMBUDHEY UNNAI. Heroine is Meena. the film is going to be directed by Sivachandiran(Lakshmi's husband). Music is by Illayaraja.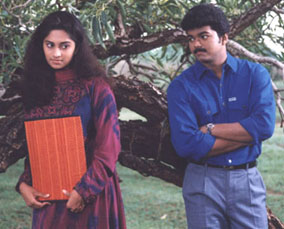 Vijay: is acting in PIRIYAMUDAN.Kovsalya (KALAMELLAM K VAZHGA) is the heroine. The film is directed by Vincent Selva. Vijay is also producing and acting in NILAVE VAA (K.T.Kunjumon is the co-producer). Rakshana is the heroine. The film is directed by Venkatesan(dir of MAHAPRABHU).music is by Vidhyasagar. Vijay might act in a film directed by K.Bhagyaraj.


Pandiyarajan: I dont know what he is upto but according to the sources in the film industry, every week he is signing a new movie. His next release is KABADI KABADI(produced by Bhakyaraj). He is now acting in INDRU MUTHAL HAPPY. Heroine is Preetha Vijayakumar and the director is C.Ranganathan(director of COIMBATORE MAPPILLAI, TATA BIRLA, AHA ENNA PORUTHAM). Last week he signed APPADI PODU(heroine:Eshwari Rao and the director is debutant Rajagopal).


Selva: the brother of Dr.Rajashekaran and son-in-law of ex-minister, Indirakumari, is trying to get a break through. He is acting and directing, GOAL MAL. Two new heroines Monica Nerukkar and Hanisha pair up with Selva. Music is by Balabharathi(Bala is one of the very few talented musicians but has not got proper chance inspite of giving two consequtive hits THALAIVASAL and AMARAVATHI).



Surya:his next film is SANDIPOMA. Preetha Vijayakumar is the heroine(Right:A still from SANDIPOMA) the film is directed by debutant, Indrakumar.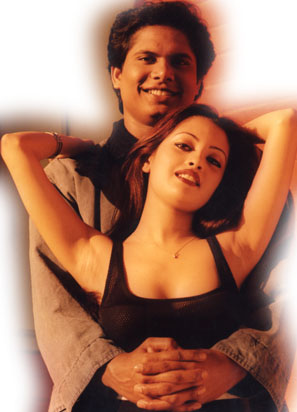 Bharathiraja: has postponed TAJMAHAL and has started VAKKAPATA BHOOMI. After a looooong gap Illayaraja joins with Bharathiraja. Illayaraja has composed 6 songs and industry sources say that it has come out well. Official announcement has not been made about this union and I am the first to bring this out. As I have already mentioned, Bharathiraja is introducing his son Manoj as hero in TAJMAHAL. Manirathnam writes the story, screenplay is by Rajeev Menon and Music is by A.R.Rehman.(Left: A still from TAJMAHAL).


Vasanth: POOVELLAM KETTU PAAR(previously ROMANCE) is his next film. Surya and Nagma's sister,Jyothika play the lead. Music is by Uvan Shaner Raja and the dialogues are written by Crazy Mohan. Vasanth will also direct, POO POOKUM OSAI (previously RHYTHM) with Arjun as the hero.


Kasturi Raja: has almost finished his VEERA THALATTU. Murali,Kushbu and Vinitha play the lead. Music is by Illayaraja. He has started his next film, EN ASA RASAVEY (with Sivaji as hero) which will be released for Tamil New Year.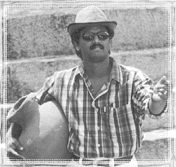 Cheran: has reached new heights. His PORKAALAM was appreciated by Super Star and his life story in Kumudham Weekly was read by lakhs of people worldwide. This article "Poradinal Undu Porkaalam" was about the hurdles he faced to reach this height. Cheran announced his new movie THESIYA GEETHAM. Murali and Rambha play the lead. Music is by Illayaraja. After DESIYA GEETHAM he will direct PARASEEGA ROJA. Murali is the hero and the music is by Deva. Shammi Kapoor might act in this film. It is a city subject(ofcourse a love story) and some shots will be taken in foreign countries.(Right: Cheran in PORKAALAM shooting).


Fazil:there is no doubt that KADHALUKKU MARIYATHAI will surely be one of the greatest hits of this year( this film impressed me a lot and I have already seen it 8 times). Fazil's next film is MURATTU KADHAL with Vineeth and Shobana playing the lead (I think that this film will mostly be a remake/dubbing of his malayalam film, MANATHEY VELLI THERU).


Ve.Shekar: will be directing, ELLAMEY EN PONDATTI for A.M.Rathnam. As usual there is one big "gumbal" which includes Manivannan,Radhika, Ramki,Sanghavi etc.


Santhosh Sivan: the cameraman has turned into a director. he has directed a 100 minute film, THE TERRORIST. This film is based on the emotions faced by a human bomber who learns one day before her assignment that she is pregnant. This film has recieved a lot of acclaim.


KADALORA KADHAL: though news about this film is not known to the public, the latest talk in the film industry is about this movie. After a long gap, V.M.C.Haneefa(villain in MAHANADHI) is directing this movie. It is a love story involving new faces and what makes this film so attractive is the music.......who else.....it is Illayaraja.


EDIRUM PUDIRUM: Mammoty and Napolean act Edirum Pudirum in this movie. Soundarya is the heroine. Simran dances for a song. Music is by Vidhyasagar.

For reviews of Kadhala Kadhala, Sornamughi, Thulli Thirindha Kaalam, Kadhal Mannan, Thinamdorum, Vettiya Madichu Kattu, Kadhaley Nimmathi, etc.


Go To GOKUL'S MOVIE REVIEW PAGE

For more CINEMA news visit this page regularly.
Now Where?
MY MAIN PAGE
MY CINEMA PAGE
Please click below to record your comments



Boquet or Soda Bottle, send me an E-Mail


[email protected]
©1997 Gokul Santhanam
---