The Franciscan Friary in Rossnowlagh is located among lovely gardens on the south side of Donegal Bay. It is a place of retirement and peace. Visitors are free to enjoy the tranquillity and beauty of the Friary grounds and gardens.
The Franciscan Order has
historic links with Donegal. The 17th century annalist, Brother Michael O'Cleary OFM was born in Kilbarron Castle, just 3 miles from Rossnowlagh
La Verna House offers residential retreats for those who seek a period of peaceful discernment away from their everyday environment.
The Donegal Historical Society's Museum is housed in the Franciscan Friary in Rossnowlagh and is open to the public all year round.
Contact:
Tel: 00353 (0)71-98 51342
E-mail: [email protected]
Links to other sites of interest
Irish Franciscans Province can be contacted at :www.franciscans.ie or www.franciscanprovinceofireland.com
St Patrick's purgatory on Lough Derg is Ireland's most ancient place of pilgrimage. Visit the island at: http://www.loughderg.org/
See the Lourdes Grotto live on webcam at http://www.lourdesfrance.com
Visit Rossnowlagh at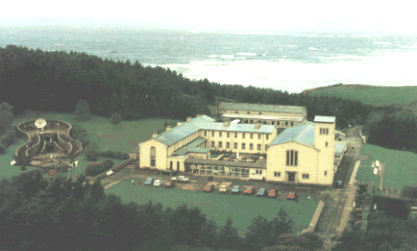 Friary and Donegal Bay
viewed from Laverna Retreat House
Holy Mass and Prayer Services
Daily Mass - 10.00 am, 8.00 pm
Sunday Mass - 8.00 am, 11.00 am
(8.00 pm June - September)
Healing Service and Mass - First Sunday
of the month at 3.00 pm
St Anthony's Novena - Tuesday 8.00 pm
Prayer Meeting - Thursday 8.30 pm
More pages on this site
History of Franciscans in Donegal
E-mail your request to Saint Anthony
Visit our Guestbook