Basenji bitches generally have but one yearly estrus, in the fall. For that reason, most puppies in the northern hemisphere are born between November and February. There is a collective holding of breath as we await the announcement of new litters. Lucky indeed is the fancier who is familiar with one or several breeders, and can spare the time to visit the new arrivals - in the guise of helping to socialize them, of course! There is nothing more adorable than a Basenji puppy - unless it is a lapful of them!
I will be adding photos as they become available. If you would like to see your Basenji puppy in the parade, please E-mail me.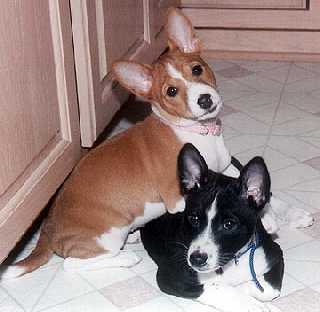 Siblings Ruby (top) and Cosmo were born in a litter of four in January 1997. Cosmo remained with his breeders, Cinnabar Basenjis, in western New York State and enjoyed a career in the show ring. Ruby is content to be my "dog for all seasons".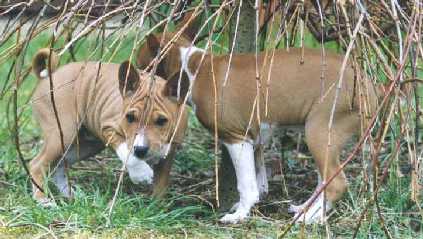 Ollie and Kanzi were born in January 2000 near London in the United Kingdom. They are owned by Annechien and Clive Smith.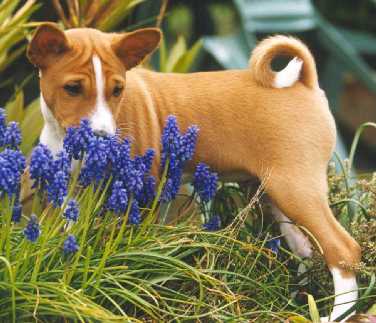 This is Toto, a brother of Ollie and Kanzi. Perhaps he will grow up to be a gardener in the finest British tradition! (Basenjis are a great help in the garden, you know!)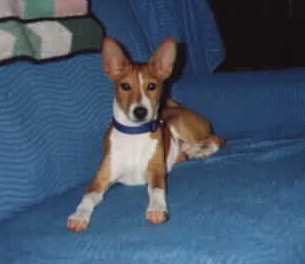 Dream was born in Windsor, Ontario, Canada on December 15, 1997. She travelled by air to live happily ever after with Dawn and Sheldon Donaldson and Dinah the Irish Setter in Nova Scotia, Canada.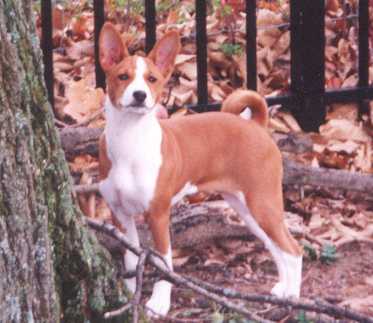 Kibushi Cha Cha at Sunrise, aka Cha Cha, was born December 28, 1999. She lives in St. Charles, Missouri with Annette and Mike Meunter, human "sister" Dana, and Basenjis Rounder and Dixie. She is destined for a show career.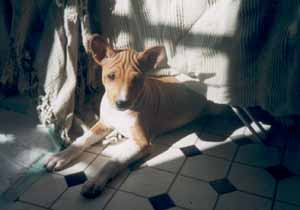 Phoebe, born July 1999, makes her home in South West London, England, with pals Paddy (Cavalier King Charles Spaniel) and Charlie (collie mix). She and Ollie, Kanzi and Toto, above, have the same dad.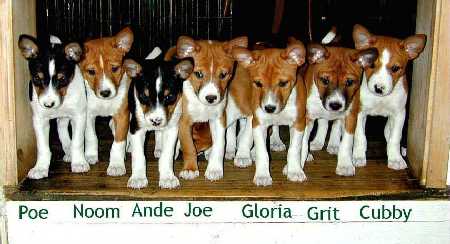 Two litters arrived at the World of Apu in Woodstock, NY in January 2000. What a millennium party that must have been! (Three littermates absent this photo.) Two of these pups went to live with their new owners in Europe.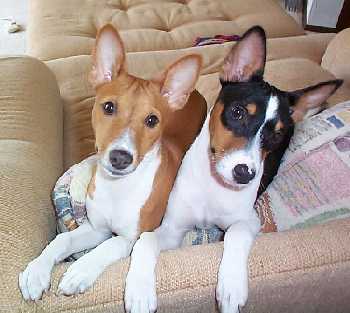 Here are two of the Apu pups at five months: Gloria, now known as Annabel (left), and Poe, now called Pogo. They brighten the lives of owners Janet and Jared Cooper in State College, PA.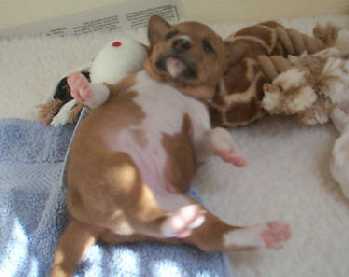 This is baby Kiah in January 1999. She was born in Dallas, Texas but now lives with Kerry Baker near Tupelo, Mississippi. Her best buddy is a black cat named Lucky. A typical Basenji, Kiah loves to shred paper, and hates to get wet!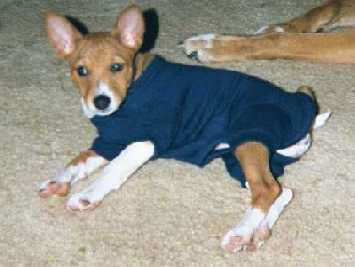 This little bundle of joy is Belle, born December 28, 1999. She is the delight of her human parents, Victor and Paula Lutan, who live in Arlington, Texas. (The legs in the background belong to her
very BIG friend Jake.)